KISS will return to Tokyo in November for one final goodbye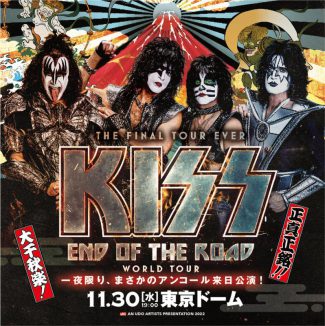 Japanese promoter UDO has just announced that veteran American rockers KISS will return to Japan for an encore performance in Tokyo. As you may recall, KISS played a series of shows across Japan at the end of 2019 as part of its final world tour. The world tour kicked off in early 2019 and will continue until 2023 sometime (50 years after the band was founded in New York City). Now a surprise one-off show at Tokyo Dome has been announced for Wednesday 30th November 2022. It is billed as a "final-final-really" show by the promoter. At the last Tokyo Dome show in December 2019, KISS performed a few songs with Yoshiki appearing as a surprise guest. On the previous Tokyo Dome visit in 2015, they brought out Momoiro Clover Z for a couple of songs. What will we get to experience in November 2022? For this final-final Tokyo show, we have no doubt that the members of KISS – Paul Stanley on vocals and guitar, Gene Simmons on vocals and bass, Tommy Thayer on lead guitar and Eric Singer on vocals and drums – have something very special planned. The question is what?
To get in the mood for this final-final-really show, read our review of the final Tokyo show in 2019 here or have a look at the KISS meets Momoiro Clover Z video below.