Album review: Opeth "In Cauda Venenum"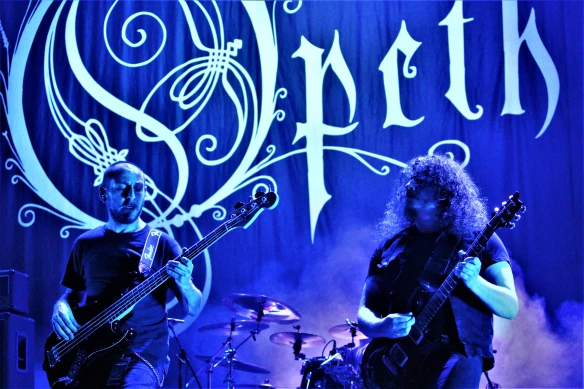 Sweden's Opeth returns with the new studio album "In Cauda Venenum", a progressive rock masterpiece.
Opeth, as expected, delivers a terrific album that is full of progressive rock music with "In Cauda Venenum", the band's 13th studio album. Opeth was originally formed as a death metal band in 1989 and there are still some elements of that in Opeth's music, but the band's music has evolved a lot since then. Vocalist, guitarist and main songwriter Mikael Åkerfeldt and his current bandmates seem to be able to create music that often is far removed from their metal roots. Nowadays they create a dreamy soundscape filled with storytelling. I want to live in this weird and wonderful Opeth world. The song material is world-class and so are the musicians. When that is combined with excellent arrangements (not least the use of piano, beefy organs and acoustic guitars) and crisp production, we get pretty close to perfection. The "In Cauda Venenum" album is a beautiful masterpiece, but there are also hints of an evil and sinister soul lurking inside this music. It all adds up to exquisite and intense music.
Some of the music is of the slower kind, but it is very dramatic and it grooves. There are some jazzy elements to a few of the songs as well as folk music touches here and there. The fantastic tracks "Next of Kin" and "Charlatan" are progressive rock heaven with twists and turns around every corner. "The Garroter" kicks off with a flamenco-style guitar and a simple piano before moving into some kind of jazz-rock territory. On "Continuum" we get some timely explosions of wah-wah guitars. The phenomenal guitarist Fredrik Åkesson (of Talisman, Krux, Arch Enemy, Tiamat, John Norum and Southpaw fame) is in the current line-up of the band together with Martin Mendez (Vinterkrig) on bass, Martin Axenrot (Witchery, Bloodbath, Nifelheim) on drums and Joakim Svalberg (Yngwie Malmsteen) on keyboards and piano.
Wow! What an album. It has it all. Love, love, love it! 
Opeth's album "In Cauda Venenum" will be released on 27th September via Ward Records in Japan and internationally via Moderbolaget/Nuclear Blast. There will be two versions of the album, one in English and one in Swedish. Opeth will tour Japan in December.