Interview: Amorphis – The Six Wise Ones from Finland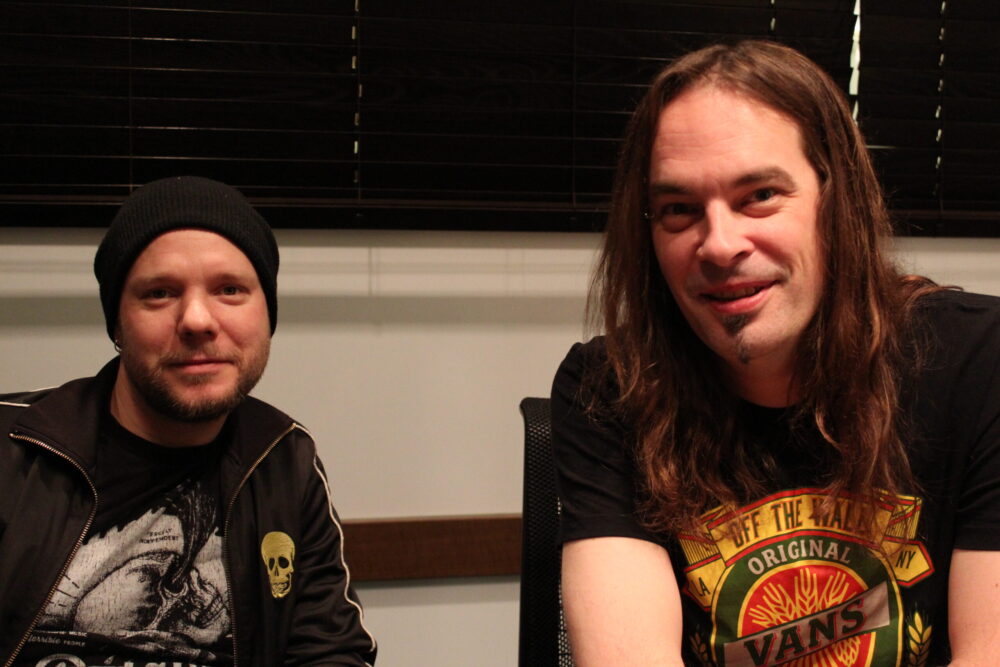 Finnish heavy metal band Amorphis released its latest terrific album, "Under the Red Cloud", last year and are currently on a world tour in support of the album. Roppongi Rocks' Stefan Nilsson decided to have a chat with the band when the tour reached Japan.
As I sit down in a Shibuya hotel with drummer Jan Rechberger and bassist Niclas Etelävuori of Amorphis a few hours before they are due to walk on stage in Tokyo, loyal fans are milling about in the hotel lobby eager to get their CDs ad posters signed by the band members.
Last year the Helsinki-based band released their latest album, the phenomenal "Under the Red Cloud", and they are now touring the world in support of the album. The album's so good its songs dominate the band's set list on the current tour.
Having started out as a death metal band, they have over the years, especially on the last few albums, developed their sound into something which is instantly recognisable as Amorphis. Like many other Finnish heavy metal bands, Amorphis has very catchy and melodic songs that are often rather heavy at the same time.
Amorphis' sound can perhaps best be described as Finnish heavy metal that lives in a sound landscape that features plenty of keyboards and frequent tempo and mood changes as well as echoes of death metal, progressive metal and even some Nordic folk music touches in the mix. They manage to get a sitar in there as well without it being out of place. Call it what you like, it's Amorphis and it is bloody good.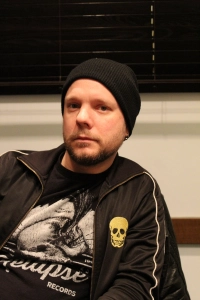 Drummer Jan Rechberger was one of the founders of the band in 1990. He left the band in 1996 only to return in 2002. He has seen how the band has grown from a local death metal band playing for fun into a major international heavy metal act. "It's a lot different. Back then it wasn't that professional," explains Rechberger. "We were just starting out, made a couple of records and started touring. Everything was kind of new and exciting. It still is of course but we didn't actually make any money back then. It was serious but more like a hobby. It's not just drinking and having a party anymore. You have to take it more seriously, obviously, when there are more people coming, people buying tickets and stuff."
While the band has long been internationally successful, their home country Finland is still very important to them. "Finland is really good for us. We are actually doing really well in Finland. Mainly since Tomi Joutsen joined the band and after the 'Eclipse' album it has gone really well. We can play mainstream festivals and we can do big tours with usually sold-out shows. Every album since 'Eclipse' has gone gold in Finland. We sell pretty well in Finland. It's really nice," smiles Rechberger.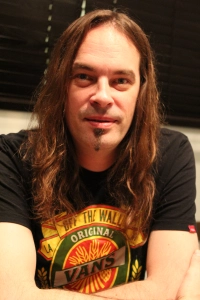 Finnish mythology and history play important parts in the band's lyrics and Finnish identity. "I think that in every music culture you have to remember where you come from. You have to stay true to your roots," explains Niclas Etelävuori. "It's no point that we try to pretend we are American because we are not. If you try to be like an American band and go to America, there is already a million bands that do that there. If you want to be unique there, you have to do your own thing that they don't do. What I am proud of is – when you hear a song, when somebody plays it in a bar, you know the band from the sound. It's like Iron Maiden. You know it after you hear one bar that that's Iron Maiden. We kind of got into that. Within a few bars you know it is Amorphis," says Etelävuori of the band's signature sound.
On the latest album, Amorphis worked with Swedish producer Jens Bogren (Opeth, Paradise Lost, Soilwork, Kreator, Amon Amarth, DragonForce) who has further enhanced the band's sound as it has developed from its death metal roots into a fairly complex but refined and melodic heavy metal sound.
"We've never actually had any plans of how we are going to sound in the future," says Rechberger. "Obviously when Tomi joined the band and after that the sound has been a bit more solid, stylish. But there's been differences from 'Eclipse' to ''Silent Waters' – it was a bit more of a heavier album maybe – 'Skyforger' was a bit softer album. 'The Beginning of Times' was pretty much the same. The new one is heavier I think. Jens Bogren, who produced the album, wanted us to sound heavier. I think we are going to keep progressing somehow anyway, try to utilise new things, to sort of look to the future." Etelävuori adds with a big smile: "Technology is evolving and we don't know what's coming." "Usually it comes naturally. We never did anything that intentionally," clarifies Rechberger.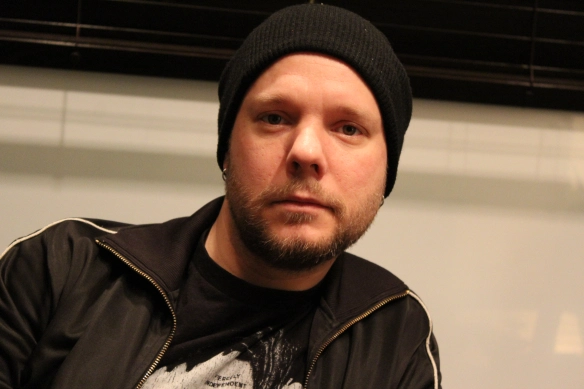 The band has quite a democratic creative process with the whole band working on new music and they often get outside help with the lyrics from Pekka Kainulainen. "Everybody writes songs, more or less. We write a lot of songs for an album. Once we did 30 songs and then you have to pick ten. Usually the best ones end up being written by Santeri Kallio or Esa Holopainen or Tomi Koivusaari. Mainly we take part in arrangements and stuff like that," says Rechberger. Etelävuori continues: "With this album we let Jens decide quite a lot. We had so many songs it was impossible for us to pick. We told him: 'You choose!' We have never done that much pre-production. The biggest difference was before we went into the studio. He came to Finland when we were rehearsing. When we went to studio everything was clear so we knew what we were gonna do."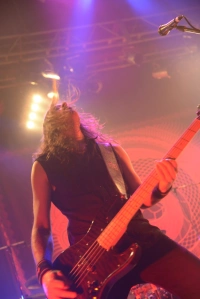 With twelve albums and a 26-year career, the band has a vast back catalogue to choose songs from when putting together set list for its tours. "We try not to play the same that we did the last time. Of course there are always some songs that stays," says Etelävuori. Rechberger continues: "We concentrate more on the new stuff. It's different when you play some festivals – then it's more 'greatest hits' stuff. Today we'll play more songs from the latest album. It's really hard because we have a lot of songs and a lot of different opinions inside the band what kind of songs we should play. It's always really hard." Etelävuori adds: "We did the 'Tales from the Thousand Lakes' anniversary tour where we played the whole album. I think that should satisfy those people for a while and we can do a bit less from that."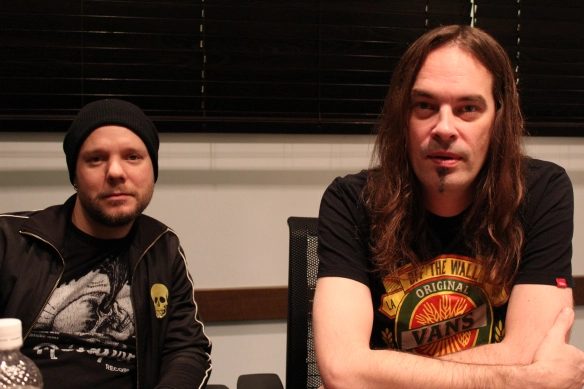 Amorphis has toured in Japan on multiple occasions and have developed a loyal following here. Japan seems to be a good fit for the band. "It's fun and it's growing," says Etelävuori of the importance of the Japanese market to the band. "The first tour we did we supported Children of Bodom. They are pretty big so it was obviously very good for us. After that we could do our own tour and then we played Loud Park. It's growing," explains Rechberger.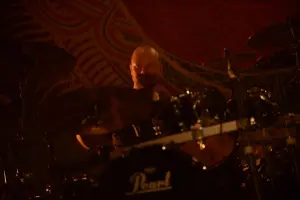 Amorphis will continue to tour in Russia and throughout Europe for the next six months. "I think we will try to go to Americas also but I don't know when," says Etelävuori. "Probably after the summer." Rechberger continues: "There is probably more touring coming next fall still, then maybe start working on stuff after that. There are a lot of territories we haven't been to yet."
Amorphis – band members
Tomi Joutsen – vocals
Esa Holopainen – guitar
Tomi Koivusaari – guitar
Niclas Etelävuori – bass
Santeri Kallio – keyboards
Jan Rechberger – drums
Albums
The Karelian Isthmus (1992)
Tales from the Thousand Lakes (1994)
Elegy (1996)
Tuonela (1999)
Am Universum (2001)
Far from the Sun (2003)
Eclipse (2006)
Silent Waters (2007)
Skyforger (2009)
The Beginning of Times (2011)
Circle (2013)
Under the Red Cloud (2015)