Album review: Lugnet "Tales from the Great Beyond"
Lugnet's third album gives us bluesy and groovy hard rock with doom influences.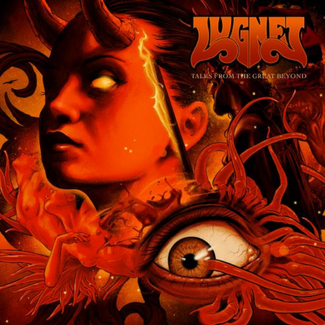 Lugnet is a very good heavy and bluesy hard rock band from Stockholm, Sweden. "Tales from the Great Beyond" follows the band's 2016 self-titled debut album and 2019's fabulous "Nightwalker". A lot of the music on this new album is groovy 70s hard rock. Think Glenn Hughes in a good mood and you'd be fairly close. Glenn, of course, has played in Trapeze, Deep Purple and Black Sabbath and that may very well be the ingredients used to make this musical milkshake of rock'n'roll. We also get some doom metal here and there, not least on the track "Another World" which has a bit of an exquisite Candlemass vibe to parts of it. There is also a liberal seasoning of Whitesnake and Rainbow to many of the dishes served up. The Trapeze-esque "I Can't Wait" is a standout track on a terrifically good album. Lugnet's co-founder and drummer Fredrik Jansson-Punkka also plays in the current version of Angel Witch, the cult NWOBHM band still led by guitarist Kevin Heybourne. While Lugnet is more of a bluesy hard rock act, some of the NWOBHM of Angel Witch seems to be spilling over and seeping into Lugnet's music. Fredrik has a past as a member of Abramis Brama which is a musical neighbour to Lugnet. The rest of Lugnet's line-up consists of bassist Lennart Zethzon, guitarists Matti Norlin and Michael Linder (formerly of Troubled Horse) and lead vocalist Johan Fahlberg (also of German band Jaded Heart). The musicianship is very good. The songs are best described as groovy hard rock. The album has not been overproduced and sounds like many of the classic hard rock recordings of the 70s. It is a joy to listen to a band that clearly loves 70s hard rock as much as they love creating their own music in the same vein. A great album and a great band. Tasty. Come taste the band!
Lugnet's new album "Tales from the Great Beyond" is out now via Pride & Joy Music internationally and Rubicon Music in Japan. The Japanese edition comes with the excellent bonus track "I Got the Fire".