Album review: Candlemass "The Door to Doom"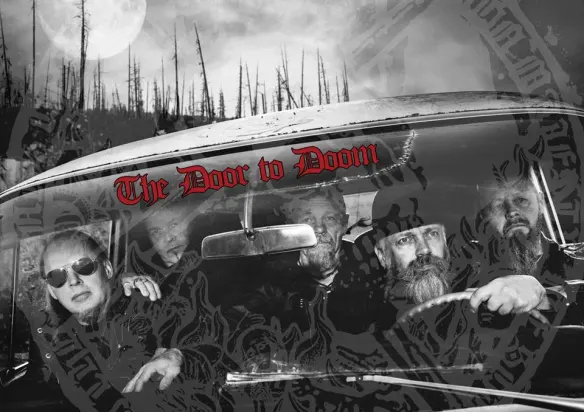 Swedish doom masters Candlemass have reunited with original singer Johan Längqvist to create a fabulous new album that by far beats expectations.
Candlemass, one of the best and most important heavy metal bands to come out of Sweden, is back with "The Door to Doom", its twelfth studio album. Johan Längqvist was part of the original Candlemass line-up. He sang on the band's 1986 debut album "Epicus Doomicus Metallicus" but departed shortly thereafter. Last year he, at least to me, surprisingly was brought back into the band to replace Mats Levén who has sung for the band for the past six years. I have no idea where Längqvist has been hiding for the past three decades, but he's back and he sounds fantastic! The rest of the band consists of its most classic line-up: Leif Edling on bass, Mats "Mappe" Björkman on rhythm guitar, Lars Johansson on lead guitar and Jan Lindh on drums.
"The Door to Doom" is of course based on the trademark Candlemass doom metal, but it is also quite a varied album. We get several calm sections as well as some serious heaviness. On "Black Trinity" we get the good-old familiar Candlemass sound as a foundation, but then a chorus that is more contemporary and modern sounding. The mix of old and new works very well. On "Astorolus – The Great Octopus", Black Sabbath's Tony Iommi provides a guest guitar solo which takes a great song to an even higher level. "The Omega Circle" is stunning and showcases that Johan Längqvist is indeed a fabulous vocalist. The beautiful slow piece "Bridge of the Blind" is my favourite track on this eight-track album which does not have a weak moment. This album is solid straight through. Perhaps it is the impact of Längqvist's return or something else, but to me it seems that Candlemass has got renewed energy. Their new music is terrific and the band has risen once again. This is so good it hurts. Epicus Doorus Doomicus Fantasticus!
Candlemass' new album "The Door to Doom" will be released on 22nd February via Napalm Records.