Album review: H.E.A.T "Force Majeure"
H.E.A.T soldiers on by going back to the future with the return of its original vocalist.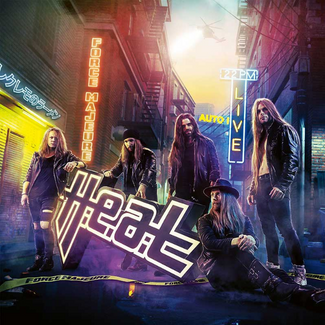 Since the band's last album, 2020's "H.E.A.T II", Swedish melodic hard rockers H.E.A.T have lost their charismatic frontman Erik Grönwall. Erik left the band in 2020 and subsequently became the new frontman of the American band Skid Row. How does one replace the larger-than-life Erik? One doesn't. H.E.A.T's remaining members – Jimmy Jay (bass), Jona Tee (keyboards), Crash (drums) and Dave Dalone (guitar) – went back in time and got the band's original vocalist to come back. Kenny Leckremo is not trying to replace Erik. He doesn't have to. He can build on his own past in H.E.A.T. Kenny fronted the band from its formation in 2007 until 2010. During that time, he sang on the self-titled debut album as well as 2010's "Freedom Rock". The change in frontman has also influenced a slight change in the music. On the new album, the band mostly roams around in the musical landscape of 1980s American-style melodic hard rock. H.E.A.T fans do not need to worry – they haven't completely reinvented themselves. They are still a terrific melodic hard rock band with great songs, just a little bit less European-sounding and without the contemporary pop sound of 2017's "into the Great Unknown". The new album is great and I think the band has been smart here. They made the right choice of frontman and the musical direction is the right one. Instead of trying to copy what they have been doing on the past few albums, they are moving on and they are doing it very well. "Not for Sale", "Tainted Blood", "Nationwide" and "Wings of an Aeroplane" are among my favourite tracks on the album. Melodic and catchy hard rock with great guitars. H.E.A.T remains in the leader pack of Swedish melodic hard rock.
The Japanese release comes with a cool synthwave version of "Back to the Rhythm" as a bonus track (I bet Jona Tee had a lot of fun with this one!). Extra points to the band for the subtle Japan reference on the album's cover art ("Leckremo's Ramen").
H.E.A.T's new album "Force Majeure" is out now in Japan via Marquee/Avalon and will be released internationally on 5th August via earMusic.