Album review: HammerFall "Built to Last"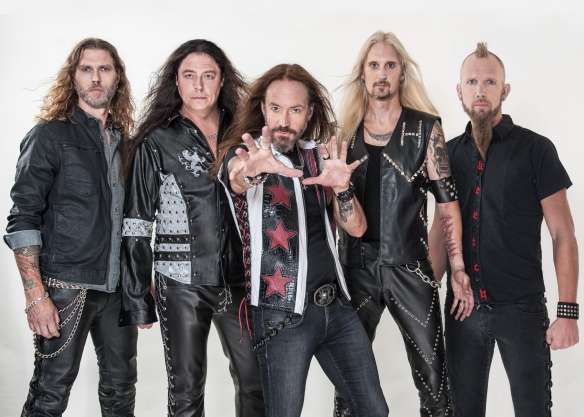 HammerFall is back with its tenth studio album, "Built to Last". This melodic power metal album will no doubt please its loyal fans.
HammerFall plays melodic power metal built to last (!) in the tradition of classic 1980s heavy metal. It's a bit like having Helloween, Accept, Manowar and Iron Maiden baked into one powerful, yet melodic, tongue-in-cheek Swedish heavy metal celebration. HammerFall's trademark style has added some fantasy-like sword battles, castles and princesses to its take on modern, straight-forward heavy metal.
Vocalist Joacim Cans has a hard rock voice that fits this music perfectly. He seems to have taken his voice to a new level on this album. He really hits the high notes on tracks like "The Sacred Wow". Cans' vocals for this album were recorded with James Michael (Sixx:A.M.) in Los Angeles.
With a foundation firmly in classic 80s heavy metal, HammerFall has taken this music style into today and produced a catchy metal album with great guitar riffs, melodies and powerful choirs (Mats Levén of Candlemass is in there somewhere). "Built to Last" is the band's tenth studio album and it is solid and strong. It opens with "Bring It!" and then moves into what sounds like a new HammerFall singalong anthem, "Hammer High". My prediction is that existing fans will love this track but some others will write off this sword-fighting battle track as a bit too corny. Corny perhaps, but corny in a Manowar kind of way.
On the great track "New Breed", Cans sings "Heavy metal running through our veins" and that is what this is all about. A band with love for classic heavy metal and who is having fun performing it. Many of the songs on the album have very strong singalong choruses. They sound as if they have been made to please fans by providing ample opportunities for singing along, headbanging and some air guitar outbursts.
But we also get some slower tracks, such as "Twilight Princess" and parts of "Second to None". "Stormbreaker" and "The Star of Home" are among the album's best tracks while "Dethrone and Defy" is perhaps the best of them all.
HammerFall comes from Gothenburg and over the years has shared a number of members with other established Gothenburg bands like In Flames and Dark Tranquillity. In addition to Cans, the current line-up consists of founder Oscar Dronjak (ex-Ceremonial Oath) and Pontus Norgren (ex-Talisman) on guitars and Fredrik Larsson (ex-Evergrey) on bass. Since the departure in 2014 of long-time drummer Anders Johansson, the band has used David Wallin (Pain) as a replacement.
This album will no doubt please HammerFall's loyal fans and it will probably win them some new ones as well.
HammerFall's "Built to Last" is out on 4th November on Napalm Records.