Live DVD/album review: King Diamond "Songs For The Dead Live"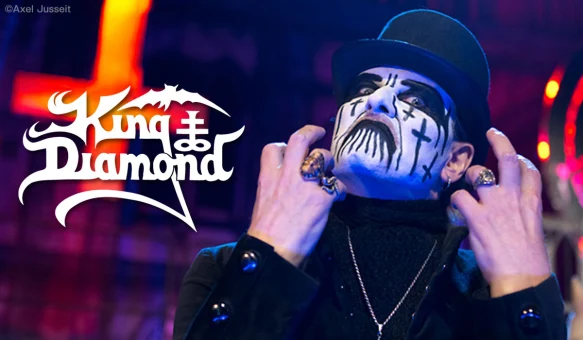 King Diamond returns with a glorious live release of his best music and plenty of horror-themed theatrics. 
If you like your metal filled with haunted drama and horror-themed theatrics, King Diamond is where it's at. This career-spanning live release is flawless, a real feast for King devotees. King Diamond has always been about combining theatrics and drama with splendid music – putting on a great show while performing great music. On "Songs For The Dead Live" we get just that. Behind the make-up, imagery and all the stage props, there is indeed excellent music. It's heavy metal, with many haunting atmospheric parts and some progressive influences. On this release, we get two almost identical sets: one recorded live at The Fillmore in Philadelphia in 2015 and one at the outdoor Graspop festival in 2016. As expected, we get a splendid show by the veteran Danish singer and his band. The setlist is superb. We get all the good stuff we could possibly hope for, including "Welcome Home", "Sleepless Nights", "Eye of the Witch" and "Halloween". In addition to King classics, we get a nod to his past with the fantastic Mercyful Fate songs "Melissa" and "Come to the Sabbath". We also get to hear King's album "Abigail" from 1987 performed in its entirety. What a treat! King's voice is in fine form and he delivers his characteristic falsetto singing better than ever before. But his vocal range is extensive and we get the full range here. The band is rock solid and features three Swedes: guitarists Andy LaRocque (Swedish Erotica, Death, E.F. Band) and Mike Wead (Mercyful Fate, Hexenhaus, Candlemass, Memento Mori, Abstrakt Algebra) and bassist Pontus Egberg (Treat, Lion's Share, The Poodles, Zan Clan). American drummer Matt Thompson (Shaolin Death Squad, Legacy of Disorder) completes the line-up. The newest addition is Egberg who has brought some serious groove to King's rhythm section in recent years.
King Diamond's "Songs For The Dead Live" is out now via Metal Blade Records. The Japanese edition, consisting of 2 DVDs of the two shows and a CD with the audio from the Philadelphia show, will be released in Japan on 27th February via Ward Records.
www.facebook.com/kingdiamondofficial