Ex-Accept singer David Reece is back at the top with Bonfire
German melodic rockers Bonfire are back with former Accept singer David Reece as its new frontman. The band celebrates its 30th anniversary with a double album with new versions of their best songs.
Melodic hard rock, AOR or whatever you want to call the sort of polished, power ballad-happy, hair-metal soft rock that probably reached its peak with Whitesnake's "1987" album, is perhaps not the trendiest music genre at the moment. But in the 1980s and 90s some great music was created in that category. German rockers Bonfire were among the genre's better bands. Now only founder and guitarist Hans Ziller remains in Bonfire from the old days. The rest of the current line-up of the band all joined in the past couple of years. American singer David Reece, best known for his short stint as lead singer in Accept in the late 80s, is Bonfire's current frontman and he has improved the band several steps. They are now better than ever. Reece has a great voice for this type of melodic rock music. He's doing outstanding work on this double album.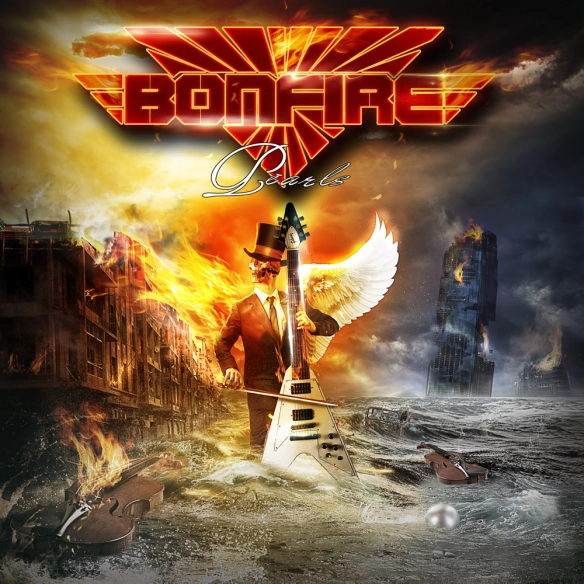 "Pearls" (out on UDR Music on 25th March) is a double "best of" album released to mark Bonfire's 30th anniversary. The first disc, the rockier of the two discs, consists of re-recordings of eleven Bonfire rock classics such as "Under Blue Skies", "Diamonds In The Rough", "Proud Of My Country" and "Down To Atlanta". Additionally the first disc also features two cover tracks – "Sweet Home Alabama" (I know that Bonfire also recorded this in 1999 for the "Fuel to the Flames" album, but the question remains: why?) and a great version of "Loaded Gun", a track from David Reece's earlier band Bangalore Choir.
The second disc consists of nine tracks that are new versions of old favourites recorded with the Italian Symphony Ensemble. Here we get some big power ballad stuff, like "Who's Foolin' Who" and "Why Is It Never Enough". We also get treated to some fine guitar work from Ziller on many of the tracks.
Bonfire has got new energy with a new talented line-up of musicians and David Reece behind the microphone. That, combined with some great songs, may take Bonfire to the top of the melodic rock business where they belong.
Bonfire "Pearls" track listing
Disc 1: "Rock Pearls"
Strike Back
Under Blue Skies
Diamonds In The Rough
Proud Of My Country
Sweet Home Alabama (cover track)
Don't Go Changing Me
Sweet Obsession
American Nights
Good Time Rock 'n' Roll
Heat In The Glow
Can´t Stop Rocking
Down To Atlanta
Loaded Gun (cover track)
Disc 2: "Classic Pearls" (with the Italian Symphony Ensemble)
You Make Me Feel
Give It A Try
Who's Foolin' Who
I Need You
Good Night Amanda
Southern Winds
If It Wasn't For You
Why Is It Never Enough
Let´s Fly Away
Bonfire – band members
Hans Ziller – guitar
David Reece – vocals
Ronnie Parkes – bass
Frank Pane – guitar
Tim Breideband – drums