Interview: Zetro talks about life on the road and the next brutal Exodus album
Thrash veterans Exodus have started thinking about the next album which will be brutal and "a fucking wrecking ball".
When Bay Area thrash metal veterans Exodus recently came to play in Japan for a second time on its ongoing world tour in support of the fantastic "Blood In Blood Out" album, Roppongi Rocks met up with Steve "Zetro" Souza backstage at Saitama Super Arena after the gig at the Loud Park festival.

Zetro, one of the most legendary vocalists in thrash metal, first sang in Legacy – the band that evolved into Testament – before he joined Exodus in 1986. He is currently on his third stint fronting Exodus. "For me it's been great. The fans have been so receptive for me everywhere and it just continues" says a very happy Zetro.
Exodus has been touring ever since the return of Zetro in June 2014. In October that year they released their latest smoking-hot album, "Blood In Blood Out", the band's tenth studio album featuring terrific songs – such as "Body Harvest", "Black 13", "Salt the Wound" and "Blood In Blood Out" – and even a guest appearance by former Exodus and current Metallica guitarist Kirk Hammett. "I came in at the end. It was all written, pretty much vocally recorded too. I came in and just was myself. I did what I know how to do. I approached it like I would approach any Exodus record. I know this band. I started with this band when I was 22, I'm 52.  Even stepping out for ten years, you don't need to tell me how to be Exodus. I know what we're doing up there. I get it" explains Zetro.
Since 2011, Exodus' mainman Gary Holt has been on double duty as he is also playing guitar with Slayer, who like Exodus is a band with a busy touring schedule. Despite Holt being busy with "his other band", Exodus has kept going, often with Heathen's Kragen Lum as a stand-in guitarist instead of Holt. It is a replacement that has been working well for the band and the fans. "Kragen plays Gary pretty fucking close, man!" says Zetro.
While Kragen Lum is doing a fine job and fits in well with the band, does Zetro miss Gary Holt on the tour bus? "I do! I miss Gary. Nothing against Kragen, but I came home after the last European thing and I was telling my girlfriend 'I love Kragen to death but it's time for Gary Holt to come back!' You know what I mean? This is Gary's band, you understand? I love him in Slayer. If you are gonna think about a guy that could've taken that spot of the iconic Jeff Hanneman, Gary Holt is the best guy you could have got. And we love it. We found a way to work around it. Nobody cared tonight. I know they want to see Gary, but 'Blacklist' is still 'Blacklist', 'Bonded by Blood' is still 'Bonded by Blood', you know what I mean?"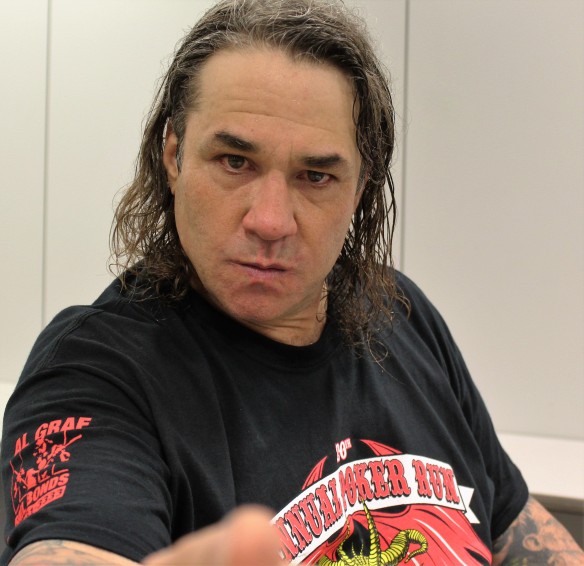 The tour in support of the latest album is not over yet. In October and November, Exodus will be playing in Europe with Obituary, Prong and King Parrot as part of the Battle of the Bays Europe tour. "It's time for the album cycle, but do you know how many shows we have done on this tour? When we finish with Obituary, it will be 278. And I keep tracking every one. This time I am paying attention very well!"
While Holt has been busy with Slayer for the past few years, he is still very much involved with Exodus and when time allows, he performs with the band. "We did this little three-date tour, just in California and Vegas, it was Killswitch Engage, Exodus and Unearth and Gary played with us on this. It was just a month ago. I talked to his wife and she was 'Oh my God. He was so nervous to play with you guys! Because he hasn't played with you in such a while, he didn't want to make any mistakes. You should see him pacing the house'. I was like, really?"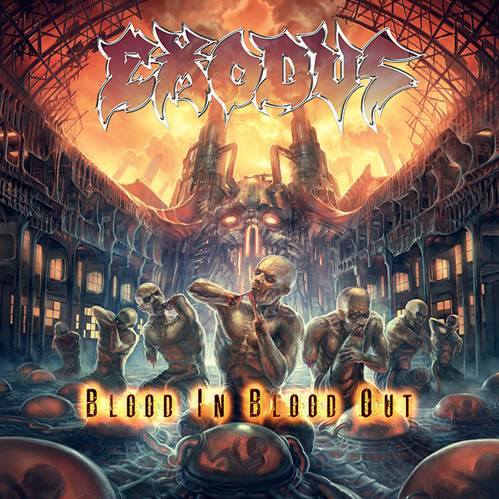 So, what about the new album. What can we expect? "I got a text message from Gary – I'll read it to you, it's hilarious, it's funny as hell. Here it is: 'Last album is too soft. This one is gonna be a fucking wrecking ball!' That's Gary Holt!" laughs Zetro.
Does Zetro and the band feel any pressure to make the next album as great as "Blood In Blood Out"? "No! It's not like that. How can you feel pressure when you are 30 years into this business? Just do what you do! Stay true to yourself. And I got Gary and Tom. Gary is in Slayer and it's gonna be heavy. Everything he's ever done has been heavy. Even the three records that I did not sing on… We opened with 'The Ballad of Leonard and Charles' tonight. I love those songs! I kick myself in the ass I didn't get to sing on them, you know? So, it's gonna be brutal!"
When will it come out? "Next year. Tom and Gary are getting together. In January we'll start."
It is obvious that Zetro loves being back in the band and to tour around the world. He was exceptionally good at last year's Thrash Domination festival in Japan and again here at Loud Park. "It's fun being back, they've all been great. I can't say tonight was better than, say, Thrash Domination, because it was great that night too. It was more people here tonight but still, they've all been great. We've gone to South America twice, the shows out there are phenomenal. We've done Europe – this will be the fourth Europe tour in a year, we did three In this year alone. We're not gonna let them down now."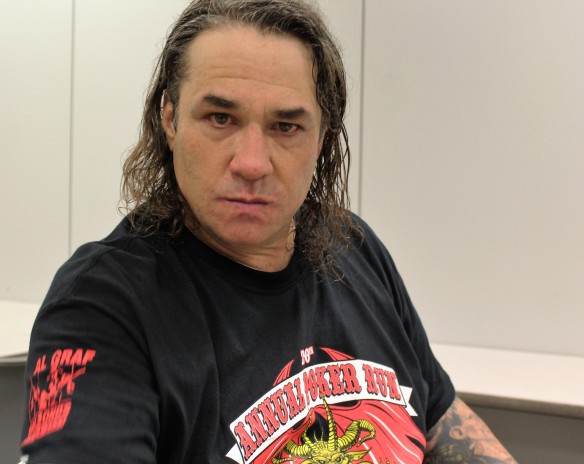 Exodus is fabulous live act. In addition to frontman Zetro, today's touring Exodus consists of co-founder Tom Hunting on drums, Jack Gibson on bass, Lee Altus on guitar and Holt stand-in Kragen Lum on guitar. "Yeah, it's really tight. We're like a machine now. You know what it is? Everybody's clean. There's no substance, everybody keeps a clear head. I think the focus is… We got crushed tonight. We got fucking crushed tonight and that's the way we approach it every night. I go up there and it's like a fucking football game. 'Give me the ball! You want the touchdown scored? Give me the fucking ball. I'll take it in the end zone, no problem'. And that's the approach. That's why when we go up there, it's lethal."
But with what seems like a rather demanding singing style, how does Zetro keep his voice in order with all the touring going on? He sounds better than ever before. "I agree! Not to be a pompous asshole, but I agree! It's technique. What I do is…it's jaw, it's chest, it's the way I cock my neck. Just a whole bunch of different things that I do. It's very important to me to be able to do that. How many times do you go and see a singer and 'Yeah, they were good, but he just didn't sing like he does on the record.' I want you to be able to close your eyes and picture what it sounds like when I scream on the record, I scream live," explains Zetro and continues "I'm careful with it. I don't get too excited, clinch my fucking mic. Have you seen I throw it back and forth in my hands? I toss it back and forth in the air. It relaxes me" says the man who used to clinch his wireless mic on stage so hard that he would bend it and make it impossible for the crew to change batteries.
As we wrap up the interview, former Anthrax and current Armored Saint vocalist John Bush walks into the room. "Hey, dude! You're the man!" he says to Zetro. "No, you're the man" replies Zetro and then tells me "This is one of my favourite singers in the world!" It is obvious that many of the characters from the thrash metal world remain good friends and active in a scene where bands still help each other. Some things in the music business have not changed.