Interview: Jonas Stålhammar of At The Gates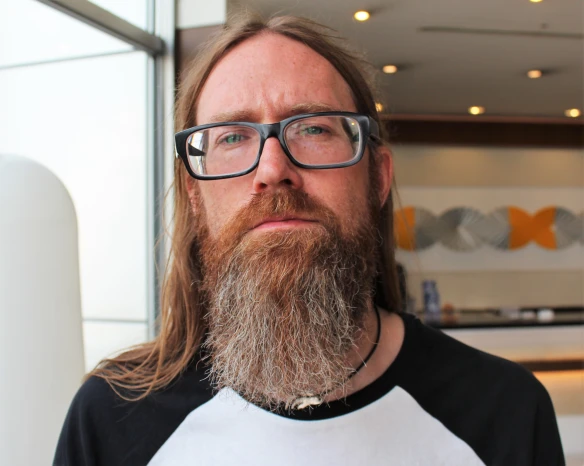 Legendary Gothenburg Sound death metal band At The Gates has a new guitarist. When the band recently kicked off their world tour in Japan, Roppongi Rocks' Stefan Nilsson met with Jonas Stålhammar for a chat about how he joined the band, its musical direction and how he prioritises between the five bands he currently plays with.
The future of melodic death metal band At The Gates, one of the pioneers of the Gothenburg Sound in the early 1990s, was suddenly in doubt as co-founder, songwriter and guitarist Anders Björler left the band last year. Would they call it quits as a band or find a replacement? The choice became easy as the perfect replacement was standing right next to them. Jonas Stålhammar already played with At The Gates' vocalist Tomas "Tompa" Lindberg and drummer Adrian Erlandsson in another band, The Lurking Fear. Additionally, he currently plays in Bombs of Hades, God Macabre and Crippled Black Phoenix and is a former lead singer for The Crown (a band which also Tompa was a member of at an earlier stage). So, Tompa and Adrian, together with bassist Jonas Björler and rhythm guitarists Martin Larsson, decided to ask Stålhammar to join At The Gates in 2017.
Was it an obvious and immediate yes from you when the question came? "Yes, yes, absolutely! There wasn't any discussion. It's four old mates that I have known for 30 years. And to get to play in a band like At The Gates, that is obviously something I want to do," says Jonas Stålhammar as we sit down at the band's hotel in Shibuya a few hours before they kick off their new world tour with a terrific gig in Tokyo.
It is Stålhammar's second visit to Japan. Last year, God Macabre played for its Japanese fans at Asakusa Deathfest. "Yes, it's my second visit. Tokyo is a completely fantastic place. You never get tired of it! We were very overwhelmed by how enthusiastic people were to see us. It was really special," explains Stålhammar his first Japan visit with God Macabre in October 2017.
You were already playing with Tompa and Adrian in The Lurking Fear. Is it different to play with them in At The Gates? "The Lurking Fear started really as an excuse to hang out and create music. Both Adrian and Tompa were a bit restless after the last At The Gates tour. Plus they didn't know what Anders wanted to do. Thus they wanted to fill the time by playing music. That's really how The Lurking Fear started. Five friends who wanted to play together. But we're really serious about The Lurking Fear. Lurking is a new band. Sure, we started a bit higher up than many other new bands, but at the same time, it's still a new band. I had never played with any of them before."
A brand new At The Gates album, "To Drink From The Night Itself", was released in May. It's the first album without the creative force Anders Björler. Anders' brother Jonas had to take the helm when the new material was created while Tompa has written the lyrics. "Jonas has always written at least 40% of all songs, together with Anders. Earlier it has mainly been those two who have exchanged ideas with each other. Now Tompa has stepped in, mainly when it comes to the arrangements. That's where Tompa has done most. Jonas has written the music, but Tompa has had an extremely large part in arranging the music. It's been the two of them that have exchanged ideas for everything."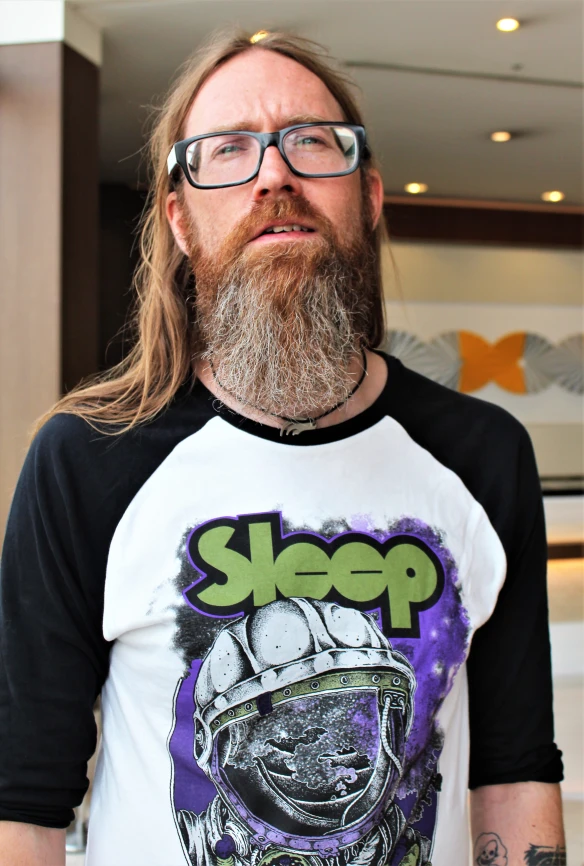 What has been your contribution to the new album? "In principle, almost the entire album had already been written. It wasn't like I wasn't allowed to come with ideas. I chose not to. I felt it was too early. I want to warm up first and play in At The Gates first before I start to come with ideas. That will be for the next album."
The gig later on that evening is the band's first on a new world tour. With a brand new album out, it is also the live premiere for new songs. "This gig will be special as we will play another four songs from the new album, earlier we've only played one. So, it's four songs that we have never played live before."
How do you feel about playing At The Gates classics created by others versus playing the new songs that you've helped to create and record? "I love to play the old songs. It's been a big challenge for me. My style of playing is quite similar to Anders', especially when it comes to solos. We've always thought about this in the same way: more melodic stuff rather than shredding and show-off solos. In that way, it fits in very nicely. But I have never played thrash. I have had to practice that whole thing in order to get the hang of that way of playing music. But I have nothing against it. I like it."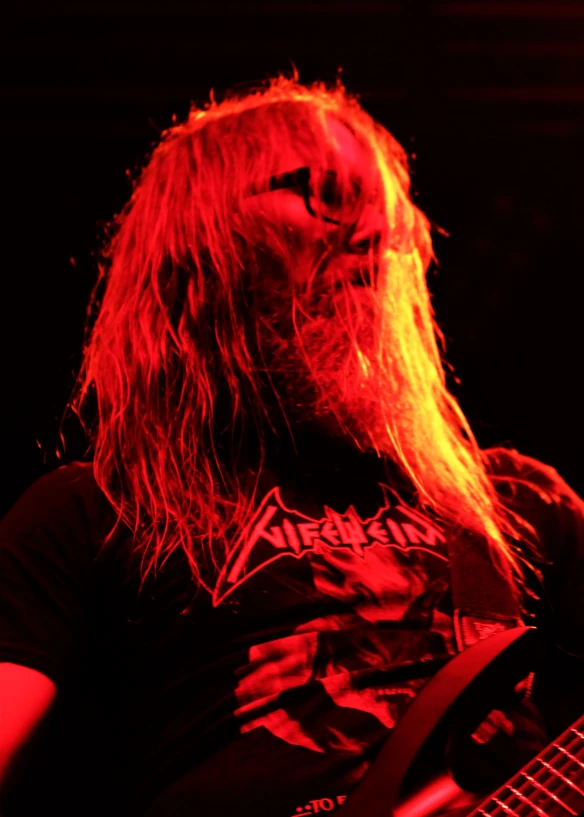 On the new album, there are passages in some of the songs on the album, such as parts of "Daggers of Black Haze" and "The Mirror Black", where we get some different kinds of influences and music mixed in with the normal anger. "Jonas is really into adding a bit more progressive rock, especially in the arrangements. To make it a bit more epic. I am really into it as well." So, you're doing an Opeth? "Ha! It won't be that extreme! It will be a little bit more of that, but there won't be any 12-minute songs. I very much doubt that. Haha!! We'll see when the next album's released."
"To Drink From The Night Itself" has been produced by Russ Russell (Napalm Death, The Haunted, Dimmu Borgir) and features some gloriously punishing tracks. Did he make it even heavier with his production? "Yes, absolutely. Jonas and Tompa really wanted to work with him. During the 'At War With Reality' sessions, the band let a number of people do some test mixes to see which ones they should choose. I think Russ was the second best choice then. It was there and then the idea that we should work with him on the next album came about. Plus that The Haunted did their last album with him. And Tompa has worked with him in Lock Up. He was the sound engineer for Lock Up live."
As is often the case, the Japanese edition of the new album comes with some fabulous bonus tracks. This time a six-track bonus CD. "Yes. Some of that material is also part of the special box edition, the songs with guest vocalists. That was a really fun idea to give the songs a completely different character. They are three very characteristic voices. All three are very different," explains Stålhammar the guest appearances of vocalists Rob Miller (Amebix, Tau Cross), Per Boder (God Macabre) and Mikael Nox Pettersson (Craft, Nidhöggr, Omnizide). Another well-known guest on the album is King Diamond guitarist Andy LaRocque who did the guitar solo on "In Nameless Sleep".
He continues: "Japanese record releases have had bonus material as long as I can remember. I am a record collector and thus I have bought a lot of Japan releases over the years. They always do something different with the releases there which make them attractive."
At The Gates' members play in many different bands and projects, how do you all prioritise your commitments? "At The Gates comes first, almost automatically. Of my five bands, At The Gates and Crippled Black Phoenix are the bands that tour. The other three bands are The Lurking Fear, Bombs of Hades and God Macabre. God Macabre, for example, we don't actively seek gigs. We do gigs that are offered. We just do it to have fun and to spend time together. Bombs is also not doing that much due to some members' personal circumstances. We've never been a hard touring band. With Lurking it's similar with family commitments. Thus you have to see what's possible to do. With Crippled, there are some direct clashes. There's one tour and one festival this year where they have to take in someone else because there is a clash. That's a band that I don't want to quit playing with and thus we always try to make it work as best possible."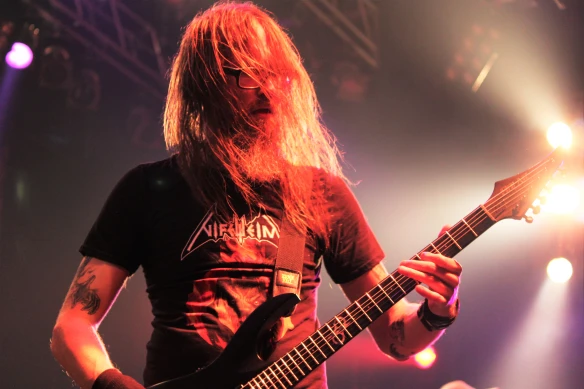 Sometimes Stålhammar can avoid clashes by pulling double duty with two bands during festivals. "With God Macabre and Bombs I've done some festival gigs. This summer both Lurking and At The Gates will do three festivals together."
New guitarist, new album out and a new world tour that has kicked off. What's coming up for the band? "We have 14 festivals this summer and then there will be two longer tours outside of Europe this autumn. Then, next year, we will tour Europe and some other stuff. We will do those festivals we're not doing this year."
Later that evening in Tokyo Stålhammar is on stage with At The Gates and proves why he is a perfect fit for the band.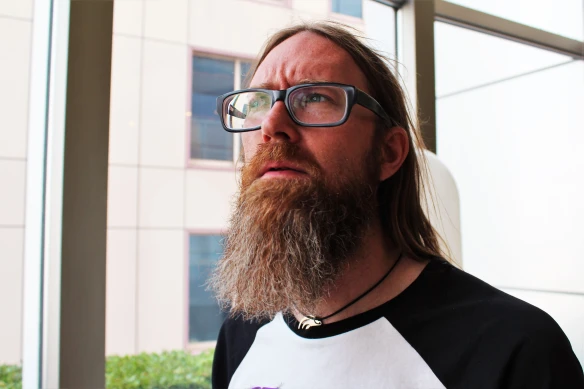 www.facebook.com/atthegatesofficial