Album review: Candlemass "Sweet Evil Sun"
The Swedish doom masters Candlemass are back and they are still top of the heap in the doom world.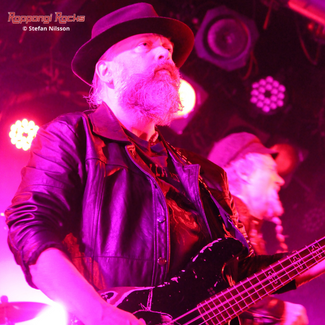 The new Candlemass album "Sweet Evil Sun" has the band's trademark – and still exquisite – doom-metal sound. But the band, as has always been the case, keeps evolving and adding new twists and nuances to its music. Their creativity is intact. The new album is simply smashing in a slow, evil way! The song material on "Sweet Evil Sun" is excellent and so is the delivery. The current version of Candlemass equals any and all past line-ups. In the current line-up, the band's mastermind Leif Edling (bass) is joined by lead vocalist Johan Längqvist, Lars Johansson (lead guitar), Mappe Björkman (rhythm guitar) and Janne Lindh (drums). Candlemass has always had great lead vocalists, but it seems that the return a few years ago of the band's original vocalist Johan has given the band renewed energy and harmony (if a doom band is allowed to be harmonious). The album opens with an epic slap in the face in the form of the excellent "Wizard of the Vortex". "Crucified" is good-old Candlemass doom and one of the album's best tracks. Epic stuff! The title track is both doomy and catchy at the same time and excellent proof that this band is not afraid of pushing boundaries. "Angel Battle" is another fab track that successfully makes the combination of old-school doom and melodic catchiness. "When Death Sighs" is like a little sinister and dramatic storytelling session in front of the fireplace. It includes a guest appearance by Jennie-Ann Smith of Avatarium. It is a different and magnificently dramatic take on doom. The drum-driven yet riff-happy track "Scandinavian Gods" puts a smile on my face as I slowly play my air guitar. Following nine splendid doom tracks, the album is rounded off with a short instrumental outro piece which is brilliantly named "A Cup of Coffin". This album with its slow, heavy and doomy guitar riffs will not disappoint any Candlemass fan. Producer Marcus Jidell has done a clap-your-hands-say-yeah job with the production. He has really managed to capture the essence of this legendary band. This is a terrific album by excellent musicians that still deliver at the top of their game!
Candlemass' new album "Sweet Evil Sun" will be released on 18th November via Napalm Records internationally. The Japanese edition will be released via Avalon/Marquee on 16th November.
www.instagram.com/candlemassdoom