Loud Park gig report: Black Earth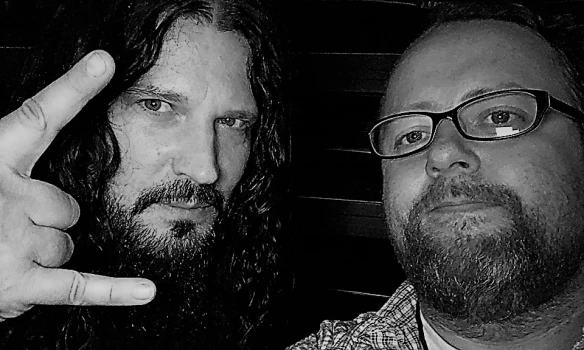 Original Arch Enemy line-up reunites once again in Japan for a secret gig at Loud Park.
In 2015, during Arch Enemy's appearance at the Loud Park festival in Japan, they did a special section where they reunited the original Arch Enemy line-up. Guitarist Christopher Amott and vocalist Johan Liiva came onstage to join their former bandmates to perform some early classics. The move was such a success that in 2016, the original Arch Enemy line-up did a full Japan tour under the name Black Earth (named after Arch Enemy's 1996 debut album). That Japan tour was a massive success. It was documented and recently released as a special live album and DVD.
At this year's Loud Park, Black Earth turned out to be an unannounced secret act to the audience's delight. There is definitely no shortage of love for Arch Enemy here in Japan. Rumours were circulating the night before that Arch Enemy mainman Michael Amott was in Japan. Thus, a large crowd was in front of the stage at 10:30am on Sunday 15th October to find out what the secret act was and if indeed Amott was part of it. For those in the audience with good eyes, it was easy to spot Michael Amott's signature guitar on the side of stage just before the gig. Then Amott walks on stage together with his brother Christopher, bassist Sharlee D'Angelo, drummer Daniel Erlandsson and Johan Liiva and the crowd goes wild. The rumours were indeed true.
Black Earth opens with a knockout version of the splendid "Bury Me An Angel" from the band's debut album. We then get treated to "Dead Inside" and "Diva Satanica", both from the "Stigmata" album. "The Immortal" (from "Burning Bridges") follows and then we get to revisit "Stigmata" with the song "Beast of Man". "Silverwing", another terrific song from "Burning Bridges", is performed before they close their short set with "Fields of Desolation" from "Black Earth". An intense, short and fabulous gig on a Sunday morning in Japan.
With Liiva back on vocals, we are reminded that Black Earth is a very different band from what Arch Enemy later became with Angela Gossow or Alissa White-Gluz on vocals. They are three very different singers who have all been great with Arch Enemy.
Black Earth – what a great secret act to add to Loud Park. With the Black Earth live-DVD and a new Arch Enemy studio album both just released, it makes a lot of sense for Michael Amott and his men to do this secret gig. Arch Enemy will return to Japan for headline gigs during 2018 as part of their "Will To Power" world tour.
www.facebook.com/archenemyofficial