EP review: Death Reich "The Final Plague"
Death Reich plays excellent and ferocious Swedish death metal.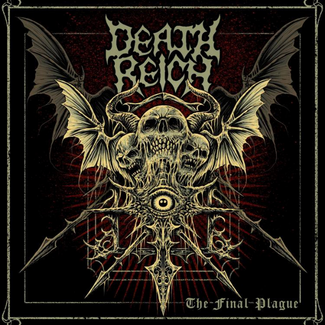 Death Reich plays very good death metal. Musically, this band lives somewhere between old-school death metal and modern melodic death metal. It doesn't really have the stinky basement odour of old-school death metal. But it has the energy and ferocity of what happened in those Florida basements in 1989. So, these guys wash their hair sometimes and change their socks once in a while, so what? They can still serve up a platter of excellent death metal. And they do. "The Final Plague" is a smashing and pummelling five-track EP. "The Creator" is the standout track with its excellent guitars shooting out like rockets from the mayhem. I am a big fan of EPs. I rather have a short EP with five tracks than a longer album with some added fillers. Here's an EP that grabs hold of you as soon as it kicks off with the title track "The Final Plague". It holds onto your throat until the final note of the fifth song, "Eyemaster". No rest for the wicked. No compromises from this terrific Swedish death metal band. It is naughty, a bit sinister and relentless, a great addition to Sweden's pioneering and proud position at the front of the death metal scene. Death Reich was formed in Uddevalla, Sweden in 2018 and debuted in 2021 with the three-track EP "Death Camp". The new EP is a small musical evolution for the band, where the sound is a tad bit more modern and the underground feel of the first EP has been polished a bit. The band consists of Jonas Blom on drums (who's been drumming live for Nifelheim in the past), Johnny Lehto on vocals, Christer Bergqvist and Robert Babic on guitars and Robert Axelsson on bass. This band plays good stuff and we can now look forward to the band's first full-length studio album in the not-too-distant future.
Death Reich's "The Final Plague" EP is out now via Non Serviam Records.