Gig review: Mott the Hoople comes alive at Morgan Fisher's place
A fabulous and intimate gig with Mott the Hoople and Queen veteran Morgan Fisher and Japanese singer-songwriter Yutaro Ogida.
Nanker's Best – Morgan Fisher and Yutaro Ogida – at Morgan Salon, Suginami-ku, Tokyo, Japan on 7th January 2023
On a cold January evening, I was lucky enough to be invited to the home of Morgan Fisher (aka Morgan Salon) for an evening filled with great music, terrific stories and fabulous people. British artist and composer Morgan Fisher is best known as a member of Mott the Hoople and for his stint in the 1980s as a live member of Queen. Over the years, he has been a member of bands such as The Love Affair and Third Ear Band and performed and recorded with Yoko Ono, Hanoi Rocks, Jello Biafra and many more. Since the mid-1980s, Morgan is based in Tokyo and now, at the grand age of 73, he's still got it as a performer. This evening he performed as the Nanker's Best duo together with Japanese singer-songwriter Yutaro Ogida. The two gentlemen put on a performance of splendid music mainly from the 1960s and 70s. It was a very laidback, friendly and intimate show. It had the feeling of a casual jam or a band rehearsal that the audience had the privilege of being part of. There was plenty of banter between Morgan and Yutaro as well as with various audience members which added to the cosy atmosphere. They opened the evening with Buffalo Springfield's "For What It's Worth" from 1966 and then continued with The Equals' "Baby Come Back". During the highly enjoyable evening, we got treated to 1960s hits such as "She's Not There" (The Zombies), "This Wheel's on Fire" (Bob Dylan), "I Am the Walrus" (The Beatles) and "Baby Please Don't Go" (Van Morrison's Them). There was also a wonderfully quirky version of Rod Stewart's 1978 hit "Da' Ya' Think I'm Sexy" as well as a few great original songs by Yutaro Ogida. The main set finished with a trio of Mott the Hoople classics: the beautiful Ian Hunter ballad "Rest in Peace", "Roll Away the Stone" and, of course, "All the Young Dudes", a Mott the Hoople anthem written for them by David Bowie. The obligatory encore consisted of the 1956 Screamin' Jay Hawkins song "I Put a Spell on You" – with a guest appearance by Stockholm-based Japanese bassist Tomoko Sukenobu (Atomic Swing and "Demons"). The performance came to a close with Mott the Hoople's excellent "Saturday Gigs" performed by Morgan on his pipe organ. This evening at Morgan Salon was a fab way to kick off a new year of live music performances.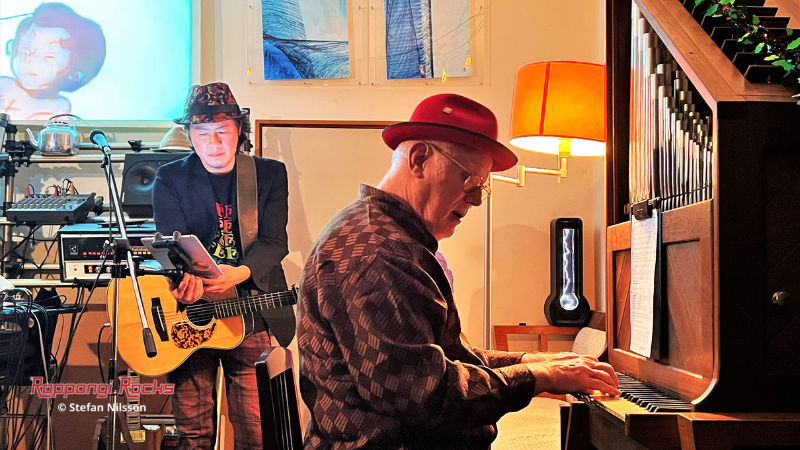 www.facebook.com/morganfisherart