Deep Purple live at Budokan. It doesn't get more classic than this, right?
Deep Purple at Nippon Budokan, Chiyoda, Tokyo, Japan on 13th March 2023
I didn't know what to expect from seeing Deep Purple, one of hard rock's most classic bands, live on stage in 2023, 55 years after the band was founded in England in 1968. I knew it would be good, but what I got to experience on Monday evening in Tokyo was so much better than good. It was sublime. Seeing Deep Purple perform at Budokan where they in 1972 partly recorded "Made in Japan", one of the best-ever live albums in the history of rock, was a feeling of being part of rock history not lost on anyone in attendance. It was indeed a special night.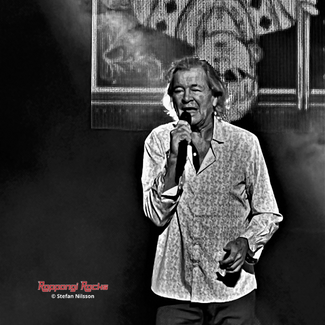 Deep Purple has always been a band of players. That remains the case in 2023. From the classic Mark II line-up remains Ian Paice on drums, Ian Gillan on vocals and Roger Glover on bass. Don Airey on keyboards has been playing with the band since he temporarily filled in for Jon Lord in 2001 and then became a permanent member in 2002. New lead guitarist Simon McBride, who joined last year, has big shoes to fill. It doesn't seem to bother him. He has the skills to deliver and at Budokan he did. He seems to have revitalised the band. At 43, he's much younger than the rest of the band, but he fits Deep Purple like a glove.
The band opened the show with "Highway Star" and "Pictures from Home" from the 1972 "Machine Head" album. Both the band and the audience were on fire and up for having a good time in the name of rock. A lot of little mini-jams happened throughout the hour-and-a-half-long show. Not least Don Airey got to shine with his keyboard wizardry. With a Hammond and a Moog among his weapon arsenal, Don created and performed terrific music. He may have joined the band to replace the irreplaceable Jon Lord, but now, more than two decades later, he has brought his own game to Purple. Ian Gillan's characteristic and seasoned voice was excellent. The flawless setlist was built around songs that the band, here and now, can still deliver at a world-class level. For a band with such a vast back catalogue, they had put together an excellent set of songs from throughout their career. A personal highlight was Don Airey's exquisite solo spot that led straight into a splendid version of 1984's "Perfect Strangers". Seasoned versions of "Machine Head" classics "When a Blind Man Cries" and "Lazy" were sheer musical excellence. Purple also showed us that this is not all about the old classics. At Budokan, we got newer material in the form of "No Need to Shout" and "Nothing at All", both from the 2020 "Whoosh!" album, and "Uncommon Man" from 2013's "Now What!?" album. The newer songs stood up well to the classics. Fantastic versions of "Space Truckin'" and "Smoke on the Water" closed the set but the band came back for an encore consisting of "Hush", a playful bass solo by Glover and finally "Black Night". The band members clearly enjoyed themselves. Bassist Roger Glover performed with a fractured thumb. He's 77 and just got on with it. A thumb won't stop Deep Purple from creating a magical night at Budokan. Backstage after the gig, Glover, Paice and Airey were all smiles as they wound down after a demanding performance. Purple at Budokan. Yeah, I was smiling too.
www.facebook.com/officialdeeppurple