Steve Mann of MSG – Part 1: "This is now pushing forward as a new band"
Being a guitarist in the Michael Schenker Group when your name isn't Michael Schenker, probably isn't the easiest gig in the business. But that is Steve Mann's job. Here's part one of Roppongi Rocks boss Stefan Nilsson's interview with Steve Mann which took place when he recently visited Japan.
Best-known as guitarist and keyboardist for the Michael Schenker Group, British musician Steve Mann is also a member of Lionheart and a past member of The Sweet and Tytan. He is since many years based in Germany where he runs his own studio.
"It's funny. Jetlag always hits you two days afterwards. It's hit me today. I had a really good night's sleep last night, but this afternoon… I'm due to wake up in about half an hour. Haha! But I'm fine," says Steve as we meet in Shinjuku, Tokyo. I have seen MSG as well as Michael Schenker's Temple of Rock and Michael Schenker Fest many times, but the current version of MSG is the best I have ever seen. The latest line-up consists of Michael Schenker, Steve Mann, vocalist Ronnie Romero (Rainbow), drummer Bodo Schopf (ex-The Sweet) and bassist Barend Courbois (ex-Blind Guardian, Tank).
The new version of MSG does not seem to be built around nostalgia. Recent Schenker tours have been about celebrating the past – but this feels like here and now. Was this a deliberate move by MSG? "Nothing was ever discussed or arranged. But you probably hit the nail on the head. Certainly, the way I see it, is exactly what you just said. The Fest really got together as a celebration of Michael's past. When Covid came along that put a natural stop to that. We had a great tour of Japan lined up for March 2020. Two days before we were due to leave the whole thing got cancelled. We had Simon Phillips with us, Barry Sparks with us, the four singers… That was going to be a great show. Covid came along and put paid to that. I think it was appropriate to use that time as a new start. I think, very much what you said, this is now pushing forward as a new band. The way I see it – with absolutely no disrespect to past members whatsoever – but we have a very good line-up now. We feel very good working together. It's very tight. We get on extremely well. Michael is in a very, very good place. He's become a real mate. He's become one of the boys which is great! It is very much a kind of five-piece band as opposed to being Michael and a four-piece backing band. Putting all of that together plus the fact that we have these new albums out over the last two-three years… I would agree with you. It's very much pushing the band now into a future direction. After the American tour, certainly, we see it that way because that pulled the band together and made us realise what a great unit this is."
You first started playing with Michael in 1986 during the McAuley Schenker Group era when Robin McAuley fronted MSG. How did it happen? "Yes, that was the McAuley era, that's right. I was in a band called Lionheart – I still am, Lionheart is still going – with Rocky Newton, the bass player. When Lionheart took a hiatus in 1985, Rocky was then asked to join Michael's new band which turned out to be the McAuley-Schenker Group. And Michael just asked him if he knew someone that played guitar and keyboards. Of course, Rocky knew me from Lionheart, so he gave me a ring. That's basically how I came in. Robin was in first, then Rocky came in, then I came in and then we auditioned for Bodo. So, that's basically how that band came about."
Let's talk about you being "the other guitarist" in Michael Schenker Group. Michael is one of the most iconic guitar players in the history of rock. How do you handle being a guitarist in Michael's band? Is it a big issue or do you just get on with it and play? "Hahaha! Very much get on and play. Exactly what you said, I have the biggest respect for Michael because he is such an amazing guitar player, there's no two ways around it. It would be pointless for me to feel there's any competition with Michael. A) Because that's not my job, that's not why I'm in the band, and B) I wouldn't want to do that because it makes no sense to me whatsoever. I wouldn't want to try and be Michael Schenker number 2! What's the point? If I was going to do that, I'd play a Flying V and wear a hat! But I choose to be Steve Mann. I think, what would make it much harder is if I didn't have Lionheart and if I wasn't doing my own projects. When I am home and in my studio, I do a lot of recording. I obviously then have a chance to be the lead guitar player, to play exactly the way I want to play. I do a lot of interpretations of classical music. So, I really kind of spread out in ways outside of MSG, which gives me a chance to really express myself in a musical sense. When I'm with MSG, I love it, because I'm able to give Michael what he needs in terms of back-up rhythm guitar. I think Michael, as a thank you maybe, I don't know, lets me play a couple of solos in a couple of the songs., a couple of UFO songs. That's my moment. Barend has his bass solo moment, Bodo has his drum solo moment and we all appreciate that. It's Michael's way of saying 'I know you guys are good. Here's your spot and you can show what you can do!' I love it! I appreciate the fact that he gives me a couple of moments of glory to show what I can do. I'm in a very fortunate position that his sound is probably one of the most identifiable guitar sounds in rock and I love his guitar sound. I get a chance to rehearse this and compare my sound to his sound. I don't try to sound like him but we match the two guitar sounds up."
Part 2 of Roppongi Rocks' Steve Mann interview will follow soon.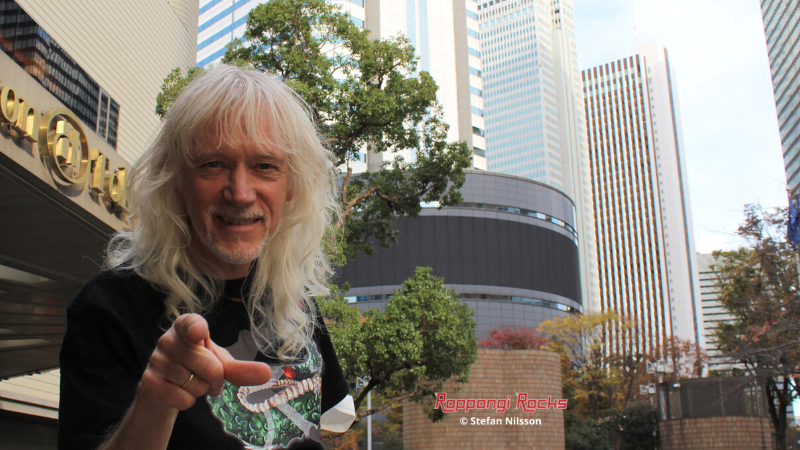 www.facebook.com/steve.music.mann