Festival report: Japanese Assault Fest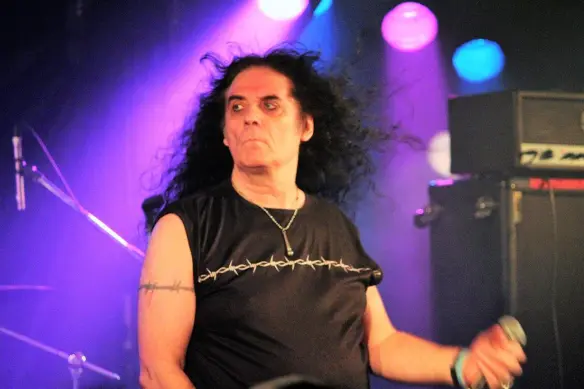 Spiritual Beast's annual mini heavy metal festival in Tokyo was yet again a splendid weekend of metal.
Japanese Assault Fest is always a highlight in Roppongi Rocks' calendar. While Knotfest Japan was taking place the same weekend (with a rather boring and weak artist line-up), the much smaller Japanese Assault Fest, hosted by Japanese record company and concert organiser Spiritual Beast, offers fans a more grassroots-type festival. At this festival, held in a Tokyo club, one often sees the bands hang out with their fans before and after their sets. The two-day festival offers the same headliners on both days, but with different support bands on each day. Roppongi Rocks attended the second day of the festival.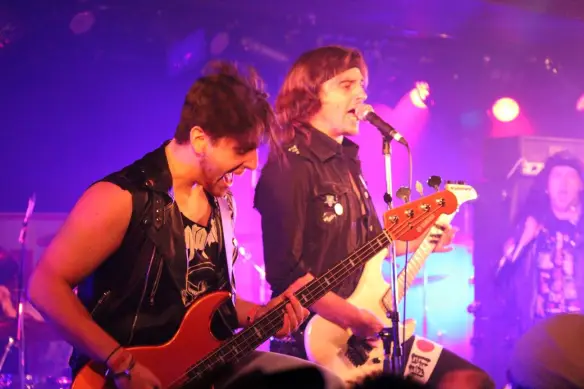 Hitten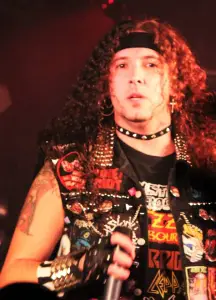 Hitten from Spain is a young band with an obvious love for and dedication to 1980s heavy metal, despite the fact that most of its members were not even born then. Hitten is a perfect opening act for the festival as this band is all about feel-good heavy metal with great energy. While only formed five years ago, the band has already released a couple of full-length albums. Keep an eye on these Spaniards, they will keep doing great stuff in the name of heavy metal.
Bio-Cancer
Greek thrash metal band Bio-Cancer continues with the proud tradition of Greek thrash metal. They play a modern, quite brutal, version of thrash metal. They call it "ear-piercing thrash", which is also the name of their first demo and their 2012 debut album. We get an exhausting set featuring six songs from the band's latest album – 2015's "Tormenting the Innocent" – plus the best bits from their debut album. They finish with the anthem "Spread the Cancer".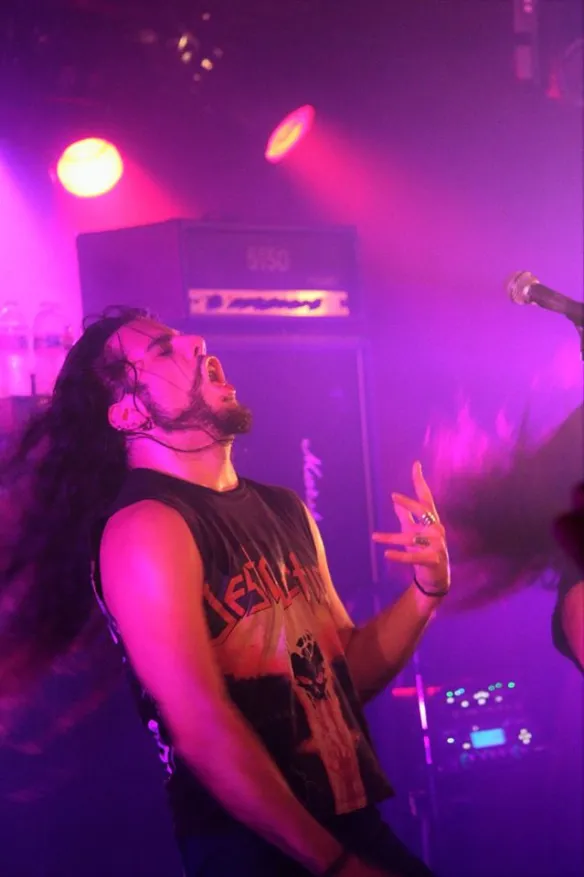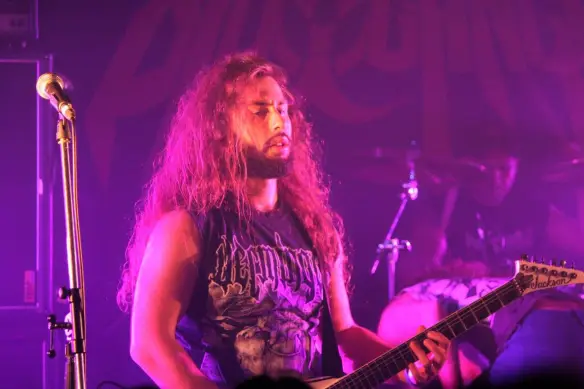 Solitude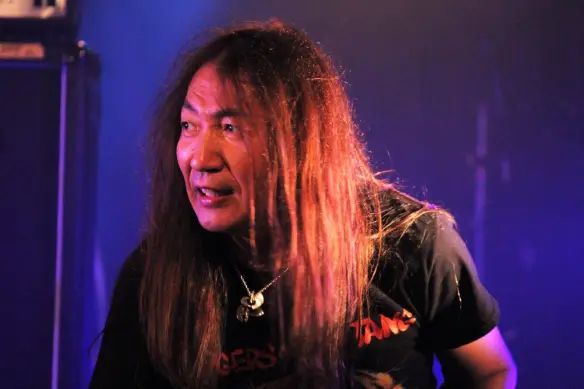 Japanese metal band Solitude – fronted by Spiritual Beast's Akira Sugiuchi – plays a more old-school blend of thrash metal and NWOBHM. Having just signed a North American record deal with Test Your Metal Records, the band is on a roll. The band has been around since 1996 but may now finally become a bigger name outside of Japan. The band is tight and the vocals of Sugiuchi sets them apart from the pack. This man was born to sing heavy metal. Their set is dominated by songs from their latest album, 2015's "Reach for the Sky", but they finish with old favourite "Volcano of Anger".
Ancient Bards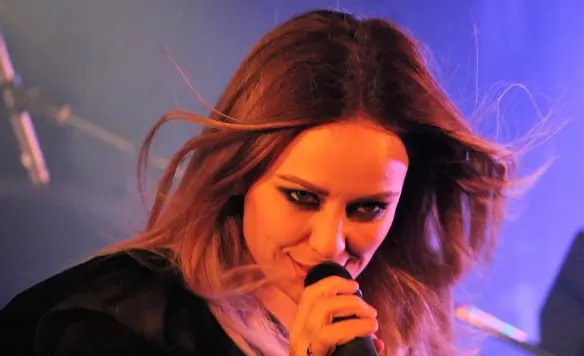 Italians Ancient Bards call their music "symphonic epic power metal". Celebrating a decade as a band, they perform a great set this evening. The band's concept reminds me somewhat of Nightwish, although the Bards sound quite different. There are some folksy, medieval touches to their melodic symphonic metal which also has some progressive elements. The Bards are quite a bit different from the other bands on the bill this evening, but it works. That's the beauty of festivals such as this one which has room for all kinds of metal and hard rock. In vocalist Sara Squadrani, the Bards have something special. A bit like an Italian version of Floor Jansen, kind of. Bassist Martino Garattoni also stands out. Their perhaps best song, the splendid "Through My Veins", closes their superb gig.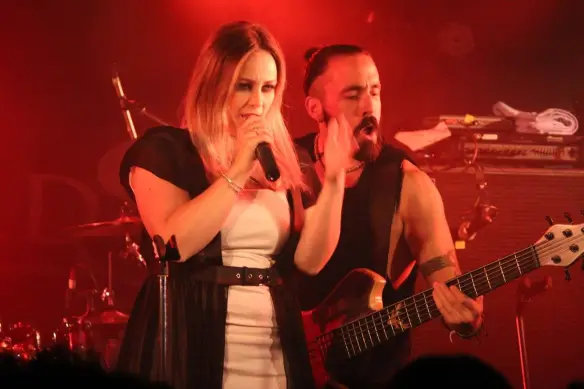 Blitzkrieg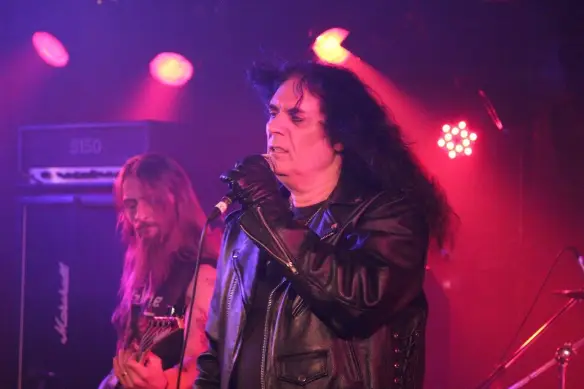 True British metal band Blitzkrieg formed in 1980 and was an influencer of both NWOBHM bands and early thrash metal. Famously covered by Metallica (yes, Metallica's "Blitzkrieg" is a cover of Blitzkrieg's original), Blitzkrieg has cult status among heavy metal fans the world over. This evening they deliver above and beyond expectations. Unlike many of his peers, vocalist Brian Ross – the only remaining original band member – still has a voice that is as good now as it was in 1980. He sounds fantastic. Blitzkrieg has also continued to write, record and perform new music and not just rely on their classic material. We get a great gig with a perfect combination of old and newer material. One of the set's highlights is the Judas Priest tribute "Call for the Priest" which Is simply fabulous with Ross sounding like Rob Halford at the top of his game. We get both tracks from their 1981 debut single – "Buried Alive" and "Blitzkrieg" – as well as other classics such as "A Time of Changes", but also quite a bit of newer stuff, such as the terrific Jack the Ripper-inspired "Back from Hell", proving that this is no mere nostalgia act.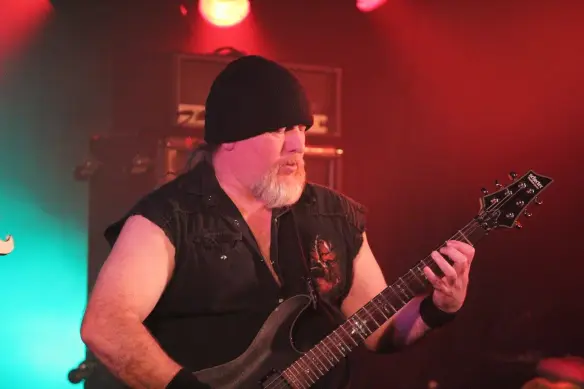 The current line-up of the band – Brian Ross on vocals, Brian's son Alan Ross and Ken Johnson on guitar, Bill Baxter on bass and Matt Graham on drums – is tight and they are having fun on stage. While Blitzkrieg has had a revolving door for members coming and going in the past, it seems they have now find a stable bunch of fine musicians to carry the true British metal torch forward.