Gig review: Randy Bachman at Tokyo American Club
The Guess Who and Bachman-Turner Overdrive legend came to Japan to rock and pick up his stolen guitar.
Randy Bachman at Tokyo American Club, Azabudai, Tokyo, Japan on 2nd July 2022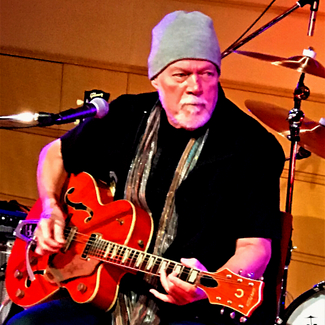 Randy Bachman was on fire during his gig in Tokyo on Saturday night. Having had his beloved 1957 Gretsch guitar that was stolen in Toronto in the 1970s returned to him the day before this gig, seems to have put the fire back in his belly. He played the opening song, "Shakin' All Over", with the Gretsch before locking it away and then carrying on with a magnificent rock show. Having made a name for himself as a founding member of the bands The Guess Who and Bachman-Turner Overdrive, Randy has a treasure trove of material for his shows. The veteran Canadian rocker started his career in 1960 and had his first number one hit in 1965. Now he's 78 and still going strong.
Guitar maestro Marty Friedman was a surprise guest at the Bachman show. He brought some fab guitar wizardry to Randy's music. Marty always brings flair and delivers, no matter if he performs his own music or someone else's. The smile on Marty's face showed us that this was a dream come true for Marty who was a huge Bachman-Turner Overdrive fan as a boy.
Randy dug into his great back catalogue of classic rock, including, of course, "American Woman", "Roll on Down the Highway" and "Taking Care of Business". He was in a playful mood and gave us a terrific performance which also included some great covers such as "Get It On" by T. Rex. The longer the set went on, the more jam-tastic it became. The band followed Randy's lead and took us on a fabulous musical rollercoaster. The band was tight and included Randy's son Tal Bachman on guitar, piano and vocals, his Japanese daughter-in-law Koko Bachman on drums and vocals and Nikolas Faraguna on bass. During the set, the band also played "She's So High", a song which Tal Bachman had a hit with over two decades ago.
It was an exquisite evening of both rock and roll at the Tokyo American Club. Very enjoyable and great fun.
www.facebook.com/randybachmanofficial