Gig review: Girlschool and Venom Inc – a terrific celebration of NWOBHM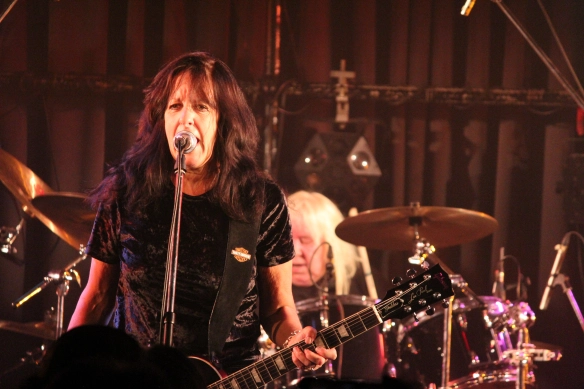 British bands Girlschool and Venom Inc headline a splendid celebration of New Wave of British Heavy Metal in Tokyo. What a great Sunday in the name of heavy metal!
Girlschool, Venom Inc, Sabbat, Survive, Hell Freezes Over and The Babes at Club Seata, Kichijoji, Tokyo on 23rd June 2019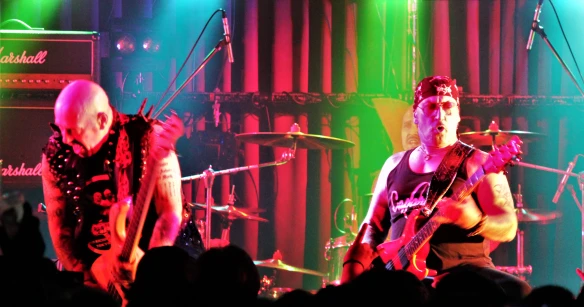 We all know what Sundays are for. That's right – to rock. For those about to rock, we salute you! Metal we bleed! Japanese promoter UPP-tone Music decided to celebrate four decades of New Wave of British Heavy Metal (NWOBHM) with a Sunday packed with great music from both yesteryear and here and now. With a six-band line-up combining two splendid veteran (but still very relevant) British bands with three Japanese bands and a great new band from Australia, this was a proper Sunday in the name of metal music. NWOBHM was always a very diverse scene with bands with very different sounds and based all over Britain – with London, Birmingham, Newcastle and Sheffield among the more prominently featured cities in the scene. Just like the original NWOBHM scene was rather diverse, so is the music this evening in Tokyo.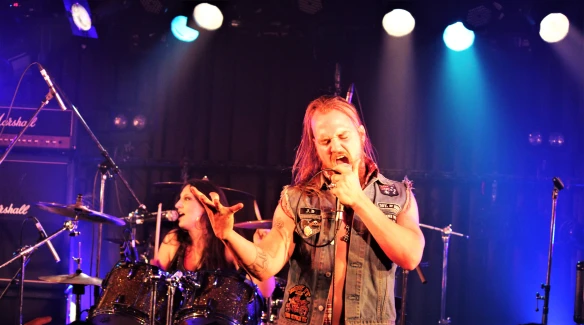 The Babes
Australian band The Babes kicks off the festivities with a high-energy set of what they call underdog rock. With a great EP already under its belt, the band will soon release its debut full-length album. Three of the band's four members are siblings and they seem to bring that personal chemistry with them to the stage. Despite this being their first-ever Japan gig, they have the Japanese audience with them from the first song. The band looks pleasantly surprised at already having Japanese fans who even sing along. It is a short 30-minute set but it does the trick. What a way to introduce the band to Japan! The set gets this Sunday off to a great start.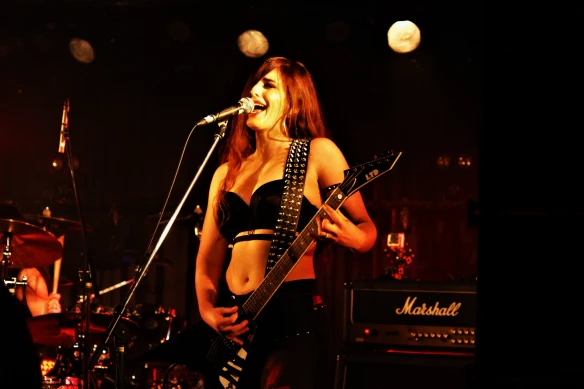 Hell Freezes Over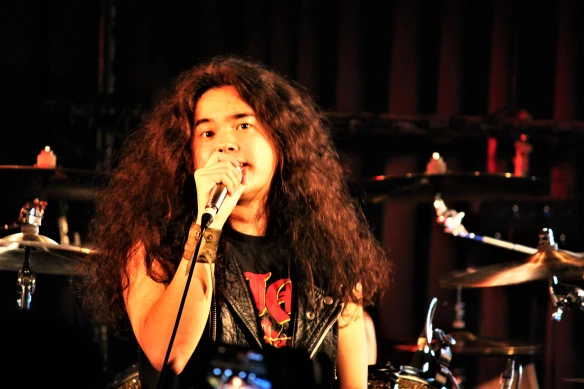 Next up is young local thrash/speed metal band Hell Freezes Over. It is great seeing this young band continuing to grow up over the past few years. The foundation of their music is in thrash and speed metal of the 1980s and 90s. They retain the attractive roughness and rawness of, say, early Exodus, and perform their metal with great enthusiasm.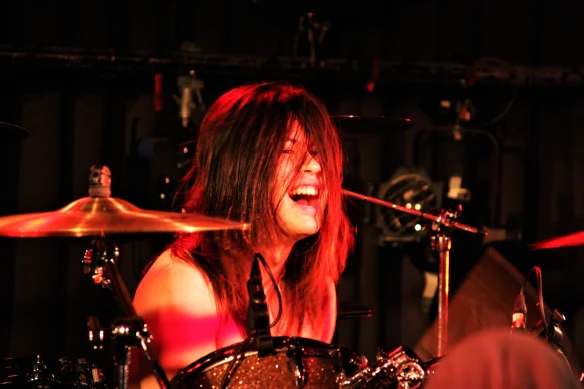 Survive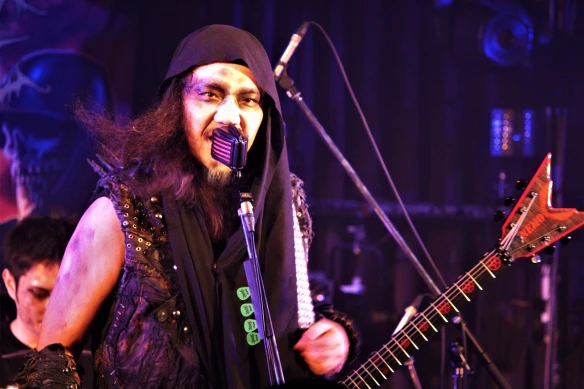 Japanese metal band Survive's frontman Nemo is back in full force following having had to cancel some shows earlier this year due to a serious illness. Seeing Nemo back on stage is nothing short of fabulous. Survive – currently one of the best metal bands in Japan – is always great. But this evening they are more than great. The highlight of the set is no doubt the terrific "Immortal Warriors" which has now become a band anthem. The band's new stage clothes and make up bring Behemoth to mind and the visuals add to the overall experience.
Sabbat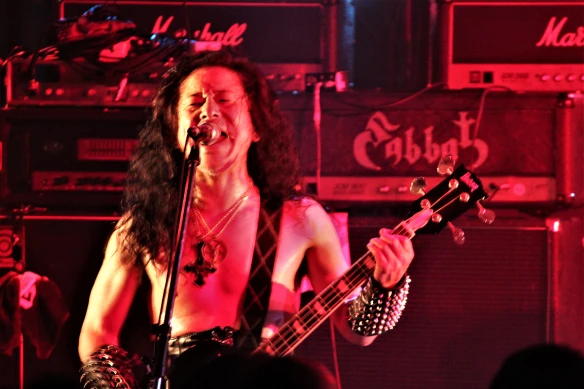 Japanese metal band Sabbat has some obvious Venom-style black metal influences in its music. Sabbat's sound is very much uncompromising early 1980s old-school heavy metal. Time has stood still in the world of Sabbat and that is not a bad thing. Finishing their set by playing Venom classic "Lady Lust" with Tony Dolan on guest vocals is a very fitting finale.
Venom Inc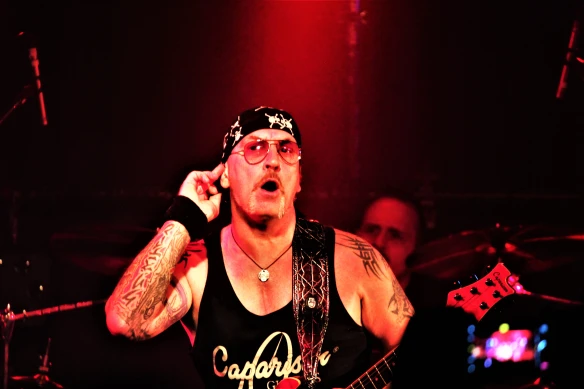 Venom Inc is back on stage in Japan for a second time on the ongoing world tour in support of 2017's album "Avé". It is, however, the first Japan show with new drummer Jeramie Kling, who adds some proper stability backing up Jeff "Mantas" Dunn on guitar and Tony "The Demolition Man" Dolan on bass and vocals. They open their set with what has now become a Venom Inc anthem – the terrific "Metal We Bleed". This evening's set combines classic Venom songs with newer Venom Inc material. We get four terrific songs from Venom Inc's "Avé" album: "Forged in Hell", "Metal We Bleed", "Time to Die" and "War". The rest of the set is made up of Venom classics such as "Rip Ride", "Live Like an Angel (Die Like a Devil)", "Warhead", "Don't Burn the Witch", "Lady Lust", "Dead of the Night", "Witching Hour", "Black Metal", "Bloodlust", "Countess Bathory", and, of course, "Welcome to Hell". It's fantastic. The band came to Japan straight from Hellfest in France without much sleep. They're tired but when they walk onto the stage, they deliver like it's nobody's business. Japan loves them and they give us a show to remember. A new album is in the making and will hopefully be released in the spring of 2020. Can't wait to hear what this trio of scholars and gentlemen in the name of heavy metal will treat us to on the new album.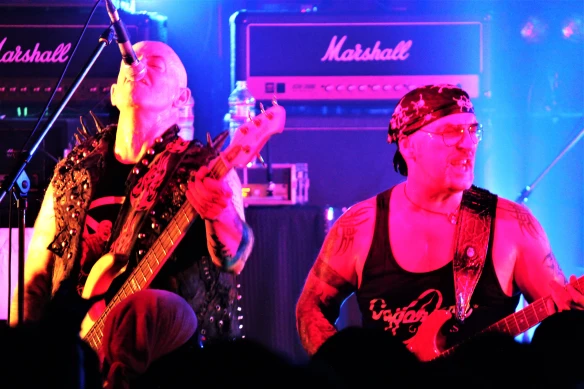 Girlschool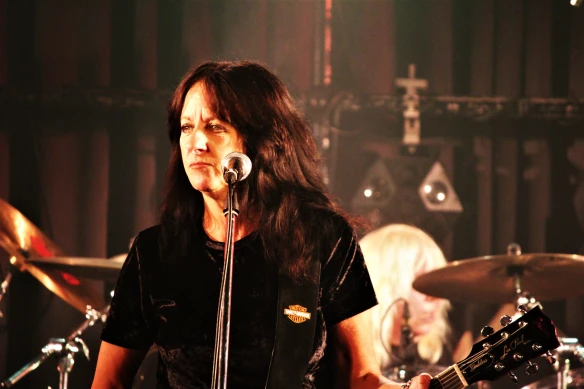 Seeing Girlschool for the first time, my expectations are high. This is a legendary British band with a reputation for putting on great shows. This evening the band by far exceeds my expectations. They are on fire this as they open their set with "Demolition Boys" and, of course, "C'mon Let's Go". They have a great catalogue of songs: classic songs from the late 70s and early 80s, but also fabulous newer songs such as "Take It Like a Band" and "Guilty as Sin". Returning bassist Tracey Lamb adds some great groove to the band. She also sings lead on "Watch Your Step" which gives lead vocalist and guitarist Kim McAuliffe a bit of a breather. In addition to McAuliffe, the band's co-founder Denise Dufort is still behind the drum kit. Rounding out the current line-up is the "new girl", lead guitarist Jackie Chambers, who's now been a member for twenty years.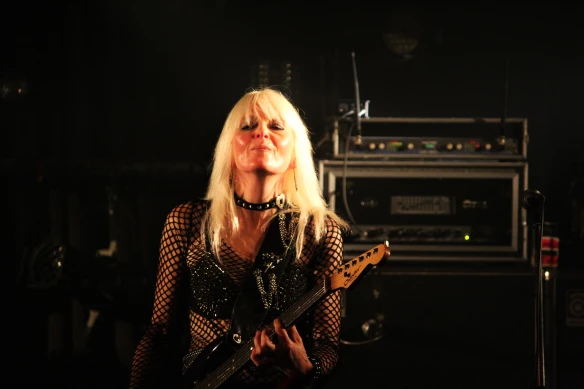 The band chemistry is great and there are plenty of self-deprecating jokes and comments in the show. The banter never stops. It is part of the charm of this terrific band. When they play "Bomber" (a Motörhead classic that Girlschool recorded for the "St. Valentine's Day Massacre" split EP with Motörhead in 1981), Tony Dolan appears on guest vocals. After a terrific Girlschool set (what a great live band!), they are joined on stage by Venom Inc and the two bands perform a playful version of ZZ Top's "Tush" to close a very enjoyable evening.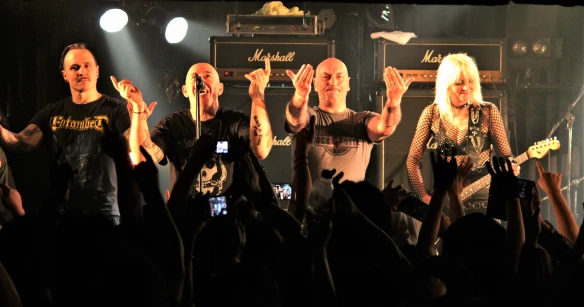 Concert promoter UPP-tone Music is really turning into a great niche promoter in Japan with fab shows with bands like Raven, Oliver Dawson Saxon and Anvil. They put on fabulous metal shows which (unlike the sterile shows that are often put on by the big corporations) all have a great community feeling to them with artists and fans hanging out together before, during and after the shows. I hope UPP-tone will continue to put on these great metal shows for many years to come.