Album review: Frantic Amber "Bellatrix"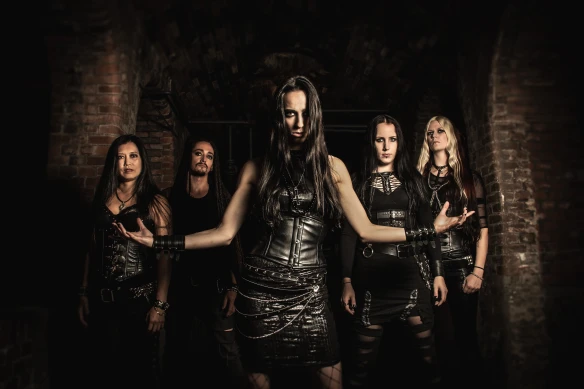 Swedish heavy metal band Frantic Amber returns with a smashing new studio album filled with aggressive vocals and plenty of speedy guitar riffs.
Perhaps this should be classified as melodic death metal, but I'd like to describe it as dark and hard-hitting thrashy metal with both speed and melody. The harsh vocals mix well with the guitar melodies. It's angry music with great melodies. Frantic Amber is a Swedish band but the current line-up is quite international: rhythm guitarist Milla Olsson and bassist Madeleine Gullberg Husberg are indeed Swedish, but lead guitarist Mio Jäger (formerly of Swedish thrash metal band Ice Age) is Japanese, vocalist Elizabeth Andrews is Danish and drummer Mac Dalmanner is from Colombia. "Bellatrix" is the band's second full-length studio album following the band's debut album, "Burning Insight", which was released in 2015. It's a great album by a great band where Elizabeth Andrews, who has some serious aggressiveness in her vocals, and Mio Jäger's guitars stand out. The terrific song "Lagertha" kicks off with the line "I am a Viking!" How can I not like that? I do. It's one of the best tracks on a very solid album. Sometimes Frantic Amber's music feels uncompromisingly old-school (not a bad thing in my book), but there are also other influences here, such as when the band makes use of some traditional Japanese instrumentation on the splendid track "Joshitai". This is great stuff. A proper metal album to bang one's head to.
Frantic Amber's "Bellatrix" is out now via GMR Music.