Interview | Schmier of thrash metal veterans Destruction | "We're not ready to start a blues band yet!"
When German thrash metal band Destruction returned to Japan to kick off their Asian and Australian tour with a show in Tokyo, Roppongi Rocks' Stefan Nilsson met with vocalist and bassist Schmier backstage before the gig.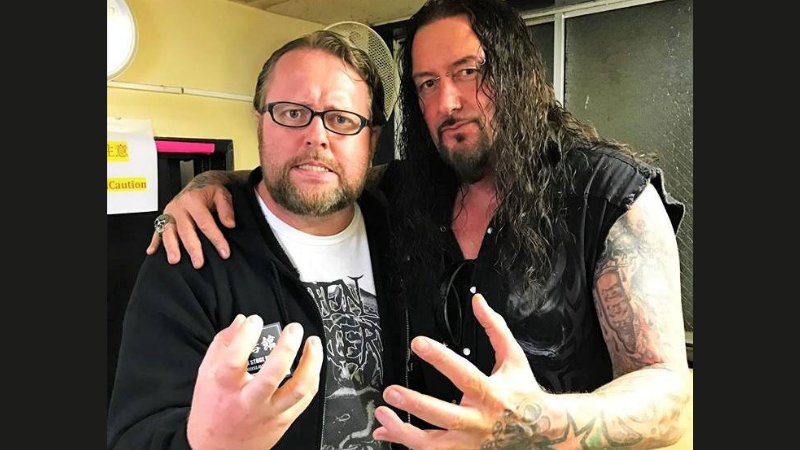 Mike Sifringer (guitar) and Schmier (vocals and bass), who co-founded thrash metal band Destruction in Germany in 1982, recently lost their drummer Vaaver. Thus they turned up with hard-hitting German-based Canadian drummer Randy Black (ex-W.A.S.P., Annihilator, Primal Fear) as a fill-in drummer for this tour. Not a bad substitute.
A day before the Tokyo gig, Destruction did a very exclusive fan event where they performed a full rehearsal show in a studio in Tokyo in front of a small group of dedicated fans who also got to hang out with their favourite band. A meet and greet deluxe! "The VIP thing is something that all promoters do nowadays," says Schmier as we sit down in a basement backstage in Meguro in central Tokyo shortly before the band is due on stage in front of a sold-out venue. "I understand. It's good for them to make a little extra money. They have a lot of risk with the shows. But for us and also for the fans sometimes, it is not very satisfying. I think the meet and greet we did yesterday was like a two-hour exclusive with the band in a small room. The fans could express their song wishes and could hear us fuck up and make funny jokes. We did like a meet and greet afterwards with autographs and taking pictures with my bass. It was very intimate. It was also for us quite fun because Japanese people are very well educated so they don't behave like too crazy… It was very smooth and interesting for us. It's more difficult to play in front of 20 people than in front of 2,000. Because people are so close to you and they stare at you. It's a funny experience. We never did this before but I would do this again, any time. It was good value for money for the kids. Basically you get a full set of concert and some extra in a very private atmosphere. And the studios here in Japan are very good, so the sound is amazing in there."
Destruction's latest album release was 2017's "Thrash Anthems II", a collection of re-recordings of some of the band's classic songs. "Since the reunion, we always include one bonus track, like an old song that we have re-recorded. Since that time, people have started to ask for more songs like this. Then we did the 'Thrash Anthems I'. For us as a band, it's great because we can play the songs the way they are meant to be. Some of the old songs were recorded when we were 17 and young, and don't sound so well, not so tight. Of course, they have the special spirit of the 80s, but as a band nowadays, of course, we can play those songs much better. We try to catch the original spirit and put the songs into the new century. A lot of the young fans actually like it a lot. Because with the old albums, they cannot relate to them so much sometimes, because you've had to have lived in the 80s to understand how it was back in the day. Everybody doesn't like re-recordings, but we do what we want and it's our songs. We can do whatever we want. Those people who don't like it don't have to buy the album! But in general, we have had a lot of good reactions to 'Thrash Anthems II' as well."
With such a vast back catalogue, putting together set lists that will please everyone can't be easy. "Of course, the classics have to be there. There are a certain number of songs that we cannot change because it's what people want. When we kick out a song, we will see on the internet, two days later, people complain. When we play a show and we see that songs get great reactions, we keep them in. When we bring in new or old songs again that don't have so much reaction, we take them out again. Over the years we've had a huge selection of songs that we could play. Sometimes we were asking people 'What do you want to hear?' Then we just rotated it. It's something we can't do now because of Randy. This is his first show, he had to learn 18 songs or so. That's a lot of work. We will keep the set list a little bit open. This set now focuses a little bit on 'Thrash Anthems' and the classics of course. We always try to find the right mix of old and new. When I go and see the bands I like and they don't play the classics, I am very sad. I saw Accept and they're not playing 'Fast as a Shark'. My life's ruined! It was a fantastic show but they didn't play 'Fast as a Shark'! So, I know how the fans feel."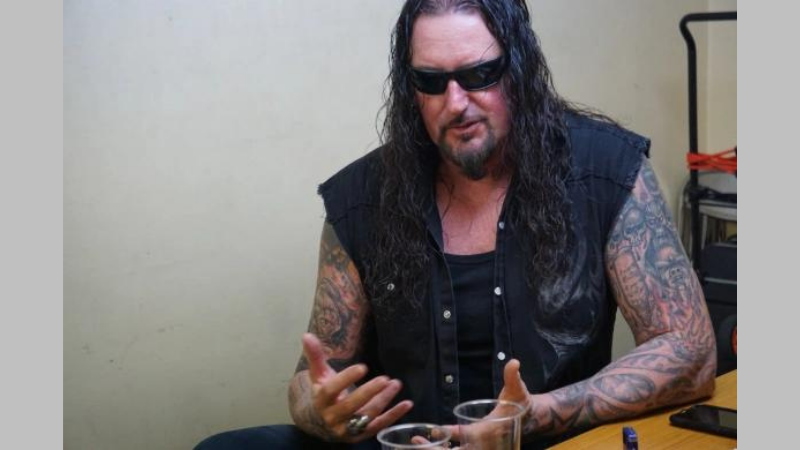 Randy Black, not only a fabulous drummer but also a very nice guy, is much more than just a normal fill-in drummer. How did he end up touring with Destruction? "A few years ago, we did this American tour with Sepultura and Randy filled in for Vaaver because he had a baby break. His wife was pregnant and then he wanted to be there for the birth. So, when we came to this moment now that we have to see how we go on with a new drummer, we called Randy and said: 'Are you free? Are you interested?' We knew he could play the songs alright and we know the guy since many years. He's a very professional drummer. We said: 'Let's do this together!' and he's going to help us out for the summer with the festivals, also Sweden Rock, and maybe also do the September shows in Greece and Eastern Europe, and Latin America. Until then we should know what's going on. We will also audition two or three more guys that we have in our mind that could fit well. It's not so easy. We need a guy that's experienced. There are some great young drummers, but young drummers are too flaky. We need somebody stable. I hate to change drummers every five years or ten. Vaaver was in the band for eight years, but he has chosen to go with his family, which I totally understand. Randy is a great gut. Who knows? Maybe he is going to stay with us. We will see."
When you write new music for Destruction, do you feel any restrictions? Do you feel that it has to fit in with what's expected of the band? "When Mike and me put it together it sounds like Destruction anyway. And we're not ready to start a blues band yet. I think that the definition of Destruction was always crazy riffs with speed and a little punk attitude. I think it just naturally comes out of us when we start writing. Of course, stuff changes a little bit over the years, but basically, we still write songs the same way. We just had a little fine tuning of the way we write and record nowadays. We still record very spontaneously. When we have new songs and ideas, we record them right away. I think we ignore what's going on in the music world and just do what we like best. I have my other project, Panzer, where I do more heavy metal stuff so I can live in that world too. So, I don't have to mess it up with Destruction."
Destruction was formed as a trio, then had two guitarists for a while, before reforming as a trio again when Schmier came back into the band. Did the band ever have any thoughts on adding a second guitarist again? "A second guitarist is like a relationship with two women, you know? It's quite fun for a little while, but then you start to have problems because everybody wants to write, everybody wants to put stuff in. And for Destruction, it was the end, basically, because I got kicked out of the band. So, two guitarists is something we thought about, should we have a second guitar player, because it is kind of interesting of course to have a second guitar. But on the other side, I have a lot of bad memories about the split of the band back in the day. Also, being a trio is kind of unique nowadays. It doesn't happen that often anymore that you're seeing a power trio playing this kind of music. We grew up with Motörhead and Venom and Triumph and Rush and all those bands being a three-piece. When you see us live, I don't think you'll really miss a second guitar."
What drives you now, after all these years, to keep creating and performing music and to continue touring? "I've always loved being on the road. I'm in Japan now. I would never have come to Japan otherwise if it hadn't been my job. I enjoy going to Singapore and Thailand and seeing those countries. Not everybody likes it, that's why people stop playing music. I'm lucky that I have a tolerant girlfriend and I enjoy this. I really like going on tour. We don't do so long tours, we do maximum four-five weeks and then we go home to be normal again and get energy. But we love to be on the road. Writing new music is, of course, a very creative process and, I am not a father, but it must be like having a child. A new album is something you work on hard, put a bit of love into it and in the end, it comes out and you're excited and you're proud. The whole process of writing an album gives you so much joy also. It's why I still love this."
Now you're touring Asia and Australia, then you have some European touring. What's coming up after that? Are there plans for a new album? "Yeah, we will start writing after the summer. Then decide, whenever we have the drummer, when to do the album. We talked to the label already that it's possible to maybe release in the beginning of 2019. That should be possible. We can't guarantee it right now because the drummer issue has not been solved. But I'm not worried about finding a drummer. There's a lot of great drummers out there and now we have Randy also. I could totally imagine us playing the album with him. He's a very tight drummer. It's also a nice next level for us."
The band is currently signed with German independent label Nuclear Blast and they are happy there. "I think we signed for life! At least the boss said that once when he was drunk. Haha!!! They're the best. We've been on many different labels before. We left Nuclear Blast actually for several years when Nightwish and all those bands were getting so big on the label that I was like: 'Oh my God, there's too much!' They are selling a couple of hundred thousand albums and you're a little thrash band. It's hard to get recognition. But on the outside it's… I'm glad I came back. We came back after six years and they were like: "Ah, you wanna come back to us?' Please take us back! They are the best people, also on a human level. They're really great people and they are dedicated. The boss is a little crazy but he's not a typical record-label asshole boss. He cares about the bands too and that's fantastic! It's a great having a boss like this and I hope he's not gonna sell the label like everybody else did with Roadrunner and Century Media. They all sold the label to the industry and then the whole charm was gone. Hopefully that is not gonna happen to Nuclear Blast."
Shortly after our chat, Schmier, Mike and Randy walk on stage and deliver one of the best gigs of the year in Tokyo. Proper German thrash metal delivered by a veteran band that still got it. What a show in front of a sweaty Tokyo crowd loving it. Thrash attack indeed!
Text by Stefan Nilsson. Photos by Caroline Misokane, Roppongi Rocks.