Cristina Scabbia: "We don't want to be different on purpose"
Modern Italian metal band Lacuna Coil will return to Japan for its first headline show in Tokyo on 16th December. Roppongi Rocks' Stefan Nilsson called vocalist Cristina Scabbia in Milan to talk about the upcoming Tokyo show.
You played in Japan in 2016, but then it was a shorter festival set. This time you will come to Tokyo with a headline set. What can fans expect from this show? "A lot of excitement and energy from us! We were supposed to be in Japan in 2020, but obviously, with the pandemic, we had to cancel. Now we not only have our latest record out – 'Comalies XX', a new version of our classic cult record 'Comalies' – but also the songs from 'Black Anima' that we didn't have the opportunity to play. Plus, some other songs that fans are loving. I just can't wait! We love Japan. We can't wait to be back and I still can't believe that it is finally happening."
What do you remember from the show you did in Japan in 2016? "It was very short and I also remember we had some technical problems because some of us couldn't hear through the in-ears. And of course, the jet lag! It's always tricky! Haha! It was great because the crowd was great and the festival was great. But let's say we were probably not in a hundred per cent condition."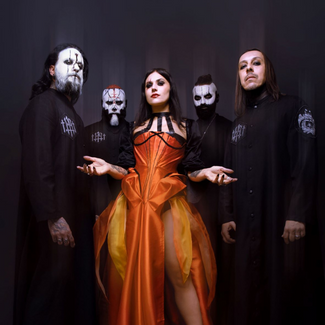 It is hard to describe the by-now firmly established Lacuna Coil sound. If you have to put a label on it, what would you call your band's music? "Oh, God. That's a good question because I hate labels, but I do understand that if you don't know a band, you wanna know what they are about. It's hard to describe because it is definitely metal. It has some goth elements but more in the atmospheres, in the darkness and in the torture vibe of some songs. Hmm… Modern goth metal? I don't know… When I think about Lacuna Coil, I don't even think about a goth band. To me, goth bands are maybe more electronic in a different way. But the vibe is definitely goth, so it depends on how you consider goth."
You have just released "Comalies XX", a reimagination of one of your most important albums that came out 20 years ago. The result is great, but it is a bit of a risky move, to re-record a fan favourite, don't you think? "It is! If you look at it, it is definitely a challenge because you are touching holy ground. You're touching a record that fans loved, and not only that, the record that opened all the doors for you or started to do that. What made us do that? First things first. The fact that it was the anniversary and we didn't simply want to do an embellished version. We didn't want to do a repackaging. We didn't want to do a remaster for a record that meant so much. We started talking about… We said: 'Why don't we try to write it as it was in 2022?' And that's how it started. There was no other particular reason. Maybe, subconsciously, the fact that 'Black Anima' still had so much life and so much so-called promotion to make, because we only did maybe three tours – one in the States, one in South America and one in Europe – to promote it. So, we played those songs only in that period. We felt that we wanted to play those songs more and more. It sounded still new to us. So, we needed something in-between, to go back with the songwriting because we didn't write anything during the pandemic. We wrote some music but we almost neglected music because we didn't want anything to be connected with the pandemic. We didn't want anything negative. We didn't want to force ourselves. Just because we were home didn't really mean that we had to be inspired. So, we said: 'OK, let's focus on something different and whenever we will feel creative in our music again, we'll start'. 'Comalies' was great to start again because it forced us to go back in the past but not think as we were in the past. It was a great exercise and I think the result is great. Everybody loved it! Some fans are confused because they are like: 'We don't know which ones are our favourite versions'. If they buy 'Comalies XX', they can get the old one as well."
On the title track, "Comalies", you mix English and Italian lyrics. Is it different for you as a lyricist and vocalist to sing in your native Italian rather than in English? "Yes, it is more difficult, even if it sounds weird to say. I am not particularly a fan of traditional Italian music, because all the words that are sounding great are kind of silly. They are very, very, very simple. That is why most Italian songs have very simplistic lyrics that I can't really relate to. There is an Italian song which is a sort of joke on other songs. It is a traditional song and its title is "Sun, Heart and Love" because those words are always used in Italian songs and that makes them kind of boring to me. For me, it's hard to write lyrics that are meaningful and cool in Italian. It's harder than writing them in English. That song, it just happened. I don't know how, it just… The Italian words came out of my mouth while we were trying to find lyrics. I was just like: 'OK, this would work'."
Marco "Maki" Coti Zelati, Lacuna Coil's founder and bass player, produced the latest record. Does it cause any tension or other issues when one of the band members is the record's producer too? "Not at all! Being in a band, it's like owning a company. I think that every person is supposed to do something for the band. In our case, Maki is the main composer of the music. He is a great leader when it comes to production because he sets deadlines. You also have a regular life, so sometimes you tend to do other things. But him working on the music is like 'OK, we gotta do this by Sunday. So, we are gonna meet tomorrow and do that'. It was amazing for me because I'm always involved with a thousand things. Sometimes I miss some of the deadlines and I need someone who tells me: 'We gotta do this', 'You gotta come here', 'You gotta do that in order to do that'. I trust him blindly. He has great taste. Not only that, if there's something that we don't like, it's never going to be put out. The fact that he is the producer only means that we can have total control over our compositions on the master of every record. With every producer that we've used, we never let them do the records. We always discussed and whatever was coming out was the result of all our work. I am actually pretty happy. I love how our latest records are sounding. We are still old-school. We still like records and not just singles. We kind of like to bring everything together in a cohesive way and not just: 'OK, this is going to work on US radio and this is going to work on TV and this is going to work on Spotify'. We just want to have a set for everything."
Last year, you released "Live from the Apocalypse". It was streamed and recorded live in front of an empty club in Milan. "It was one of the most awkward things because we'd never played in front of an empty venue. It was really live. We were one of the very first bands who actually did that. We didn't do it from our living room, we actually did it from a club with a real set-up. We thought that we could let enter a hundred people into the venue, but then, because of restrictions, nobody was allowed. It was the weirdest thing ever because we were not allowed – not even on stage – to go close to each other. We had to maintain our positions. We had the stress of going live worldwide without having anything pre-recorded. Because a lot of bands pre-recorded it and then delivered it on streaming. This cuts all the tension out because if you make a mistake or if there is a problem, you can re-record it. For us, it was live a hundred per cent, technical issues included. Half an hour before, there was the risk of being only able to stream at like half of the power so it would have been pretty horrible to watch. Then the problem got solved at the very end, so there was a lot of stress involved. I remember that when we were done, we were like. 'Oh my God! Never again!' Haha! It's not even a DVD, it's video content to an audio project. When you think about releasing a DVD of a show, you think about it differently. You use many cameras, it's completely different. In our case, it was just a few cameras in front of us just to reproduce the show. Therefore, we didn't think of a DVD, but then a lot of fans asked us to do it in order to keep a memory."
You have two lead vocalists, you and Andrea Ferro, with very different styles. Is Lacuna Coil's music written with the two vocalists in mind? "Having very distinctive voices, it kind of comes naturally. If there is a super aggressive part, most of the time, the first thing you'd think is that Andrea Ferro would sing it. And if it fits, we'll keep it. We don't want to be special or different on purpose. We work for the song. If in a melodic part my voice sounds better and it sounds better with high notes, we do it this way. If it doesn't sound well, we change it. But we don't think too much. We come up with ideas and the one that sounds better, we keep it. We are not jealous of each other because we are both working for the same purpose."
It sounds like you have a band that has harmony among its ranks. "Yeah. We've been together for a few years now. I think that's the key. Leaving space for everybody and not having a big ego."
During your career, you have done a few guest appearances outside of Lacuna Coil, including Megadeth. You did a wonderful duet with Dave Mustaine for a 2007 remake of Megadeth's "A Tout Le Monde". How did that come about? "They asked me and I said yes. I went to the UK to Andy Sneap's studio. It was just him and myself and I stayed there for a day and a half. I recorded the song, putting all the harmonisation that I had in mind and I left them free to use whatever they wanted to use. I actually met Megadeth for the very first time on the first day they were shooting the video for 'A Tout Le Monde'. Then we had the chance to tour together for a couple of tours. And we met in Milano when they came here. They simply asked and I said yes, obviously. I am always open to new things. I am not a traditional metalhead. I like contaminations, I like collaborations. I like when I hear something different that doesn't take anything away from the bands that I like if they try something new."
Your Tokyo gig on 16th December is the last show on a tour that takes in the Middle East, Australia and Asia. What's next for Lacuna Coil? "We're going to be staying home for the festivities with our families. Next year, it's going to be about festivals, we have some gigs to announce soon for tours and we will write a new record. We will start to write something new. That's the plan!"
Will you start to record a new album as well during 2023? "I believe so. We're gonna start and see where it takes us. We don't wanna rush it. If it's quality material, we will continue. And if we don't feel inspired, we're gonna be waiting. Life nowadays, it's too much of a rush. We don't want to go in that direction only because, in general, the attention span is very, very short."
Lacuna Coil will perform in Shibuya, Tokyo on Friday 16th December. Info and tickets can be found here.