Album review: Alcatrazz "Live in Japan 1984"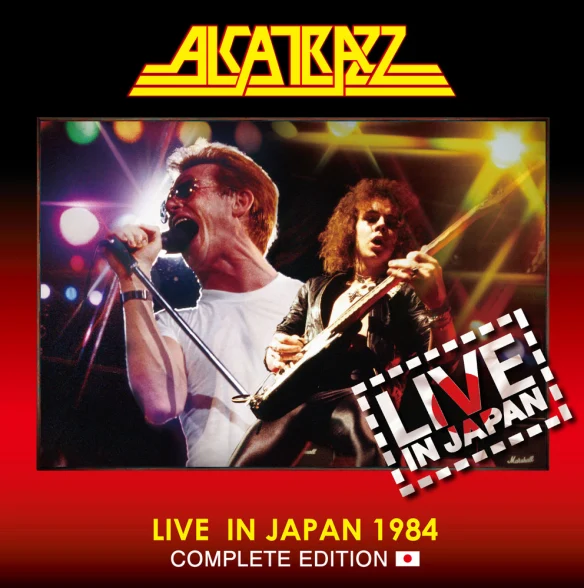 Graham Bonnet, Yngwie Malmsteen, Gary Shea, Jimmy Waldo and Jan Uvena shine on Alcatrazz live recording from 1984 Japan tour.
Alcatrazz was a relatively short-lived American rock band (1983-87) that made a lasting impression on the music world. It was with Alcatrazz that former Rainbow singer Graham Bonnet restarted his career after a very brief stint with Michael Schenker Group. It was here that young Swedish guitar wizard Yngwie Malmsteen got his big break (and was then replaced by another wizard, Steve Vai). Alcatrazz was also home to New England and Warrior members Gary Shea and Jimmy Waldo as well as former Alice Cooper drummer Jan Uvena. Last year's partial Alcatrazz reunion in Japan (featuring Bonnet, Shea and Waldo) reminded us how great this band is. This live album, "Live in Japan 1984", is another great way to look back at a terrific rock band and its legacy.
The "Live in Japan 1984" album was recorded at Nakano Sun Plaza in Tokyo in January 1984 and the album contains the complete gig. Alcatrazz was a popular band in Japan and on this live album we get to sample some of that magic. With Gary Shea (bass), Jimmy Waldo (keyboards) and Jan Uvena (drums) laying the foundation of Alcatrazz's music, at the centre of it all is that familiar, characteristic Graham Bonnet voice. It is instantly recognisable. We also get treated to some splendid guitar solos by Yngwie Malmsteen. Personally, I think that Yngwie's contributions to Alcatrazz were his career highlights. As a solo artist he often gets carried away, but when he played in Alcatrazz he got to shine without overdoing it. His guitar work on this live album – especially on "Evil Eye", "Kree Nakoorie", "Coming Bach", "Guitar Crash" and the traditional Japanese song "Kojo no Tsuki" – is sheer brilliance.
We get three Rainbow classics ("Since You've Been Gone", "All Night Long" and "Lost in Hollywood") as well as a Michael Schenker Group song ("Desert Song"), but the bulk of the set is made up of Alcatrazz classics such as "Too Young to Die, Too Drunk to Live", "Hiroshima Mon Amour", "Night Games", "Island in the Sun", "Suffer Me" and "Big Foot". Many of the songs here are still being performed by the Graham Bonnet Band today.
The production of this live album is – thankfully – quite raw and real. This is more like an "as is" recording rather than one of those polished "live albums" with tons of studio overdubs. It makes it more real and a great documentation of what Alcatrazz sounded like live on stage back in the day.
Alcatrazz's album "Live in Japan 1984" is out now in Japan via Ward Records. It is being released in various formats including CD, LP, DVD and Blu-ray. Graham Bonnet will tour Japan again from 29th August until 5th September with Michael Schenker Fest.