Album review: Doro "Forever Warriors // Forever United"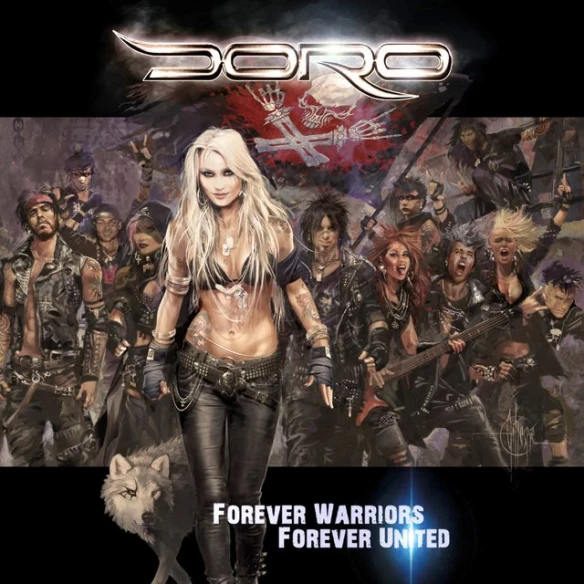 German metal queen Doro Pesch is back with a massive double album of new music.
Metal queen Doro Pesch made a name for herself fronting German metal band Warlock in the 80s. She has rocked ever since, both solo and with Warlock. More than three decades later she has now released a massive double album featuring 25 tracks. The result? Mainly the kind of good shout-along metal we have come to expect from Doro. This is music made to be performed at rock festivals and in sweaty clubs.
Musically, Doro keeps things simple. She gives us straightforward and uncomplicated metal of the catchy kind. The album opens with a statement of a song called "All for Metal" and that is what this is about. We get plenty of ballads and other musical twists, but obviously also plentiful of the metal anthem-singing Doro that we love. The ballads are mainly decent, some very good, but personally I prefer the heavier and faster songs. Her characteristic voice hasn't changed at all. If you like her classic stuff from the 80s, you'll like this. If you don't like her classic stuff, you won't like this.
With "Freunde fürs Leben" she proves that metal can indeed also be sung in her native German. Predictably, many of the song titles are new twists on a proven formula: "All for Metal", "Soldier of Metal", "Turn It Up", "Metal is My Alcohol", "Blood, Sweat and Rock'n'Roll" and so on. It is all part of the Doro experience. No need to change a working formula. Doro's music is meant to be fun and it is. This is metal as entertainment without any big political or existential messages. Doro is good at what she does, but no doubt there will be some people who won't get it and will criticise the perceived simplicity of this. Doro was a close friend of Motörhead legend Lemmy and while musically they're different, they operated in a very similar way with the same rule book for songwriting and musical performance. Speaking of Lemmy, "Living Life to the Fullest" is a fitting Doro tribute to rock's biggest ever rock star. We also get a terrific Motörhead cover in the form of "Lost in the Ozone" and "Don't Break My Heart Again", a Whitesnake cover.
My favourite tracks on the album include "Bastardos", "Blood, Sweat and Rock'n'Roll" and "Turn It Up". The track "If I Can't Have You – No One Will" is rather different and is a duet with Amon Amarth's Johan Hegg. Other notable guests appearing on the album include Doug Aldrich (The Dead Daisies, Dio, Whitesnake) – adding some fantastic guitar work to the song "Heartbroken" – and the late Warrel Dane (Sanctuary, Nevermore).
Doro's double album "Forever Warriors // Forever United" is out now via Nuclear Blast internationally and Ward Records in Japan.
www.facebook.com/doropeschofficial