Album review: Saxon "Carpe Diem"
NWOBHM is alive and well as veteran band Saxon proves on its new album.
Formed in Barnsley, England in 1977, Saxon is about to release its new album "Carpe Diem", the band's 24th studio album (or 23rd if we don't count last year's covers album "Inspirations"). Saxon nowadays consists of Biff Byford on vocals, Paul Quinn on guitar, Nigel Glockler on drums, Doug Scarratt on guitar and Nibbs Carter on bass. It is a good version of the band. The music on the new album shows that this is a stable line-up that has played together for a long time.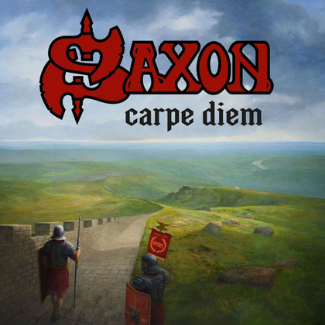 The album kicks off with a hard-hitting rocker of a title song, "Carpe Diem (Seize the Day)" and it sets the tone for a great heavy metal album. The splendid "The Pilgrimage" is a standout track. It is a slower song, excellently written and beautifully performed. But most of the ten songs on this excellent album are timeless British heavy metal songs, the type of straightforward metal that Saxon helped pioneer in the late 70s and early 80s. The song material is terrifically strong and the delivery is, as expected, at the high level where Saxon lives. One ingredient that is perhaps helping keep Saxon at its best as a recording band, is the fine work done in the studio by Judas Priest's Andy Sneap. Andy has produced the album and together with Biff also been in charge of mixing and mastering. This is the fourth Saxon album Andy has produced, following "Sacrifice", "Battering Ram" and "Thunderbolt". It seems to be a great partnership as the end result is very good. "Dambusters" is an immediate favourite track with its terrific NWOBHM guitar riffs and its energy and so is the fast-paced "Super Nova". Long live Saxon and NWOBHM! The wheels of steel are still turning.
Saxon's new album "Carpe Diem" will be released on 4th February via Silver Lining Records. The Japanese edition of the album will be out on 16th February via Rubicon Music.
www.facebook.com/saxonofficial