Interview: Jocke Berg of Hardcore Superstar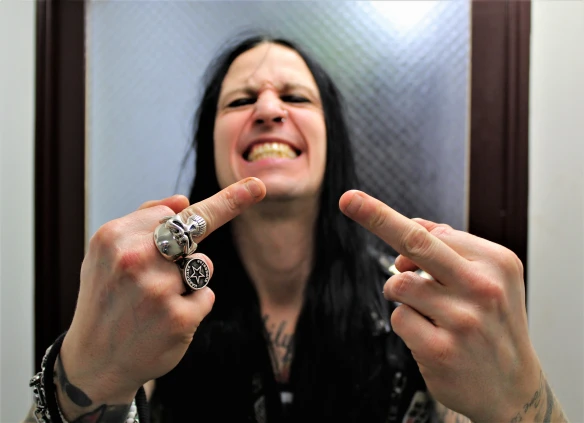 When Swedish feelgood rockers Hardcore Superstar recently completed their eighth Japan visit, Roppongi Rocks sat down with vocalist Jocke Berg to talk about the band's sound, the euphoria of performing on stage, being naughty, combining tour life and family life and what happened when Berg met Ronnie James Dio.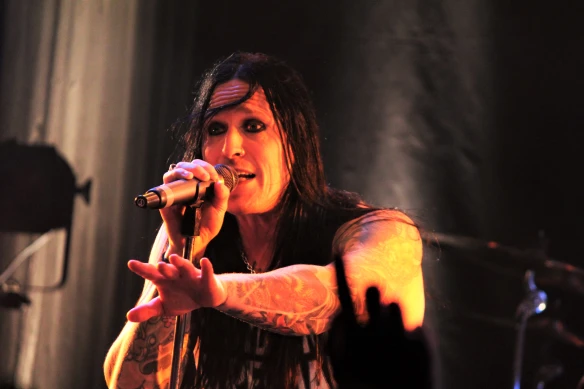 Hardcore Superstar formed in Gothenburg, Sweden in 1997 and has been very active ever since with album releases and relentless touring. The band's current line-up consists of Jocke Berg on vocals, Martin Sandvik on bass, Vic Zino on guitar and Magnus "Adde" Andreasson on drums. In September, the band released its eleventh album, "You Can't Kill My Rock'N'Roll".
The new album seems to be somewhat of a return to the band's party-rock roots, don't you think? "Everybody is saying that!" says vocalist Jocke Berg as we meet backstage in Shibuya, Tokyo before the band's first gig on its eighth Japan visit. "The previous album was something we had to do. It's easy to just do the same thing, where everything sounds the same. There are certain demons we need to get out of our heads. The previous album, when I listen to it today, I think it is great. But when we released it, I had the same feeling as everybody else: What the hell are they doing? Even though I liked it, of course. But it felt like we had to do that album in order to arrive at the current album. The new album is more feelgood. The earlier one was more diverse, a bit darker."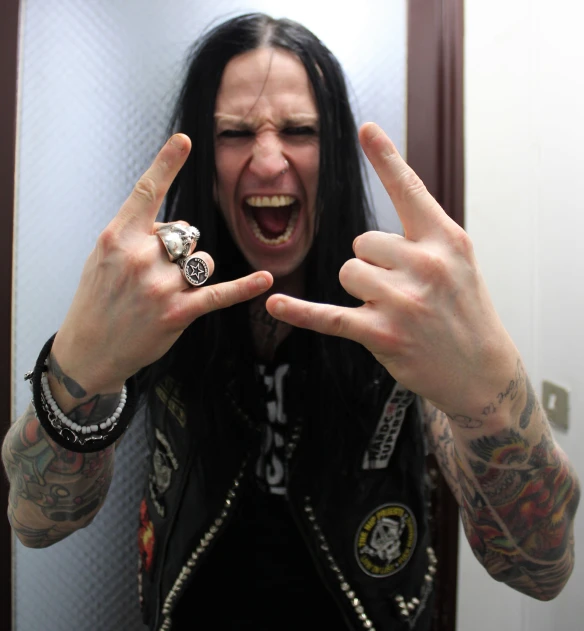 Do you feel you have to write fun feelgood party songs rather than more serious songs? "Hardcore Superstar is synonymous with the word feelgood. It should be fun. It's drinking and toasting. A hell of a pre-party with Hardcore Superstar, sort of. The previous album wasn't like that. It didn't end up much feelgood as it was quite dark. But if we wanted to write a Tool song or something like that, it would not fit in with Hardcore. We have to be in the musical region where the Hardcore Superstar sound lives. In that case, we would have to do it as a side project. I want to do a death metal album! Unfortunately, I can't do that with Hardcore."
Do you actually have any plans for such side projects? "The thought is there, on and off, all the time. But nothing that is planned. One day!" 
How would you describe Hardcore Superstar's signature sound? "The new album feels a lot like arena rock. You can hear Queen vibes. Slade – some obvious vibes. ZZ Top! I'd like to call it arena rock. That's the kind of vibe we have. It's a big sound. We had Queen as a starting point. Queen's fantastic! Especially with Freddie Mercury on vocals. We had that arena rock feeling as a starting point. We tried to capture that feeling somehow."
Hardcore Superstar is a band that likes to be a bit naughty. For example, the band's logo includes an inverted cross and the latest album cover features smoking nuns. "I came up with the idea of turning the 'T' in the band name upside down. I think the cross looks better that way. My mother is a church volunteer in a parish outside of Gothenburg. She went ballistic when she saw it. But I've been teasing her since I was very young. It's fun to do a bit of teasing. We're not Satanists. Personally, religion-wise, I do not believe in one or the other."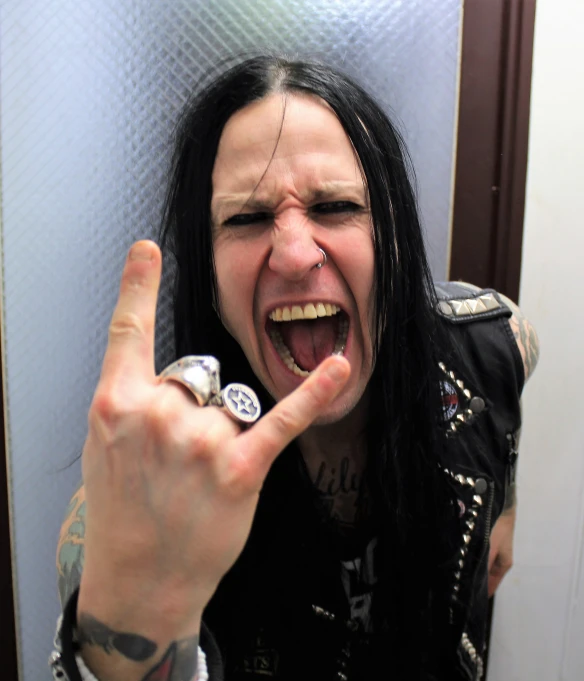 With eleven albums under their belt, it is no longer easy to put together setlists for the band's shows. "We have certain songs that we have to play. If we don't, we'll be lynched! Like 'We Don't Celebrate Sundays' and 'Last Call for Alcohol'. We have to do them or else we won't get home from Japan."
Hardcore Superstar has had loyal fans in Japan since the band's early days. "This is our eighth time here. Japan is special. I believe everyone feels that way. If you speak with Michael Amott in Arch Enemy or whoever you talk to, they all think Japan is special. This is like a different world. You can't compare it to Stockholm or Gothenburg or Halmstad. Here it is special!"
More than two decades into the band's career and with eleven albums to your name, you are now a family man with three kids. How do you manage to combine tour life with family life? "In order to long for something one has to go away! 21 years is quite a long time. Obviously, I don't want to leave my family. No normal person wants that. Sometimes it can be good to get away for a bit. But it is that hour and a half, one hour and 40 minutes perhaps, on stage. There's nothing better in the whole world! It's a euphoric feeling you don't want to be without. All the travelling I can do without. To sit in a plane for 12 hours is not much fun. What drives me is to make people happy. It's fantastic to see those smiles. That's what music is all about!"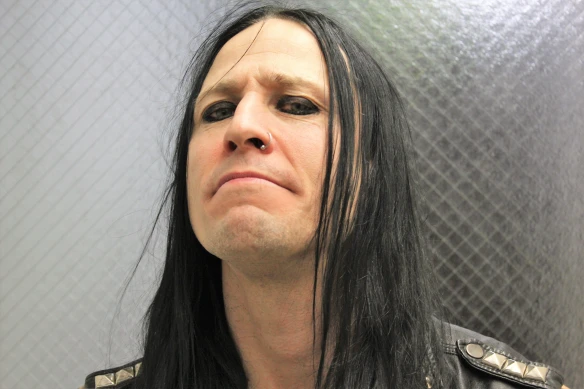 One of Jocke Berg's biggest moments, so far (he's still mid-career, right?), in the crazy ride that we call Hardcore Superstar, is a backstage meeting with Ronnie James Dio. "We sat in his dressing room backstage in Gothenburg. He said that he had two Hardcore Superstar albums and that he thought that I sing very well. That is something special to hear from the voice himself! Then he added: 'Later when I am gone – when I die – I want you to carry on my legacy.' Then I started to cry. I became very sentimental. Mikkey Dee and John Corabi stood next to us. My bandmates stood there too and they started to laugh and thought I was being silly because I was crying. But John Corabi and Mikkey Dee understood the importance of Ronnie James Dio saying something like that to me."
With another successful Japan visit now behind them, Hardcore Superstar continues to tour in Europe and will also do a stop in the US to play at the Rocklahoma festival in May. Indeed, no one can stop these guys' rock'n'roll!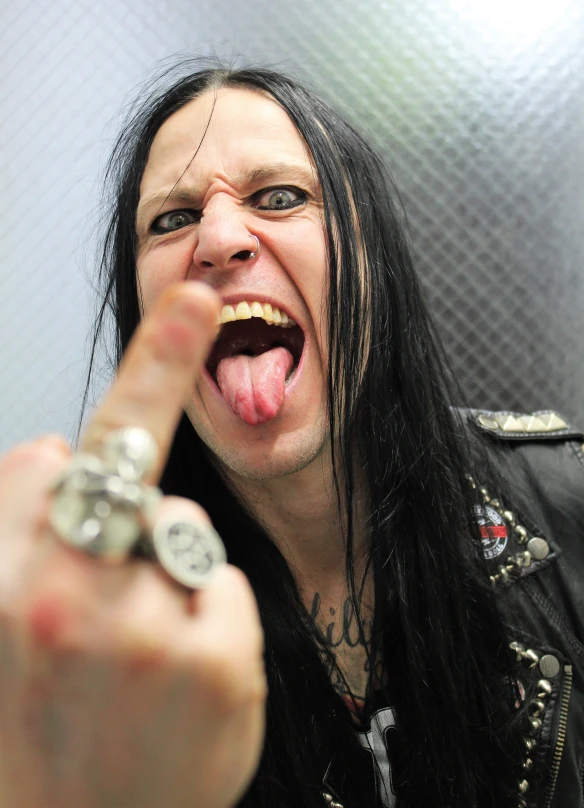 www.facebook.com/officialhardcoresuperstar