Album review: Burning Witches "Hexenhammer"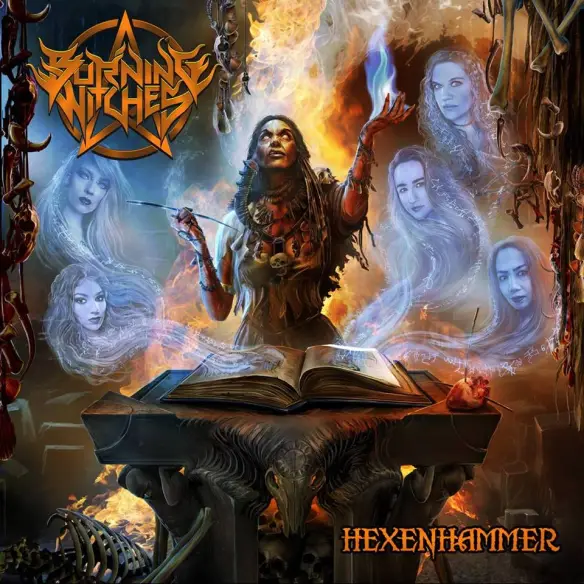 Burning Witches – Swiss band playing old-school heavy metal on new album.
While Burning Witches is quite a new heavy metal band, formed in 2015 in Switzerland, their sound has a fair bit of a 1980s metal vibe to it. The songwriting and the production also feels like it is 1985. And that is why I like this album. They manage to sound like the soundtrack of my youth but without being copycats. There is a foundation here that contains a big chunk of NWOBHM as well as the more Germanic metal from the same era. It has a raw feeling to it. Schmier from German thrash metal veterans Destruction has been a mentor for the band which may have rubbed off a bit on the music as well. "Hexenhammer" is the follow-up to the band's 2017 self-titled debut album. The terrific "Open Your Mind" is a clear favourite of the 14 tracks on the album. Another is "Executed", a fast track with some clear Judas Priest influences. In addition to original material, we get a cover of Dio's "Holy Diver". It's a decent version of the song, but I don't really see the point of them including such a cover on the album. This band has enough of its own great material. One of the bonus tracks is an acoustic version of the power ballad "Don't Cry My Tears". Here we really get to hear a terrific performance by vocalist Seraina Telli. For those of how us who like classic heavy metal, this band is a treat. In addition to Telli, Burning Witches consists of guitarists Romana Kalkuhl and Sonia Nusselder, bassist Jeanine Grob and drummer Lala Frischknecht. Keep an eye on them, I am confident that this is only the beginning for this band.
Burning Witches' "Hexenhammer" album is out now via Nuclear Blast internationally and Ward Records in Japan.