Pontus Engborg – the funky drummer behind Glenn Hughes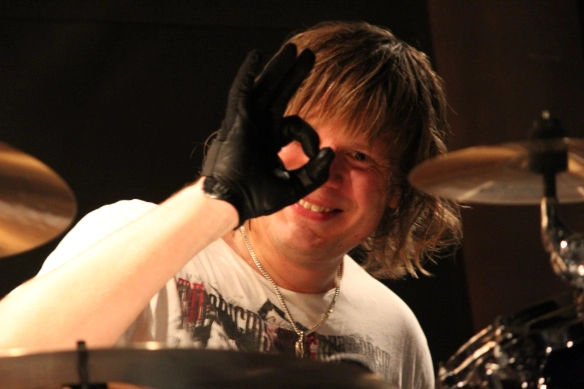 Funky, hard-hitting Swedish drummer Pontus Engborg is the man in charge of keeping the rhythm for rock legend Glenn Hughes. Roppongi Rocks' Stefan Nilsson sat down with Engborg in Tokyo for a conversation about his love of music and his experience of playing with Hughes.
"Oh, another Swede!" says Glenn Hughes to me as we meet just before sound check ahead of his second Tokyo gig. The legendary former Trapeze, Deep Purple and Black Sabbath man knows all about Sweden since he briefly lived there in the past and his current drummer is Swedish.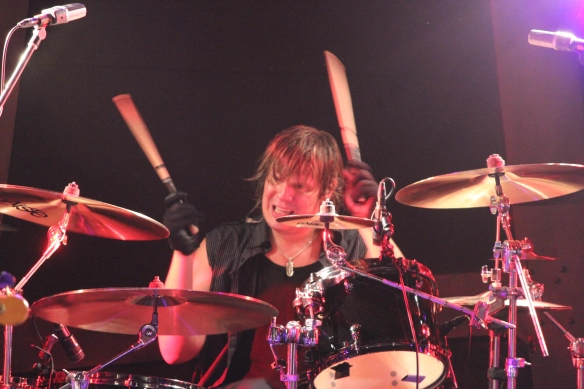 I sit down with Hughes' drummer, Pontus Engborg, while Hughes gets going with the sound check.
Following some teenage rebellion, music got Pontus Engborg on the right track in life. Having become a promising young drummer, he left his native Sweden for Los Angeles to study music at Musicians Institute. During his years in the US he made many friends and industry contacts. A decade ago he moved back to Sweden but he's continued to work internationally as a drummer for many artists – including former Toto vocalists Bobby Kimball and Fergie Frederiksen, Steve Augeri (ex-Journey), Bill Champlin (ex-Chicago) and Graham Bonnet (ex-Rainbow, Alcatrazz, MSG).
In 2010 he got asked to join Glenn Hughes' band following a recommendation by Soren Andersen, a Danish musician, producer and songwriter who at the time was touring with Hughes. "I had no idea who Glenn was when I got the call," admits Engborg. "I started in 2010 but Glenn had heard about me a couple of years earlier. Soren recommended me and Glenn and I had some mutual friends in the US who had told him about me. I knew who Whitesnake were as I grew up listening to them, but I am too young for Deep Purple," explains Engborg who was born in 1980, four years after Hughes left Deep Purple.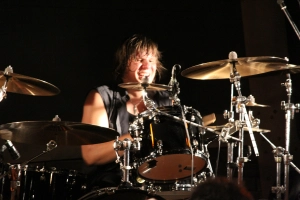 Speaking of Whitesnake, in Glenn Hughes' power trio, Engborg now gets to play with former Whitesnake and Dio guitarist Doug Aldrich who joined Hughes' band in 2015. Engborg is clearly enjoying playing with Hughes. "I love that man in there. I laugh every bloody day. He is the funniest person I have ever worked with," says Engborg with a big smile.
Hughes-Engborg-Aldrich is a tight power trio grooving along nicely onstage. It seems this is more than just a back-up band for a tour. It seems to be more of a proper band. "Absolutely! We'll tour all over the world with this trio. We'll keep going," says Engborg who also says that there will be new music coming out of this partnership. "Glenn writes new songs every day. He has so many songs it is ridiculous. There will be a new album but I can't say when." On the current tour the trio plays songs from Glenn's past bands Trapeze, Deep Purple and Hughes/Thrall as well as some of his solo material and a Whitesnake song written by Aldrich.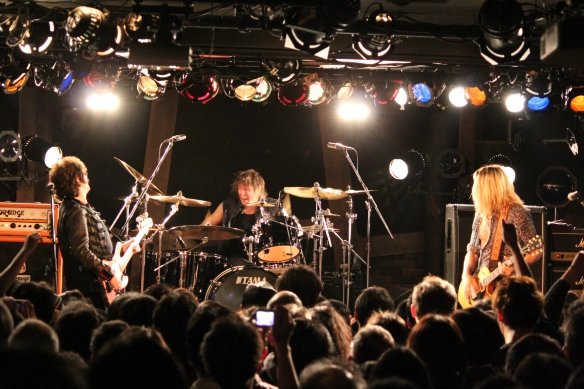 When Engborg is not touring with Glenn Hughes, he sometimes plays with his friend Marco Mendoza (Dead Daisies, ex-Whitesnake, Thin Lizzy, Black Star Riders, Blue Murder, Ted Nugent). "I don't know anyone who works as hard as Marco. He is everywhere and he is wearing sixteen different hats. He can play jazz fusion one day and rock the next day," explains Engborg. "Marco is spontaneous. 'I've got five minutes to spare – can't we do a gig somewhere?' Can't he just rest or go home to his family for two seconds?"
This is Engborg's second tour in Japan. He was here previously with the all-star rock project Legends – Voices of Rock in 2012. "Japan is very special. But when I came here the first time I thought they would be more reserved. But one song into the set and they're standing up even if it is a seated event. There is a certain respect here that you don't get anywhere else. It's a special place. Fantastic – I love Japan!" says Engborg. "I'd say South America, Japan and Russia are my top places to perform. They're special."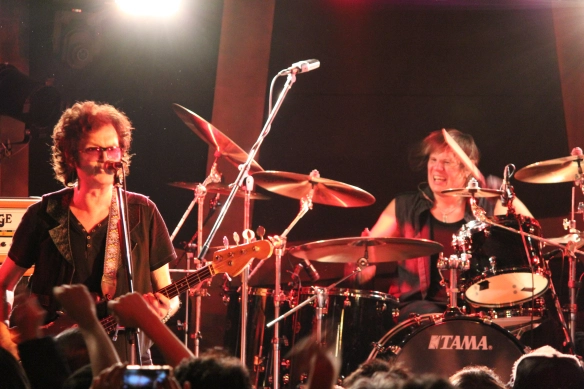 Engborg says he doesn't mind at all being a lesser known musician playing behind big names like Hughes and Aldrich. "I am here for the music. My job is to support my team. I am a team player. I never worry about my name not being on the posters. No, I'm here to play music. The fact that it is Glenn's and Doug's names up there and not mine doesn't bother me at all. I am working hard back there. It's carpe diem. It's like there is no gig the next day."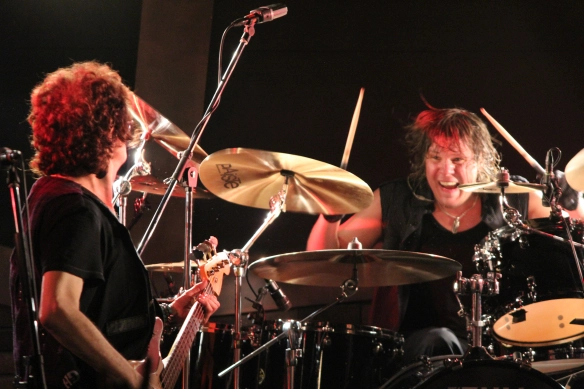 Both Engborg and Hughes like funk and soul music. "We don't mention it to anybody but we're playing some funky stuff now. But we can't say 'funk' as nobody would show up," laughs Engborg.
Following the Asian gigs in December, the trio is now on a break before they will start a North American tour in early March. Engborg will play some gigs in Sweden and then go on holiday to Thailand before he will go to LA in February for rehearsals.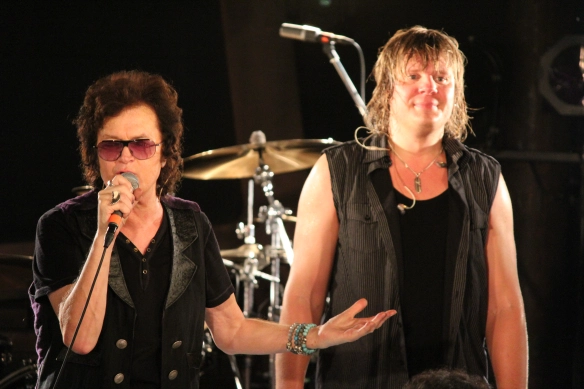 www.pontusengborg.com / www.facebook.com/pontusengborgofficial