Album review: The Dead Daisies "Live & Louder"
Rock'n'roll ain't dead: Here are The Dead Daisies, live and louder in Europe. This is a great live album showcasing a bunch of rockers who clearly love what they do. And they do it bloody well.
The Dead Daisies are always good fun and they come with heaps of positive energy. The Dead Daisies is a band who likes to play rock'n'roll and they do it very well. With plenty of pedigree (Whitesnake, Dio, Mötley Crüe, Thin Lizzy, Ozzy Osbourne, Billy Idol….) there is no shortage of talent in this band and when coupled with a "let's party" attitude, the audience always gets a very good rock show when this band is on stage.
"Live & Louder" is a very solid live album showcasing a great rock band performing their best songs in front of their fans in Europe. The album is made up of recordings of gigs across Europe in 2016. Mainly it is the band's original material from their three studio albums we get treated to on this 16-track album. But we also get a cover version of "Helter Skelter" (The Beatles) and "We're an American Band" (Grand Funk Railroad). The band's in great shape and the sound quality is world-class. "Mexico" is one of the best songs on the album and so is the terrific rock anthem "Make Some Noise" and the splendid "Song and a Prayer". But there are no dips here, no fillers, no junk. It is a live album that brings back sweet memories of The Dead Daisies set at last year's Loud Park festival here in Japan. Great stuff!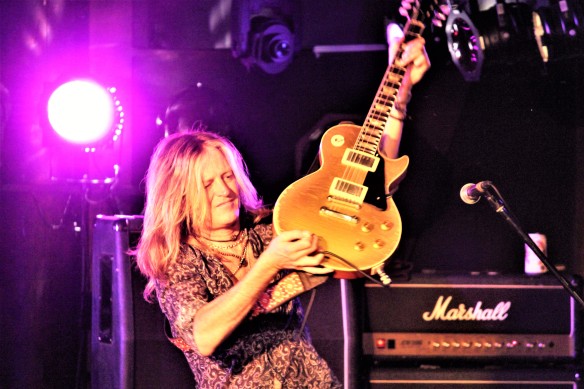 Since the band was founded by Australian guitarist David Lowy in 2012, there has been a revolving door of members coming and going. It seems that the band now has arrived at a more stable line-up and it is a bloody good one. One of the more recent additions to the band, Doug Aldrich, takes this band up a notch with his guitar. Having made a name for himself with Dio and Whitesnake, he was most recently part of Glenn Hughes' trio before he joined The Dead Daisies in 2016.
Especially in John Corabi, Marco Mendoza and Doug Aldrich, this band has some big and well-liked personalities who know how to entertain a crowd. Drummer Brian Tichy is the solid anchor that keeps this band together. This is blues-based hard rock that fits perfectly at rock festivals and at club gigs. It's a band to get a party started. It's a band that gets you in a good mood. It's great rock band, period.
The Dead Daisies will be back in Japan for some gigs in July. Before then, buy this live album, set your expectations sky high and then have The Dead Daisies exceed them when they perform in Japan in July.
"Live & Louder" is out now via Ward Records in Japan.