EP review: Dead Lord "Dystopia"
Swedish rockers Dead Lord serve up a tasty new and laidback EP.
Dead Lord is straightforward guitar-driven hard rock without any unnecessary complications or emotional problems. It's simply good rock'n'roll. Formed in Sweden a decade ago, the band debuted with the 2013 album "Goodbye Repentance". Following the release of the band's fourth full-length studio album "Surrender" in 2020, the band now serves up a no-frills but very tasty six-track EP with two original tracks and four covers. The EP's title track "Dystopia" was also the closing track of the "Surrender" album and serves to link the two releases. The EP has a laidback feeling to it. It's a bit like the band decided to record a rehearsal session. It gives this a fantastic authentic feel. A rock band playing a couple of their own songs and some covers, doing it very well and clearly enjoying themselves.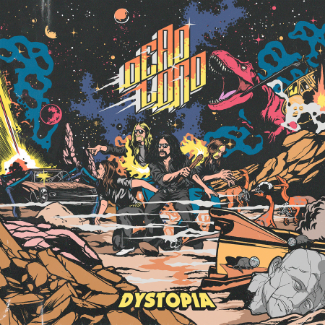 Hakim Krim on vocals and guitar leads this band from the front and is backed up by Martin Nordin on guitar, Ryan Kemp on bass and Adam Lindmark on drums. In addition to "Dystopia", the other original song on this EP is "I staden som aldrig slumrar till". It is sung in the band's native Swedish and is about being depressed, lonely and drunk as a skunk under the neon lights in a big city that never sleeps. It fits very well with the dystopian theme. The song's Swedish lyrics add to the many hints of Swedish 70s prog rock in Dead Lord's music. The EP's featured covers are excellently curated. We get a great version of D.A.D.'s classic "Sleeping My Day Away". We also get "Ace in the Hole", originally released by the underrated American band Winterhawk. And we get smashing versions of Moon Martin's "Hands Down" and Rory Gallagher's "Moonchild". Yes, there are no frills, no gimmicks. Just rock'n'roll. I like it.
Dead Lord's EP "Dystopia" will be released on 11th March via Century Media Records.