Album review: Skraeckoedlan "Eorþe"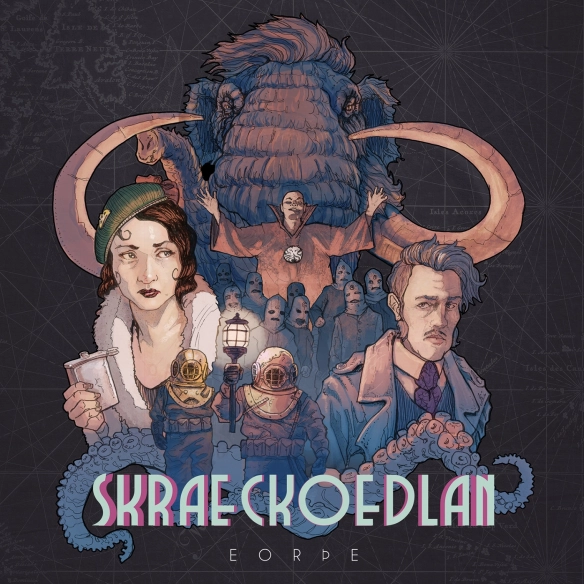 Swedish rockers Skraeckoedlan are back with their third album. It's a wonderful mix of fuzz, stoner and progressive rock. One of Sweden's best bands right now.
"Eorþe" is Skraeckoedlan's third studio album since they were founded in Sweden in 2009. The Swedish rockers' music smells of 1970s rock. Stoner rock? Yes, there are bits of that and fuzz rock parts. There are psychedelic echoes and plenty of tasty progressive rock influences on this album. But while the basic sound is based somewhere in a distant yesteryear, this is no retro act. Skraeckoedlan manages to sound modern and relevant here and now. Most of all, they have established a signature sound that's fabulous, groovy and bloody great. There are of course American influences here, but there are also hints of Swedish 70s bands such as Solid Ground and November. Skraeckoedlan's songs have lyrics written in the band's native Swedish. They're a spectacular mix of fantasy, mythology and nature. The combination of the music, the lyrical themes and the band's image, makes this an awesome band. "Tentakler & Betar" is one of the standout tracks on an overall even and terrific album full of great riffs and melodies. "Kung Mammut" with its many twists and turns is another favourite of mine. Sweden has a proud tradition of giving birth to great rock bands. Among the best of the current Swedish bands are no doubt Skraeckoedlan. If you haven't yet discovered this great band, now is the time to do so. This is a fantastic album from a terrific and quite unique band.
Skraeckoedlan's album "Eorþe" is out now via Fuzzorama Records.
www.facebook.com/skraeckoedlan