Album review: Necrophagous "In Chaos Ascend" ︱Swedish death metal
Yes, it's more Swedish death metal and it is bloody good.
Necrophagous' "In Chaos Ascend" is an excellent Swedish death metal album that is primarily based on old-school death metal. Added contemporary touches help it to not sound dated. It is a good mix of uncompromising heavy riff-based death metal and great melodies. I love this kind of underground death metal which is created and performed without a care for what is trendy or what listeners want. There are no consumer focus groups involved in the creation of this kind of album. And yet, or precisely because of this, the end result is magnificent. The fabulous track "Traitors and the Pendulum" is a great journey across different styles of death metal. "The Vile Embalmed" is a pummelling track that makes me headbang while the track "The Plague and the Arts" combines it all in one fab song that is the album's peak. The album's final song, "Wreaker of Pain", is a freight train of a song with some cool nuances in the background which makes it feel fresh.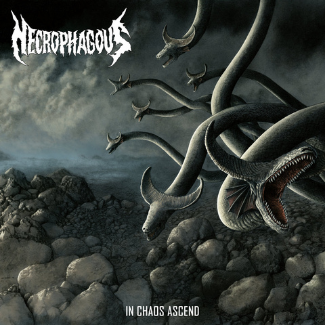 Tommy Carlsson's vocals on the album stand out. His singing voice is harsh with a proper underground feel. But he manages to make it personal and memorable. It's not just crazy growling that too many extreme metal bands employ in their music. The songwriting also stands out. After a first glance, Necrophagous may sound simple and even primitive to some listeners. But once the listener actually pays attention and gets into the music, a more complex soundscape appears. This is intelligent death metal. It has been very cleverly composed and arranged. This is an excellent debut album. While the band is new, its members are experienced. The line-up consists of Tommy Carlsson (Visceral Bleeding, ex-Entrails) on vocals and guitar, Jocke Svensson (ex-Entrails) on bass and Martin Michaelsson (ex-Entrails) on drums. "In Chaos Ascend" is bloody good Swedish death metal. Just what I need right now.
Necrophagous' album "In Chaos Ascend" will be released on 7th January via Transcending Obscurity Records.
www.facebook.com/necrophagous.sweden