Album review: Tobias Sammet's Avantasia "Moonglow"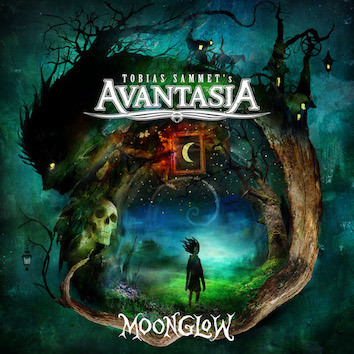 Tobias Sammet's Avantasia returns with a terrific album taking us back into a wonderful fantasy world of rock opera-meets-metal musical.
Edguy's Tobias Sammet started Avantasia as a side project in 1999. It was planned as a one-off project, but it grew and got a life of its own with albums and live performances and a star-studded line-up of guest musicians. "Moonglow" is the eighth studio album by Avantasia. Guest vocalists appearing on the new "Moonglow" album are Ronnie Atkins (Pretty Maids), Bob Catley (Magnum), Michael Kiske (Helloween), Candace Night (Blackmore's Night), Mille Petrozza (Kreator), Geoff Tate (ex-Queensrÿche), Jorn Lande (ex-Masterplan), Hansi Kürsch (Blind Guardian) and Eric Martin (Mr. BIG).
Avantasia is a fantasy world and the "Moonglow" album is the latest chapter in this rock opera-meets-metal musical. There are terrific melodies, guitars and plenty of drama. Musically, Avantasia lives, as expected, somewhere between power metal, melodic rock and what you can hear at a modern West End musical in London. It works a treat. The track "Book of Shallows" is a bit faster and heavier than most other songs and it is also one of my favourite tracks on this stunning album. "The Raven Child" is a beautiful song. "Alchemy" is a splendid rocker on which Geoff Tate gets to shine. He hasn't sounded this good for many years. Avantasia is escapism and I love this fantasy world of rock we get to experience on "Moonglow". The soundscape on this album is massive, with plenty of twists and turns, and the fabulous production really helps to shape this album into something special. Avantasia's music puts a smile on my face. It's bombastic in a good way. The album includes a cover, "Maniac" from the "Flashdance" film soundtrack. It's a bit of a strange choice of a song that is the album's weakest point. With so much great original music, I don't know why Sammet decided to include a cover song. But don't let that distract you from the other fantastic music Avantasia gives us on this album. 
Tobias Sammet's Avantasia "Moonglow" is out today via Nuclear Blast internationally and Ward Records in Japan. Avantasia will perform live in Tokyo on 9th May.