Album review: Ström "Ström"
Rock'n'roll is alive and well in Sweden. Ström serves up high-voltage rock sung in Swedish on its debut album.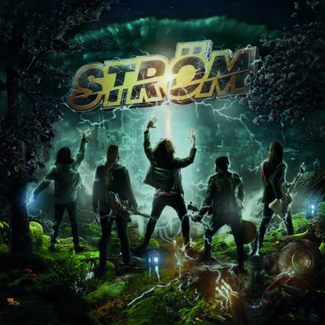 Ström, Swedish for "electricity" or "power", is a fitting name for this high-voltage rock'n'roll band founded in Växjö, Sweden three years ago. The easy (lazy?) way to describe this band's music is AC/DC with Swedish lyrics. Sure, there's plenty of that, but there's much more to this band. There are quite a few similarities to Swedish heavy metal band Bullet (also from Växjö), not least the catchiness of many of the riff-happy songs. There are also echoes of Swedish bands from the 1970s, such as November, Solid Ground and Wasa Express, as well hints of Britain's The Darkness and Canada's Danko Jones. But the only thing that matters is that Ström is a fab band with a terrific debut album. The music makes me want to dance and sing along. My face is covered in a big smile as I listen to this excellent debut album. This is an album full of hits and anthems, such as "Tiden sjunger", "Ta mig tillbaks", "Gul & Blå", "Hatet" and "Ensam är stark". The track "Blodsband" is perhaps the musical zenith of the album, closing out the album in style. While some of the lyrical themes are on the dark side (immigration, single parenthood, social commentary and such), the sound is basically feel-good hard rock. Ström consists of Zdravko Zizmond (vocals), Calle Sjöquist (guitar), Johan Siljedahl (guitar), Joel Carnstam (bass) and Tomas Salonen (drums). They play rock'n'roll. This is what it's all about. It is escapist music so good that the listener forgets everything else. All the problems in the world disappear for a short time of musical bliss. This is music that makes you want to drop everything and start a band.
Ström's self-titled debut album is out now via Black Lodge Records.