Album review: Entombed "Clandestine Live"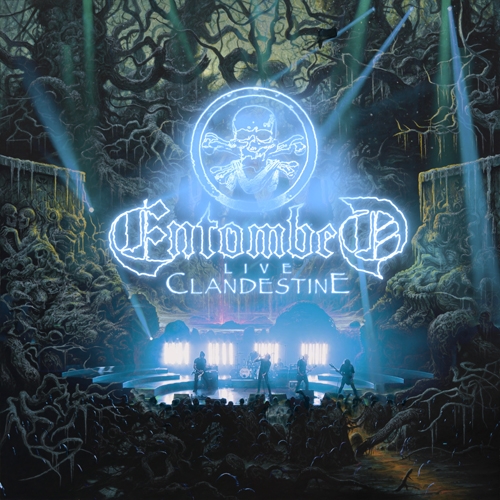 Reunited Swedish death metal pioneers Entombed's live version of its 1991 "Clandestine" album is nothing short of a brutal masterpiece. 
My expectations on the reformed/reunited Entombed's new live release were sky high. After all, this is one of the best death metal bands of all time. Entombed were pioneers in the original Swedish death metal movement. Here they are performing one of their most classic albums in its entirety. I am very pleased that the band and this live album by far exceed those expectations. "Clandestine Live" is nothing short of a brutal masterpiece!
The band's current line-up consists of Nicke Andersson (drums), Uffe Cederlund (guitar) and Alex Hellid (guitar) from the band's original line-up that recorded the Tomas Skogsberg-produced "Clandestine" studio album in 1991. New members are Edvin Aftonfalk on bass and Robert Andersson on vocals, both formerly of Morbus Chron. "Clandestine Live" features all the nine songs from the studio album – "Living Dead", "Sinners Bleed", "Evilyn", "Blessed Be", "Stranger Aeons", "Chaos Breed", "Crawl", "Severe Burns" and "Through the Colonnades" – plus "Left Hand Path", the title song from the band's 1990 debut album. It is brutal old-school death metal, yet beautifully melodic at times, in a haunted kind of way. While professionally recorded, this live album has captured the fantastically raw and brutal DIY sound that was an important ingredient in the death metal scene in the late 80s and early 90s. This live performance was recorded on 12th November 2016 in Sweden to mark the 25th anniversary of the studio album's release. But it sounds as if it could have been recorded in 1991. That's a good thing and probably what the band has tried to achieve here. The end result is splendid death metal awesomeness. Entombed rocks like it's nobody's business. Now the pressure is on for Entombed's friends and rivals in Dismember to see what they can achieve when they reunite on stage later this year. The absolute highlights on this terrific live album include the exquisite songs "Chaos Breed", "Crawl", "Severe Burns", "Stranger Aeons" and, of course, "Left Hand Path".
Entombed's "Clandestine Live" will be released on 17th May via Threeman Recordings.