Interview: Danko Jones "We already know what kind of band we are. We're not delusional!"
When Danko Jones and his punky Canadian rock trio recently toured Australia, Roppongi Rocks boss Stefan Nilsson met him backstage at Crowbar in Sydney prior to the third and final gig on their Aussie tour. They had a chat about writing music, how conservative some rock fans are, collaborating with Marty Friedman, Danko's interest in Japan and Sweden and much more.
Canadian trio Danko Jones – consisting of John Calabrese on bass, Rich Knox on drums and Danko Jones himself on guitar and vocals – is without a doubt one of the best rocks acts out there. They write great songs, release splendid albums, produce fab music videos and put on one hell of a rock show. The band released "A Rock Supreme", its ninth full-length studio album, earlier this year and has been touring it ever since.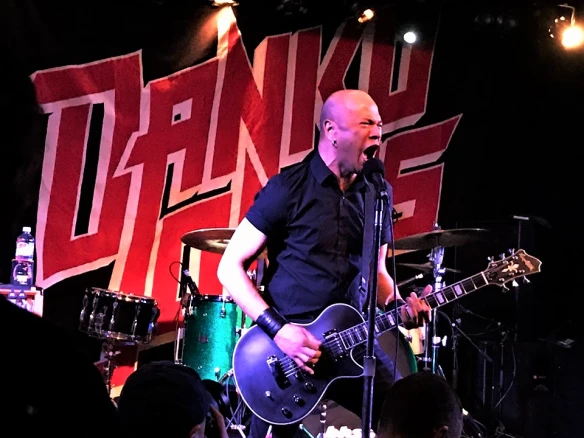 When you write music, do you feel any constraints that you need to fit in with what is expected of you or do you feel free to create whatever you want? "I just write. We don't really think like that. We know what kind of band we are. We're a rock band. It's not as if we feel confined. It's what we are. If I didn't want to play rock, I wouldn't play rock music. It's the reason why we play rock! We like it, so it's easy to stick within the confines of what a rock band should sound like. If people think we have a sound… We're still able to expand the sound. A song like 'Sugar Chocolate' is totally different than a song like 'Invisible'. But because it's us playing it, it's pretty much through the same filter or funnel, so it just ends up being very consistent regardless of where we take the rock sound. We know what we are, so we're not trying to find ourselves. I think a lot of bands, even a band like Metallica, kind of, are trying to find themselves, even though I think a lot of people could tell them what they are. We don't need that. We already know what kind of band we are. We're not delusional in that sense. We're not gonna try to do an indie rock record or a rap-rock record or a symphonic record or anything. We pretty much stick to the script in the same tradition as bands like The Ramones and Motörhead and Slayer and AC/DC."
Earlier this year you released the "Dance, Dance, Dance" music video. It's a fantastic song with a terrific video of three dancers shot in what seems to be one continuous take. How did that come about? "It was shot in Stockholm by Amir Chamdin. We've been friends with Amir for years but never worked together. We kind of met him at a Hellacopters show in Gröna Lund last year and we reconnected with him. When it came time to figure out how to make the video for the song, we asked Amir. He wanted to do it. He loved the song. He had this idea. We always like to juxtapose images and stuff and ideas of what people think is rock. I kind of find people's idea of rock to be pretty boring and stock. To play with those expectations is amusing to us and refreshing. One of the problems with rock'n'roll is it's pretty stagnant and conservative. As much as I like the music, I really don't like that kind of thinking. A lot of people… Maybe it's just insecurity on their part, you know? They have to wear the uniform, they have to have the look down, the attitude. I kind of laugh at all that. Because, really, rock'n'roll is about freedom. I can pretty much dress and look and sing whatever the hell I want! That still conforms with what rock'n'roll is. I think a lot of people have a problem with that. I think that has to do with the fact that maybe they feel insecure about listening to the music. They don't know how to dress or how to look. Even though they might be 28 years old, they're still a 15-year old mentality. When it comes to images like that, I thought it was a great idea. It's a one-shot. The girls who are in the video, they're amazing dancers and it's just all one take. I thought it was pretty impressive. I like the one-shot videos too. That was an idea he had. We liked that idea and then we liked the idea of him putting these three dancers as our video for a rock song. Usually, the music that dancers dance to is dance music. So, it was nice to juxtapose that as well."
You did a festival here a few years ago, but this is your first headline tour in Australia in 15 years. "It's not a tour. It's three dates. We did Soundwave in 2015. Silverback Touring has really helped out us coming here and bringing us over here. They've done a great job. We're happy about it. The first two of the three shows were respectably attended. If that will mean word will spread or give people at Silverback enough confidence to bring us back…"
When will we see you back in Japan? Any such plans? "We played Fuji Rock in '04. Nobody wants to sign us or bring us over. I always wanted to come ever since we visited there. We've just never been able to go back because there's been no offers, no label, no promoter wants to bring us over. You can't exactly just knock on a club's door in Tokyo and go: 'Can we play tonight?' That's the thing a lot of people don't understand. People ask: 'Why haven't you come back and why aren't you playing here?' Well, no one in your city wants us there, no promoter. People think that we're the ones who are looking at a map and just deciding on our own where to go and when we can show up. The world is at our feet! Hehe!"
Danko has collaborated with Tokyo-based Marty Friedman, both live and in the studio. "Marty's done a great job of promoting us beyond having me sing on the album. He's someone that I have been listening to since Cacophony. It's really kind of mind-blowing that I was on the album with him and getting to know him over the years. He's really a genuine music fan. He just likes music. It's a lot of fun to work with Marty. Marty's been on my podcast three times."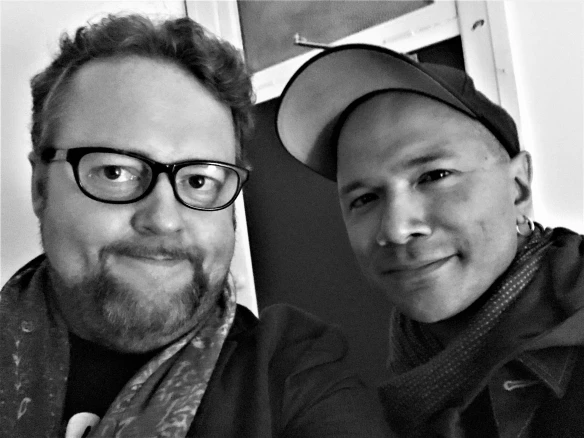 "We were talking about Japan at dinner tonight. I was saying that the time we played Fuji Rock, being in Tokyo was really one of the only times, past the first few tours, going abroad where I was a real tourist. I never leave the club or I never leave the compound where the gig is happening. Rarely, unless there is a record store two blocks away or a restaurant three blocks away. Tokyo is the only time when I spent the day off actually being a tourist and seeing the sites. I can spend a week there doing the same thing. I love everything Japan.
You have a lot of links with Sweden. You have written a column for Close-Up Magazine, you had a radio show in Sweden, you frequently perform in Sweden and so on. How did that all start? "Rock'n'roll really lives in Sweden. It's such a vibrant rock scene with Backyard Babies, Hellacopters and then there's a long list of other great Swedish rock bands. The Hives, Noise Conspiracy, Dead Lord. And I can name you ten other bands… The Night Flight Orchestra! There is a scene for a band like us. Whereas in Canada, it's not the same. There's not that long list of rock bands. There's like four, five, for a country that is 20 times bigger than Sweden. The scene is pretty vibrant there and our management is based out of Sweden. Our booking agent is based out of Malmö. And a lot of the bands we ended up touring with, like Backyard Babies took us out in '01 across Europe, not in Sweden, across Europe, because we played Malmö City Festival with them. Dregen saw us and two months later we got an offer for the European tour. Then we've played shows with The Hives, we've toured with Noise Conspiracy, we've played shows with The Hellacopters, here and there. For a country with nine, ten million people, there are so many bands that are exported internationally. So, you end up crossing paths with them if you play rock. We were also brought to Europe through a Swedish label called Bad Taste. It was through Sweden that we started touring abroad."
You wrote and published a book recently and you've done some spoken-word performances. Are these non-music creative activities something you do when you have time? Does music always come first? "It's all really based on music. The book is a collection of essays from various rock magazines, some of them are from Close-Up. I don't really do anything non-musical. Even if I'm talking, I'm talking about music and I am writing about music. There's really nothing that doesn't have anything to do with music. For me personally, I don't consider myself a musician. I think of myself more as a performer. There is a difference. I don't know musical theory. Those guys do. They tell me 'Go to G'. I don't know. Or what a minor chord is or simple musical theory that a musician would know. I just go by feel. Whatever sounds good to me. I just go like as a fan would, as I always have. That's what leads me to what I think is good music. It's just your ears, not musical theory. So, I don't consider myself a musician. But I do consider myself a performer and that is basically getting up in front of people and entertaining them."
You've got a great album out and you're touring. What's next? More touring? "Yeah. It's pretty much you put out a record and go on tour."
Danko Jones is currently on a European tour with Volbeat and will do some shows in Canada in December before they will return to Europe in January and then the US in February. Danko Jones has gotta rock and he needs to roll because he's in a band and he loves it.