Interview: Uriah Heep | "It's all about the songs"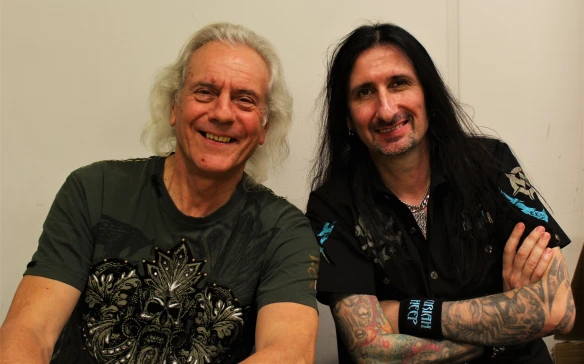 During classic British rockers Uriah Heep's recent Japan tour, Roppongi Rocks' Stefan Nilsson had a chat with band members Phil Lanzon and Davey Rimmer backstage at Billboard Live in Roppongi, Tokyo.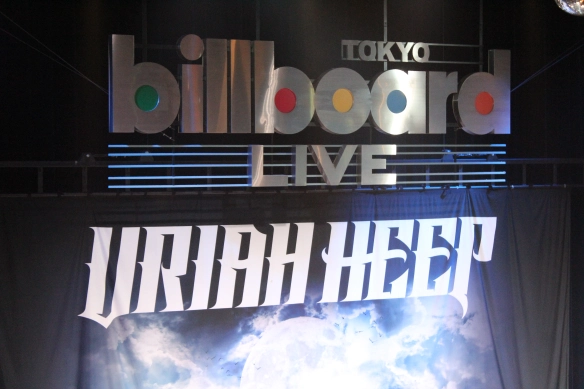 50 years after its foundation in England in 1969, British rock band Uriah Heep is at the top of its game: still very actively touring the world and with a splendid new album, "Living the Dream", released in 2018. The terrific current line-up of the band consists of founding guitarist Mick Box, vocalist Bernie Shaw, keyboardist Phil Lanzon, drummer Russell Gilbrook and bassist Davey Rimmer.
Heep's return to Japan took the form of six special gigs at the two Billboard Live venues in Osaka and Tokyo, with the band performing sets at around 70 minutes each and doing two shows per night in front of a seated audience. "That's the problem with Heep. It's like 25 albums, so many songs, so many good songs and trying to keep everyone happy is always a nightmare. We try, but we would have to play for like four hours to keep everyone happy. 25 studio albums and 50 years of rock music, all the different eras of Heep," says bassist Davey Rimmer as we sit down backstage between two of the band's sets at Billboard Live in Roppongi, Tokyo.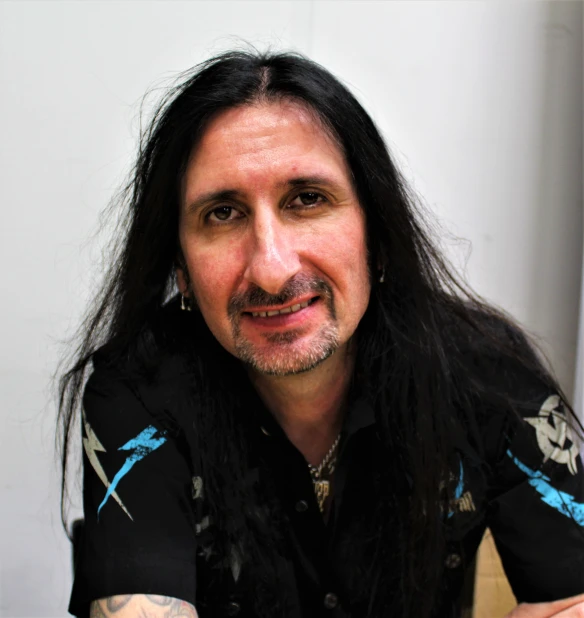 Rimmer is the newest member of Heep. "Yeah, it's about six years now. I auditioned for Heep. At the time, Trevor Bolder, the amazing Trevor Bolder – The Spiders from Mars and Uriah Heep – amazing bass player, at the time he wasn't too well. We found out that he sadly had cancer. As he went for treatment, Heep they just wanted a stand-in, because they had lots of gigs. Initially, I came in as a fill-in. As the months went by, very sadly Trevor passed away. For me, I just wanted to meet him, because I was hoping I would play with the band and then I get to have a jam with him. He's an amazing player. I met his family, but sadly I never got to actually meet Trevor. That's the thing with Heep, there are so many great bass players they've had. I always try to do justice to the… I don't want to change them classic lines. I always try to keep close to what they played. It's an honour for me to play in Trevor's legacy of great bass playing, great songs. He was a great songwriter. He had everything. He was a great singer. The new album is called 'Living the Dream' and, for me, I am! Because I used to play all them songs in bars and my bedroom. I was a big rock fan when I was a kid!" says Rimmer with a big smile, clearly very happy to be a member of the veteran rock band he listened to when he grew up.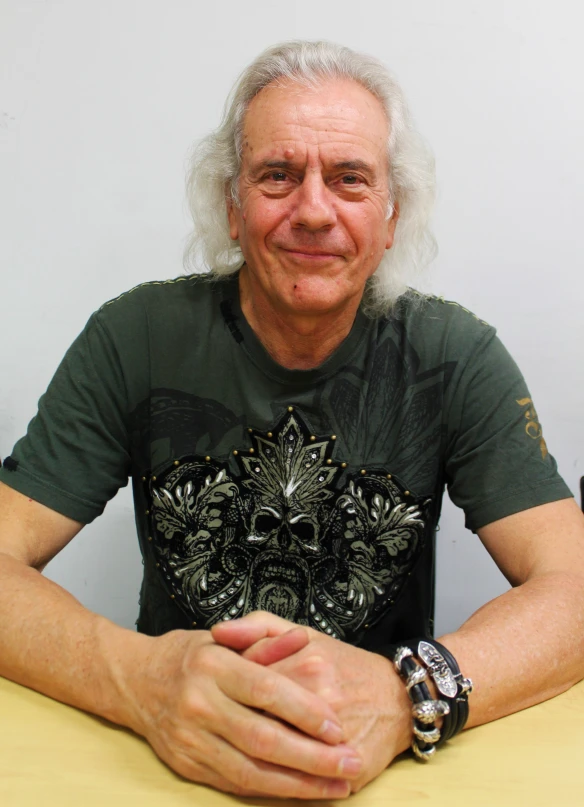 Keyboardist Phil Lanzon, who has been in the band since 1986, notes the difference between this Japan tour – with relatively short sets at around 70 minutes with a seated audience eating dinner – and the shows the band normally does. "It's a very, very big difference. It's very alien to us. We're playing normally to standing audiences and festivals so you could imagine that there's a complete contrast. But it's really good because it's something different. I really enjoy it and it's fun!"
With a terrific new album out, do you ever feel like – sod all the old stuff, let's just play the great new material? "The band is so established and playing the old classic Heep songs… Every time you play that song, somebody different in the audience, it's a new face hearing that song and their communication to us, that is immediate. That's the buzz! You play those old songs and you enjoy playing them because the feedback is incredible. That's the reason for it. So, you can't dismiss those songs, because everything would fall apart. You have to have a combination," explains Lanzon and adds: "We did well to get three or four in there" as a reference to the ten-song setlist for the gig they had just finished which featured four new tracks.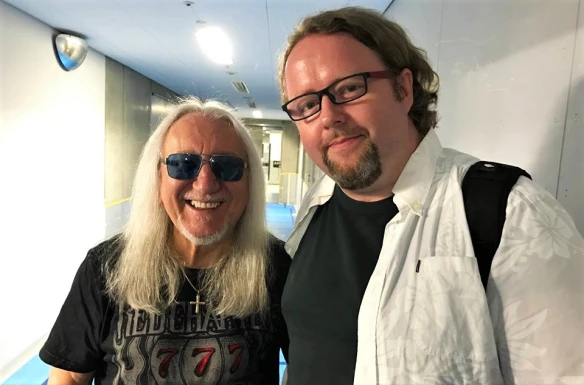 Rimmer continues: "We do try to mix it up, because I know it's such a catalogue of songs. 25 albums, 50 years. We do try to keep everyone happy. It's difficult. We'd be playing for four hours to keep everyone happy. But we do wanna play the classic stuff and we wanna play new stuff as well. We try to play it with enthusiasm and power and energy because that's what we want off the crowd." Uriah Heep now has a great and what seems like a stable line-up. In Heep's early years there was turmoil with changing line-ups. "There was turmoil before, yeah," says Lanzon and continues: "I think so. This is what we enjoy doing. You have to remember this is what we love doing and when you see those faces, that's it!"
The band will mark reaching the 50-year mark since the band formed in England in 1969. One special show in Europe with three former band members joining the current line-up has already been announced and there will be more good stuff for the fans. Lanzon explains: "It's an event we're doing in the latter half of this year, with other members of the band. It's a special one-off event. We're planning on various touring in 2020 for the big 50 years launch if you like. There will be festivals, there will be tours, all celebrating the 50 years throughout next year. It hasn't been planned yet, but we're working on it." And perhaps a 19th live album? "Maybe!" says Lanzon. Rimmer adds: "We did 'Live at Koko', about five years ago. So, we're probably due for a new one!"
The band's great recent material works very well live. "It does," agrees Lanzon. "It does, because, we kind of look at… When we are writing new albums, we tend to look at what's gone before as a blueprint for the next album. Not to copy, but to have the same energy, the same melodic kind of structure, lyrical structure and to make sure we can see it fit in with the old songs. It's not like we're deliberately making it like the old songs, we have that in mind. So, when you're building something like that, and the song is working as a song, separate, then you know it's going to work."
I would describe the classic Heep sound as classic hard rock with a lot of keyboards and vocal harmonies. "That's basically it, really, It is energy and power from all of the above, mixed together and that's what you get! Haha!" says Lanzon and continues: "You have to look back to the past, even the late 60s into the early 70s, when all prog music was being born from all the influences that were happening in music. A feeling grew out of that into the rock that we have today. The roots are actually there of the music that various bands like ourselves are fitted into. That's the genre that we seem to have been drawn to and that's the way we have gone down." Rimmer adds: "The massive Hammond, guitar, bass and drums and then you've got this powerful melody on top. At the end of the day, it's all about the songs. The emotion of the lyrics and the song. For me, that's what Heep is. You've got that powerful sound, but it's all about the songs!" Lanzon continues: "I think you can almost pinpoint an era, again in the late 60s, which was Vanilla Fudge, who had that different power. It was the organ, the guitar and the vocals like you say. It was just like: Ah, I like the sound of that!"
Uriah Heep may have been going for 50 years, but it doesn't seem they are about to retire anytime soon.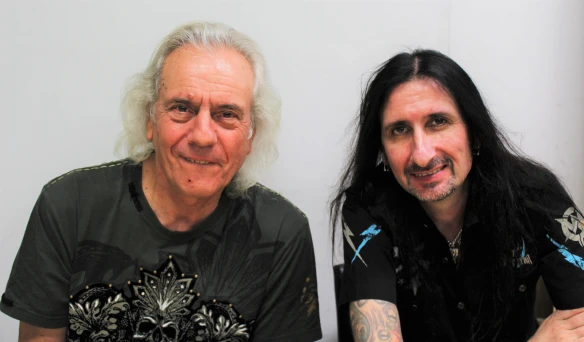 www.facebook.com/uriahheepofficial