Interview: John Corabi | "It's very easy to put a band together until you get into a tour bus"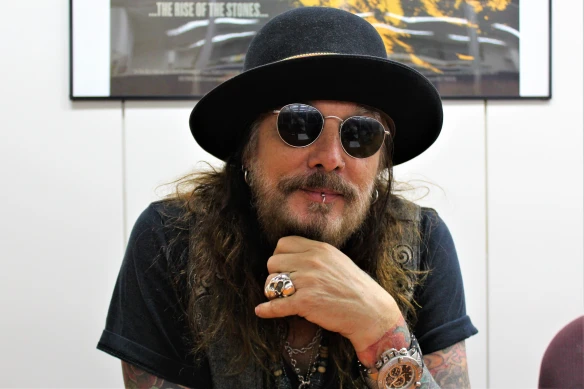 When former Mötley Crüe singer and Ratt guitarist John Corabi recently visited Japan with his current band The Dead Daisies, Roppongi Rocks' Stefan Nilsson sat down with him in Tokyo for a chat about his career and what's coming up.
Vocalist and guitarist John Corabi is perhaps best known as the former lead singer of Mötley Crüe, but he has been involved in numerous bands over many years until he joined The Dead Daisies. He first started to make a name for himself with the band The Scream in the late 1980s. Here he briefly played with drummer Scott Travis who would soon go on to join Judas Priest.
In 1992, Corabi joined Mötley Crüe to replace the original singer Vince Neil. He remained in the band for several years, recording both the full-length studio album "Mötley Crüe" and the "Quaternary" EP and touring with the band. After Mötley, Corabi teamed up with former KISS guitarist Bruce Kulick in a band called Union. The band released two studio albums and a live album. During a Japan tour in 2005, Union used KISS drummer Eric Singer as a fill-in. Corabi, Kulick and Singer also played together in the Eric Singer Project. Corabi, did a stint with Nikki Sixx and Tracii Guns in Brides of Destruction and joined Ratt as a touring guitarist for a number of years. In early 2015, he was invited to join The Dead Daisies as its lead vocalist. In The Daisies he fronts a band formed by Aussie guitarist David Lowy that now consists of a seasoned bunch of pros: guitarist Doug Aldrich (Dio, Whitesnake), bassist Marco Mendoza (Whitesnake, Thin Lizzy, Ted Nugent) and drummer Brian Tichy (Whitesnake, Ozzy Osbourne, Billy Idol, Foreigner).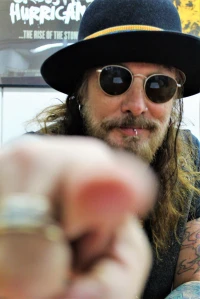 Sometimes a lead vocalist, sometimes a guitarist, sometimes both. Do you miss the guitar when you're focusing on singing? "I think I am OK, yes. The thing with me…there is a left brain, right brain thing. I think when I am playing guitar, I'm not as good vocally. Something's gonna suffer a little bit. It's not like 'Oh my God! That guy sucks!' So, I love the fact that I am just able to focus. Being a frontman, your job is to connect with the audience and be visual, you know, ringleader at the front. So I'm able to do that a little better without the guitar."
"I have way too many guitars already. I'm always playing at home," explains Corabi about his love for the guitar. But Corabi always seem to keep himself busy, with or without guitar. "We're getting ready to go back in the studio in November to do a new album. And I have a solo record to do as well, contractually."
The Dead Daisies is a hardworking band. As part of their touring around the world, they have played twice in Japan in the past year and released a fabulous live album, "Live & Louder", which basically contains the show they are now performing around the world. It was recorded during a co-headline European tour with The Answer. "When we were out with The Answer, we only did a 60-minute set. So we were kind of changing songs around, so that we could have everything. We recorded, I think, all the shows in the UK, Germany, we did one in Paris. Then Doug did an amazing job going through all the different versions of everything and finding the one, like 'OK, this one's really good. Everyone's playing great, so let's use that one.' He kind of went through everything and then we gave it to our buddy Anthony Focx. He mixed it for us."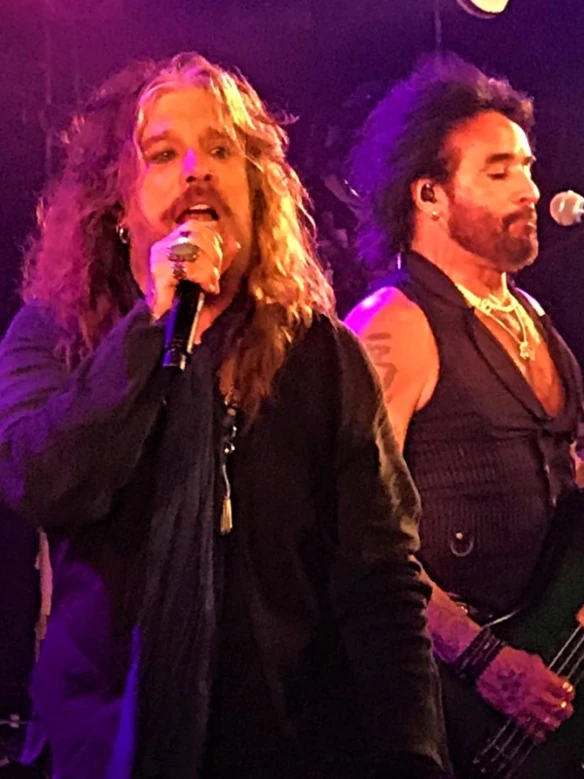 The Daisies is a band full of talented rock stars with strong wills. How does the creative process work in such a situation and how does it differ from you writing your solo stuff? "The funny thing about it is… I've got solo record to do. So, if I want to wank off for eight minutes – y'know what I mean? – I can save it for that record. The cool thing about it is…nobody really comes in… We know that we're gonna write and the way we write is everybody grabs an acoustic guitar and we all sit in a room together, including Brian, who is an amazing guitar player. We all sit in a room together. 'Hey, we've got this riff' and we just starting jamming the riff. We're all throwing shit in at the same time. It's a very collaborative thing. Nobody really comes into the band, for the last two records anyway, with full songs. It's just a riff or an idea. It's just a very primitive, loose idea, where everybody is like 'OK, what do you guys think of this riff?' 'Awesome, let's work on that!' Then everybody starts to throw their ingredients into the pot. As far as my solo thing… That will be something where I'll focus more on finishing the songs and having set finished songs before I go into the studio pretty much on my own. So I'm not worried about the process in this, it's really easy. I'm more worried about doing my solo record than having to actually finish a fucking song. It's crazy."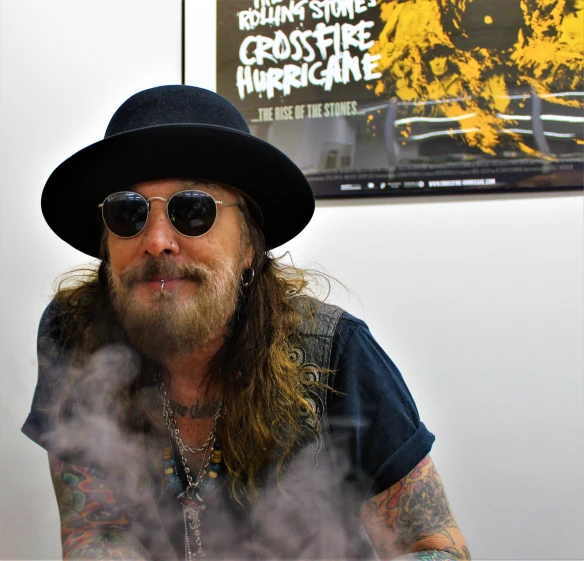 Having played in so many different bands over the years, Corabi has had a career taking him on a roller coaster journey around the world with some great highlights. "All the bands, for one reason or another, were… Each one had an individual characteristic about it. It was like The Scream, for us it was a first record deal, like a major record deal, for all of us. It was the first trip to England and Europe. It was our first big tour, first tour bus… I'm pretty sure 20 years from now, you're gonna sit back and you'll remember your first blowjob. You know the girl's name, what she was wearing, what you were listening to… So that's The Scream. Mötley, obviously, everything just got shifted into a way higher gear with those guys. They are all great musicians but crazy. That was five years of my life that was a blur. Then the thing with Union was equally… I thought the band was a great band, there were talented players in it. But I think Union was kind of a…it was almost very therapeutic. Because Bruce and I were going through the exact same fucking thing at the same time. He got the boot from KISS so that they could do the original line-up with make-up and he split up with his wife of like 10 or 15 years. I went through the exact same thing. They were getting back together. The band's getting back together, I was on the out. The girl that I was engaged to for years decided…whatever. So for Bruce and I, it was just therapeutic for us. The Ratt thing was just basically me giving myself a bit of a mental break without really having to get out of the business. It still allowed me to go out and do music, travel the world, play my guitar. Not be in the limelight, just be back here. Like anybody else that has a job, on Friday I just put my hand out and I get a cheque. I didn't have to worry about t-shirts, tickets, nothing. I just did that for a while until I'd cleared my head and I was like 'Alright! Now it's time to get back to work' and I started trying to put a band together. It took me forever."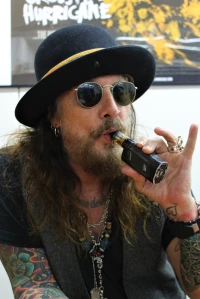 "It's very easy to put a band together that looks great on paper until you get into a fucking tour bus with people for like six months at a time, or three months at a time, a month at a time! Then you start seeing people's idiosyncrasies, their quirks and… 'Oh my God! I'm gonna fucking kill this guy', do y'know what I mean? That was part of my process too. Once I decided I wanted to do my thing, it took me a while… I had three or four drummers, I had a dozen guitar players. 'Til I found the right combination I didn't want to do anything. Then I finally got it. Now my son is my drummer, so it's pretty cool."
"With The Daisies, there was just like 'OK, let's go tour on this record'. David and Jon Stevens actually just wrote a bunch of songs and went into the studio and recorded it with session guys. And they decided to go on tour. Whether someone's schedule or somebody not getting along, or whatever, there was a bit of a turnover there because they were growing in public. Well, here we are. Everybody seems happy. Everybody seems reasonably happy with our turnout here in Japan and record sales. So, onward and upward, Johnny!"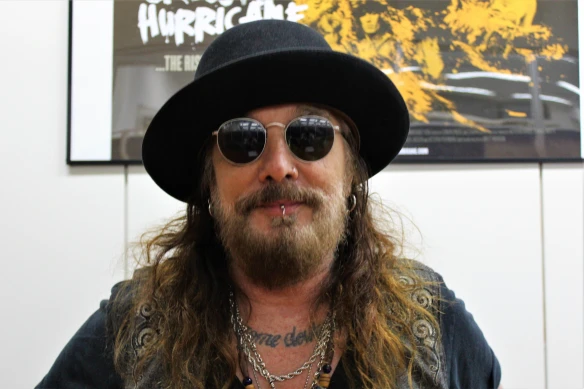 Corabi seems very comfortable in Japan. Having played here twice with The Daisies, he has also performed in Japan with Ratt, Mötley Crüe, Union and ESP. "Japan has always had… I don't know what it is. I just remember reading magazines growing up as a kid. The Japanese audience. Cheap Trick live at Budokan. Just all these great records. Mötley, when we came over here, they were like 'Dude! You're gonna fucking lose your shit in Japan. You're never gonna believe it! The fans they come out in droves and they come bearing gifts.' My first trip here and they were right! I was like 'Holy fuck! These fans are unbelievable.' You go to the hotel, there's a hundred of them in the lobby. They just want an autograph and they are very polite, have a picture. 'Sorry, sorry, sorry!' I just kind of fell in love with it the first time I was here. The fans, I don't know how they do it. My first trip over here was with Mötley. I showed up and these two fans came and they gave me Converse sneakers. I was like 'Oh, wow!' I've always been a Converse guy. So they gave me these Converse, I guess they were made for Japan, you wouldn't get them in America. The thing that freaked me out… Now you can go on Google or Wikipedia and it's got like my birth date, my shoe size, everything is there. I'm talking 1994, when shit was dial up, fax… These fucking people showed up with two awesome pair of Converse high tops, in my size! How the fuck do they do that? What used to amaze me, we would get on the bullet train, because we hubbed out of Tokyo for like six days, seven days. And we would go to Sendai and back or we'd go to Yokohama and back, Nagoya and back. I would get on the train and we would take off and I would see them on the platform as we were pulling away and then we would get to Nagoya and we would get off the train, and I would see that person… 'How the fuck did you guys get here?' Even today when we went to the train station, there was a bunch of fans from the show last night. How the fuck do they know that we're on this train and this time? It's like a mystery to me. It's amazing to me, it really is. I love it, man. I've never met anybody that I had to get verbal with. Never aggressive, they are always apologetic. Like last night when we got in from the gig, it was like 'Aargh! OK.' We just did a signing. We did the gig, we did the signing, we changed, we came back to the hotel. I was starving and then, you know. But it's part of the gig. It's amazing to me. I've always loved Japan and the fans, their affinity and love for what we do. It's awesome!"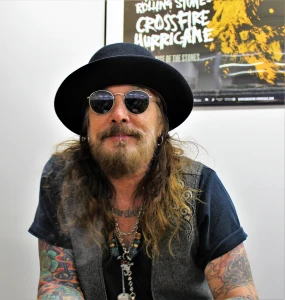 While The Daisies keep Corabi quite busy, he still has a bit of time for side projects. In addition to the solo record he has in the works, he also plans to release a special live version of the 1994 "Mötley Crüe" album he sang on. "I didn't even know it was the 20th anniversary. I did a show, I forget where I was. With my band, we were doing a little bit of Scream, Mötley, Union, new stuff, whatever. Somebody in the audience yelled 'Happy anniversary!' I was looking around, I thought somebody was in the audience. I'm looking around and they're like 'Happy anniversary, Crab!' And I go 'It's not my fucking anniversary! What are you talking about?' And they're like "Nah, dude. It's 20th today! It's 20 years since the Mötley '94 thing came out.' I was like 'Cool' and my manager, he actually set it up where we went and we learned the whole record and we went out and did some shows. Then I really wanted to bring it over here, to bring it to Australia, to the UK and all these different places because – well, Japan we played – but we didn't play a majority of the United States, Canada, South America, Europe. We never played one note of music. This could be cool. It was funny – I was doing that and we were continuing to roll it into 2015 when The Daisies called. So, I had a break and I went home and, not to bring up business or whatever, but I started to research bringing my band to places like the UK, Europe and even here. I started to realise the amount of money I would have to ask for. Like the UK now is…it's not just about hotel rooms and flights and food. There's visas and they don't do the band visa any more. You've got to do individual ones. It's like 700 or 800 bucks a guy. I'm like 'Fuck! I'm going to have to ask for an astronomical sum of money to make this work.' The crew guys, the band – it's five guys, then there's the merch and… I talked to my manager about it and I said 'Let's go in.' We went into a club in Nashville, where I live. I literally called the club owner, it was like two weeks out. I go 'Do you have a day available?' He goes 'I can give you like a Tuesday.' Fine, whatever, it doesn't matter and I promoted it for two weeks really hard. I probably had 300 or 400, 500 people in the place. I just set it up, we recorded everything and videotaped a bunch of shit from the show. I basically gave it to Michael Wagener. I asked him to do his thing. He was like 'Do you want to fix anything?' I'm like 'No! As is.' That's actually coming out, it was gonna come out last year, but 'Make Some Noise' was coming out. We were literally the same week. So I pulled my record and then I figured I was going to put it on in January and Daisies were like 'We're gonna do a live album'. So, I said 'Alright, I'll hold my live record 'til The Daisies' comes out, runs its course.' I'm gonna release mine probably sometime between September and November. We're gonna take a break mid-September, we're gonna write for a couple of weeks and then we're in the studio November 1st. That's a perfect time to do it. Then the first quarter of next year, I'll have off probably with these guys so I can go out and do some shows if I have to. I just put that record out and that way everybody can hear what it would've sounded like."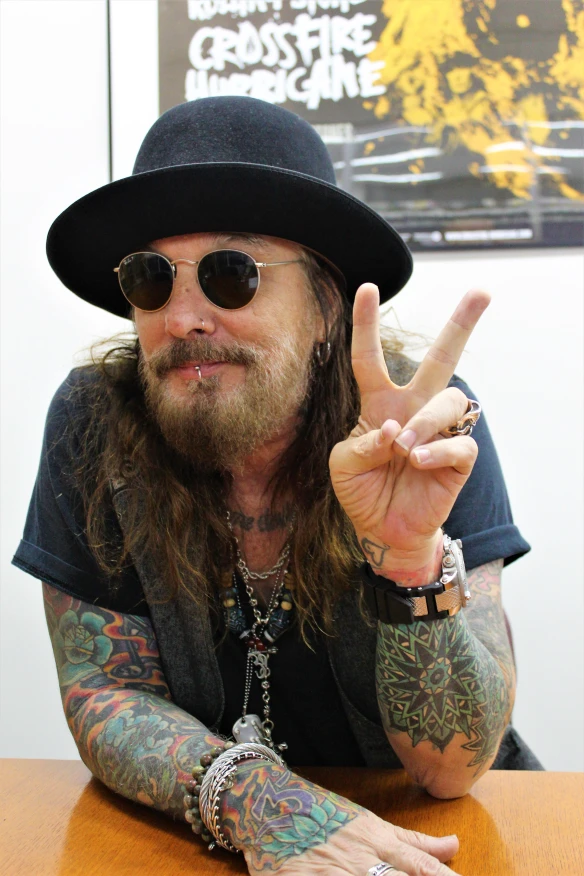 "For me, I did some of the shows and inevitably there's still that huge conglomeration of fans that are still kind of pissed at me for even thinking of joining Mötley. So, I was out doing the 20th anniversary thing and some of the people are like 'Ah! Riding their coat tails again' and I'm like 'No. Actually I wrote this stuff. I do whatever the fuck I want.' I'm not gonna do the shows anymore, let's put the record out and now I can go out and go back to what I was doing with Scream, Mötley, Union. The last show I did, we were on the Monsters of Rock Cruise in March, we actually did some Daisies stuff, some new shit and we had some fun."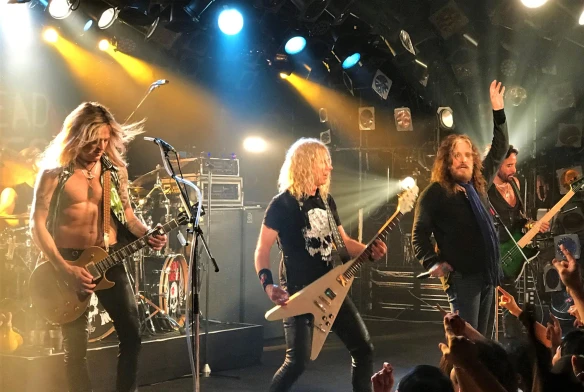 At age 58, John Corabi is clearly enjoying himself and has a bright future with The Dead Daisies and his side projects.
www.facebook.com/johncorabimusic