Belphegor: Goat zombies, gas masks and Helmuth
After their successful gig at last year's major Japanese heavy metal festival Loud Park, Austrian death metal veterans Belphegor recently came back to Japan for two gigs in Tokyo on the ongoing world tour for the band's brilliant latest album "Conjuring the Dead". Stefan Nilsson of Roppongi Rocks met up with legendary band leader Helmuth Lehner backstage in Tokyo.
When I enter Helmuth Lehner's dressing room backstage he has dimmed the lights. I guess that makes sense for one of death metal's darkest characters. Before arriving in Japan for two gigs in Tokyo, Belphegor has played in China and the time difference has made it difficult for Helmuth to sleep properly. "If it wouldn't be fun I wouldn't be here because the travelling and everything is really hard, you know," explains Helmuth who still loves performing Belphegor's physically exhausting shows for the fans.
If one likes the darker more brutal form of death metal, Belphegor is as good as it gets. Both Belphegor's Tokyo gigs are haunting, brutal, dark and absolutely terrific shows. The band appears on stage face-painted, blood soaked and with both goat horns and a gas mask as stage props. The band logo on the backdrop includes two upside-down crosses. On stage the band is very tight and they deliver two fantastic and brutal death metal gigs based around their latest album "Conjuring the Dead" plus some old favourites such as "Lucifer Incestus", "Bondage Goat Zombie", "Belphegor – Hell's Ambassador", "Bleeding Salvation" and "Justine: Soaked in Blood". The band sounds great live. They truly deliver to their Japanese fans on both nights. They sound as fresh and relevant as ever. "After all these years, I hope so. We can always get better. As long as I can see that there is always development in the band, we keep getting more advanced. I want to see how far we can go. Still here! Hahaha!!!" says Helmuth.
Some people like to call what Belphegor plays blackened death metal or extreme metal. "I still describe it as death metal. Very evil with some black metal influences of course, it was always an aspect of Belphegor's sound: brutal music, death metal music," explains Helmuth. "It's the fucking press that always labels us as black metal. I don't know why, because if you listen to an album like, for example 'Walpurgis Rites', I think the death metal part is there, you know. We tune the guitars down, with growls and all this stuff."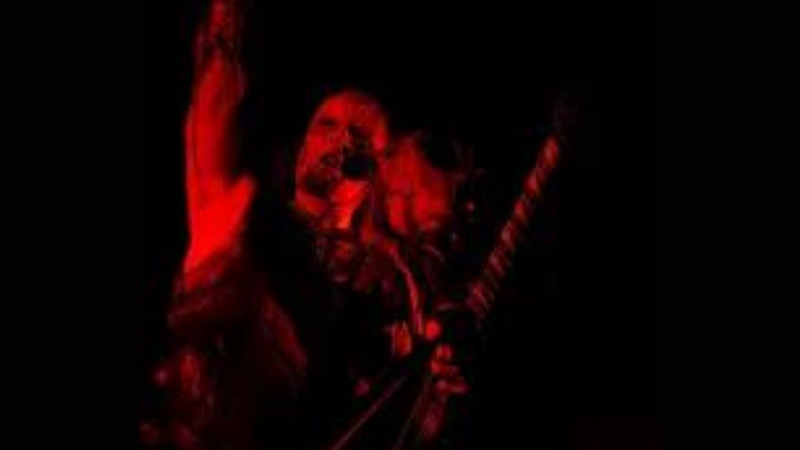 Belphegor has seen many line-up changes throughout the years. Apart from Helmuth, bassist Serpenth, who joined in 2006, is the only other permanent member of the band. Helmuth likes it that way. "We decided in 2007 or '08 that marching as a two-piece is much better for us. We're in control, we can work faster. We can get new people if they suck, if they don't practice any more. Get new blood, new energy, develop as a band. For me it's the most important thing: to keep it fresh. Because if you have a band with the same five members for twenty years, it gets a bit boring. It's always a bit of routine and that is what I want to avoid. That's the reason I go in to several studios, use several producers and all this stuff. To always keep it a little bit fresh. For me it is very important."
Since forming in 1991, Belphegor has kept busy with constant touring and album releases. A near-death experience for band leader Helmuth slowed him down a few years ago but it didn't stop him. "After my operation it was very difficult as I couldn't sing for over one year. It was an open heart operation. I take a little bit more care now. I don't get younger. Before we played 120 shows a year. This year I think we do 70-80 shows." Belphegor's constant touring has not stopped it from writing and producing a whole bunch of great albums. "I never write anything on the tour bus. I don't know when I do it. Mostly in the night. I'm night active. I write my songs alone at home," says Helmuth with an evil smile.
The latest album, "Conjuring the Dead", was released in August 2014 and is the band's tenth album in twenty years. It is one of the band's best efforts so far. Like a death metal version of AC/DC, the songs on the album stay firmly within the established Belphegor sound – brutal death metal with a dash of black metal, some thrash tendencies and also a big slice of NWOBHM. "Yes, because I really love this style. For me this was one of the best movements in metal, New Wave of British Heavy Metal. Angel Witch, Judas Priest…I love this shit. I love almost everything when it comes to metal. I love AC/DC. I don't have a problem if someone compares me with AC/DC! AC/DC is amazing," says Helmuth. Among his death metal colleagues, Helmuth prefers older bands to newer bands: "I really love the old things like Marduk, Mayhem and Deicide. Awesome!"
Erik Rutan, the Florida-based producer and musician who has played with Morbid Angel and Hate Eternal among many others, was brought in to produce the latest Belphegor album. "I was in contact with him since the 'Bondage Goat Zombie' album. It was the first time that we talked about it – him producing a Belphegor album," says Helmuth. But for a few years it was difficult to fit the band's touring and recording schedule with Rutan's many other projects. "This time it worked out and it's great. For me it was always like a dream to record an album in the USA. It was amazing. He did a very good job. He really was working the shit out of me. I never had so much trouble to record guitars. Unbelievable! Always when we finished he was like 'Do it again! Do it again!' Sometimes I was like 'What do you want from me?' It was all recorded in Florida, mixed sand mastered, everything."
Over the years Helmuth has established his preferred way of making records – recording them over a number of different sessions. "Like always, I do it split into three or four sessions. Florida was also four sessions with the mixing and mastering, so that the album in my opinion can grow. It's way better if you do it like that." During the first couple of sessions, drums, bass and guitars are recorded and then Helmuth can listen to it for a few months and make necessary changes in the following sessions. "It's very important for me. I wouldn't like to record in one session like I did on 'The Last Supper'. It was cool back then in 1994 but I don't want to repeat that. It is way better for the album, for everything" says Helmuth.
This summer Belphegor will be doing European festival gigs, followed by a North American tour in October and November. "Then I don't know. I don't want to stress it out any more as it was before: tour, album, tour, album, tour, album," explains Helmuth. "Each show can be my last show. The doctor says that if I have some issue again then it's over. I can't risk it again. They say I should stay home and not tour that much."
Text by Stefan Nilsson. Photos by Mikio Ariga.