Album review: Tronos "Celestial Mechanics"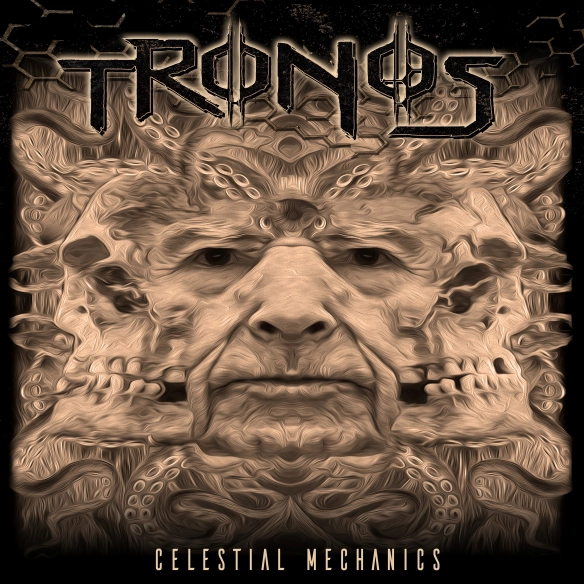 In Tronos, three of our absolute favourite people in the music industry – Shane Embury, Russ Russell and Dirk Verbeuren – offer us something very different and splendidly gorgeous. The result is atmospheric epicness! 
Tronos is perhaps giving us a glimpse of the dark, murky and warped world inside the brains of the two Brits Shane Embury (Napalm Death, Venomous Concept, Bent Sea, Lock Up, Brujeria) and Russ Russell (whose production credits include Napalm Death, Lock Up, The Haunted, Dimmu Borgir, At the Gates and much more). It's like "Alice in Wonderland" meets "A Nightmare on Elm Street" with Freddy Krueger chasing poor Alice and killing the Mad Hatter in the process. It's a twisted and dark mystical tour of an underworld under your skin or a space journey to a galaxy far, far away. Embury and Russell have worked together on many albums over the years, and in Tronos they have also brought in another brother who they know well, Megadeth drummer Dirk Verbeuren. 
The album opener, "Walking Among the Dead Things", sets the tone for the album. It's an epic piece of rather complex music clocking in at almost eight minutes. We get plenty of variations in the musical styles on the album's ten tracks, but somehow they all fit in nicely together. Despite the many various musical influences used to create Tronos, there is not a weak moment on this album. I never get bored. With Embury, Russell and Verbeuren involved, obviously my expectations are sky high, but I didn't expect this. It's terrific and so different. Love it! Embury and Russell have spent years putting this album together. The wait has been worth it – the end result is stunning! Tronos' music is multi-layered dreamy, doomy and epic ambient music. There are some hints of the band members' more brutal and extreme musical roots, such as on parts of the great track "Birth Womb". But this is very different and, for the most part, it is not brutal. There are so many variations and twists and turns here that the listener can make new discoveries every time the music is played. In Tronos, Embury is not playing bass, but rather opting to sing lead and play guitar. It shows a different side to this fantastic artist. The dreamy song "Voyeurs of Nature's Tragedy" is a favourite of mine and the hauntingly doomy "Judas Cradle" is simply exquisite. On one of the album's best tracks, "Premonition", we get a fantastic guest appearance by Voivod vocalist Snake. Erica Nockalls (The Wonder Stuff, The Proclaimers) adds both terrific vocals and violin to some of the songs and other guest musicians appearing on the album are Billy Gould (Faith No More), Troy Sanders (Mastodon) and Dan Lilker (Nuclear Assault, Anthrax, Venomous Concept). The closing track on the album, Black Sabbath cover "Johnny Blade", is one of its absolute highlights. This album is simply terrific! This is a beautiful avant-garde masterpiece!
Tronos' album "Celestial Mechanics" will be released on 12th April via Century Media Records.