Gig review: Bullet and The Babes turn it up loud in Tokyo
Swedish metal lords Bullet finally made it to Japan and on to a Tokyo stage. With Aussie rockers The Babes as special guests we get a fine and sweaty evening in the name of heavy metal and hard rock.
Bullet and The Babes at Cyclone, Shibuya, Tokyo on 20th February 2020
Australian rockers The Babes started making some real Japanese fans when they last year toured Japan for the first time, including opening for Venom Inc and Girlschool in Tokyo. Since then, they have released a fab full-length studio album and done more touring. This evening in Shibuya, we get to hear a 40-minute set of the best of what the band has to offer, including some of my favourite tracks such as "Doghouse", "Dive Bars & Muscle Cars", "It Ain't Easy" and "Got No Soul". Siblings Moni Lashes on drums, Donna D on guitar and Corey Stone on bass are fronted by Joey Ryan who is really growing into a terrific frontman. This time, many people in the audience already know the songs and thus, it feels like much more than a "mere" opening act. The Babes is building a loyal and growing following of Japanese fans and it is starting to pay off. Adelaide's finest will no doubt be back in Japan soon again.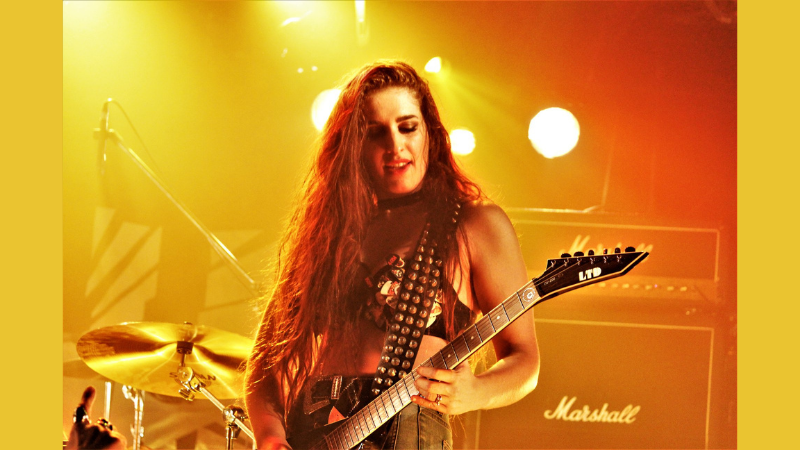 Heavy metal is alive which the evening's headline act is living proof of. Sweden's Bullet plays a fantastic kind of straightforward heavy metal. It combines the best of British metal – like Judas Priest, Raven and Saxon – and crossbreeds that with Accept-style German metal and some AC/DC vibes to arrive at the exquisite Bullet sound. It oozes 1980s heavy metal but somehow it doesn't really feel retro. It feels like here and now. It is quite possibly timeless heavy metal built on love for proper heavy metal. The band members so clearly love heavy metal. They enjoy what they do and they are very classy entertainers.
The band is tight and they know all the classical heavy metal stage moves. But this is not an image kind of band. This is a bunch of fine heavy metal journeymen with a van full of great songs and the musical skills to play the songs as well. Lead vocalist Dag Hell Hofer is someone who stands out. Dressed in a plain black t-shirt and with studded wristbands on both arms, this man is the real deal. He has a very fitting metal voice which partly reminds me of legendary Accept and UDO singer Udo Dirkschneider. Guitarists Hampus Klang and Alexander Lyrbo duel perfectly throughout the show and they are backed up by a solid rhythm section consisting of drummer Gustav Hjortsjö and Gustav Hector on bass.
They kick off the show with "Speed and Attack". The party has started and it never stops. It's a non-stop heavy metal show and it is ridiculously good. The show includes terrific songs such as "Turn It Up Loud", "Stay Wild", "Riding High", "Rolling Home" (perhaps the evening's absolute highlight), "Storm of Blades", "Dusk Til Dawn", "Heading for the Top", "Dust to Gold", "Fuel the Fire", "Highway Love" and more. The setlist leaves nothing to desire. It is flawless. They even manage to squeeze in a cover, the instrumental song "Dr. Phibes" by Angel Witch, and make it sound as if it were their own song. A very suitable choice as former Angel Witch drummer Hermien Jerian–du'Fort, who co-wrote the song, is in the audience this evening.
This is metal done how metal should be done. This is what proper heavy metal is all about. You take the foundation of what is great about the genre and you add some of your own touches to it. You deliver it with a helluva show that demonstrates that you and the audience love the same thing. The Bullet boys close a fabulous evening with "Bite the Bullet", their very own heavy metal anthem. What a night! What an incredible band! Bullet reminds me of why I am a metalhead. Thank you.