Gig review: Sepultura bulldozes Tokyo as the Machine Messiah rolls into town
Brazilian metal masters Sepultura returned to Japan for an explosive Tokyo gig. The Machine Messiah crushed Tokyo!
Sepultura and United at Duo Music Exchange, Shibuya, Tokyo, 23rd May 2018
When Sepultura returns to Japan after a 17-year absence, the expectations are high, very high. Can they meet and even exceed those expectations? Yes, they can and they do!
Japanese veteran thrash metal band United, who will release the new album "Absurdity" in July, does a fine job of getting the audience warmed up. As an opening act, we get a short set made up of fan favourites such as "Cross Over the Line", "Mosh Crew", "Violence Jack" and "Sniper". Now I am really looking forward to hearing the band's new album.
When Sepultura then enters the stage, the energy is there and so is the excitement. The band opens the show with a knockout trio of songs: "I am the Enemy", "Phantom Self" and "Kairos". Bloody hell! Sepultura is not only great, the band is perhaps better now than ever before. Yes, they sound that good. They're also not stuck in the past. The show is built on a foundation of newer material and it's brutally awesome.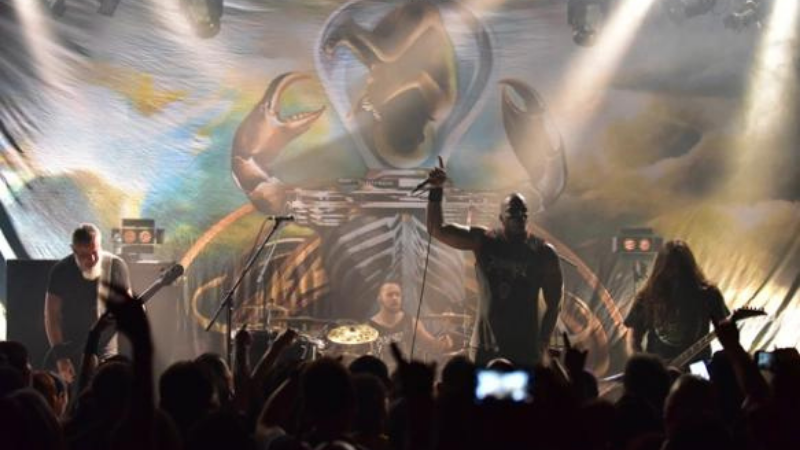 This evening we get what must be close to a perfect set list with the best songs from the band's latest album, 2017's splendid "Machine Messiah", as well as favourites from throughout the band's career. Old-school Sepultura fans get their treats in the form of "Territory", "Desperate Cry", "Inner Self", "Refuse/Resist" and "Arise". Highlights for me this evening include fierce versions of "Sworn Oath", "Against" and the terrific cover of Titãs' "Policia" (originally released as a B-side on the "Territory" single). Long-term members Andreas Kisser on guitar and Paulo Jr. on bass are still in fine form after more than three decades in the band. The Brazilian band's American vocalist Derrick Green is a world-class frontman. He's got it all: he looks the part, he has the stage presence, the never-ending energy and a voice that was made to sing Sepultura songs. The band's latest addition, drummer Eloy Casagrande, who joined in 2011, is a fierce musician that drives Sepultura's music along at speed and with glorious heaviness. He's quite a find and a must in order to deliver Sepultura's heavy music live. In the instrumental piece "Iceberg Dances", Green gets a break while the rest of the band gets to shine. As an encore, we get the classic "Slave New World" before the band invites United singer Masatoshi Yuasa to help them perform the song "Ultraseven no Uta" for the very first time. The band recorded a cover of this old Japanese anime theme song as a bonus track for their latest album. We then get the phenomenal "Resistant Parasites" before they close the set with "Ratamahatta" and "Roots Bloody Roots". What a full-on high-energy knockout show by a terrific metal band that is more relevant and able than ever. Let's hope it won't take them another 17 years before they return to Japan.
Text by Stefan Nilsson. Photos by Yuki Kuroyanagi.