Machine Head crushes Tokyo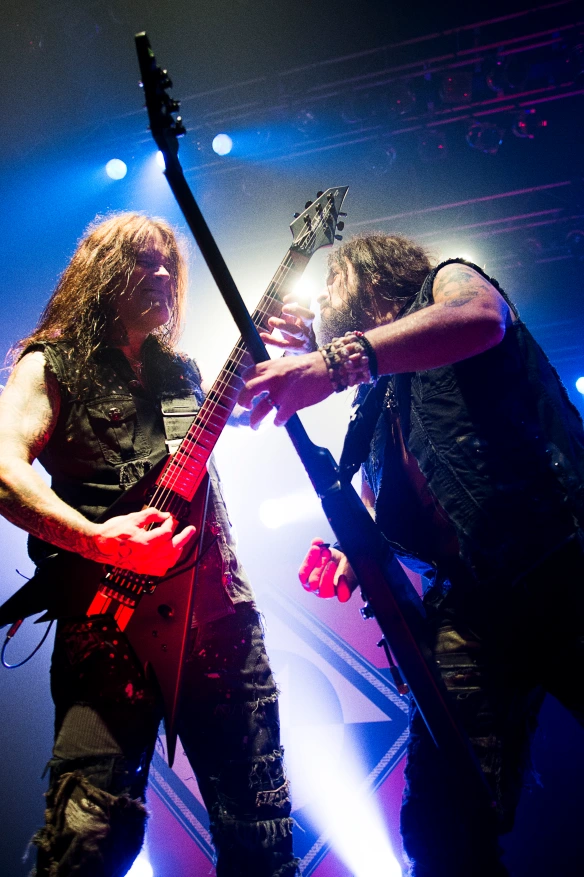 "An Evening with Machine Head" is two and a half hours of mayhem, crushing riffs and metal anthems. What a treat! It is a sensationally great heavy metal evening with Robb Flynn leading his band and their Japanese Head Cases (as Machine Head's fans are known) in a non-stop metal celebration of Machine Head's career at Tsutaya O-East in Tokyo on 6th July.
The Bay Area metal titans are this evening so good it hurts. Even before the band appears on stage at Tsutaya O-East in Tokyo, the venue is boiling over. Once the gig gets going, Robb Flynn and his Machine Head give us a knockout performance. They open with "Imperium" from 2003's album "Through the Ashes of Empires". Explosive stuff. I don't think I ever have experienced such a knockout start to a gig. Wow! The sold-out venue goes fucking bananas. And it doesn't stop. The energy onstage and in the audience is unbelievable. The batteries never run out. Not for the band and not for the audience.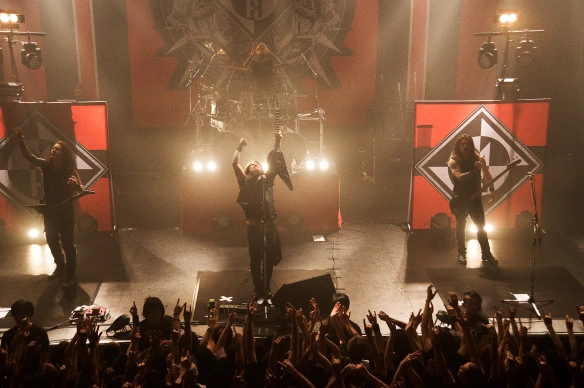 The terrific set list this evening has songs from all of the band's eight studio albums. We get the classics as well as four songs from the band's latest album, "Bloodstone & Diamonds", which was released in November 2014. It all works brilliantly and highlights that this is a band that constantly delivers, both with its albums and its gigs around the world.
The band finishes a great night with the classic "Halo". Bloody hell! This evening with California's metal titans is heavy, angry, loud and bloody, bloody good. A few times during the gig, the unbelievable response from the Tokyo audience really gets to Flynn. He just stands there on stage smiling while the audience keeps going.
Japanese efficiency ensured that this Tokyo gig which suddenly got cancelled due to Flynn's ear infection (which landed him in a Kuala Lumpur hospital en route to Tokyo) swiftly got rescheduled four days later. On their first visit to Japan in five years, a venue packed with Head Cases shows Flynn and the band how much they are loved in Japan. I guess it won't be another five years until we see them here in Japan again.
A few months ago, Machine Head filmed a couple of gigs in Los Angeles and San Francisco for a planned concert DVD. If those gigs were anything close to what we got here in Tokyo, that DVD will be something very special to add to the collection.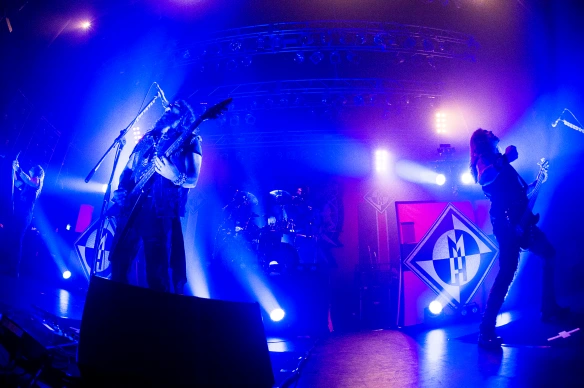 Machine Head – band members
Robb Flynn – lead vocals, guitar
Phil Demmel – guitar, backing vocals
Jared MacEachern – bass, backing vocals
Dave McClain – drums
Set list – An Evening with Machine Head – Tsutaya O-East, Tokyo 6th July 2015
Imperium
Beautiful Mourning
Now We Die
Bite the Bullet
Locust
From This Day
Ten Ton Hammer
This Is the End
Beneath the Silt
The Blood, the Sweat, the Tears
A Thousand Lies
Darkness Within
Bulldozer
Killers & Kings
Davidian
Descend the Shades of Night
Now I Lay Thee Down
Aesthetics of Hate
Game Over
Block
Halo
www.machinehead1.com / www.facebook.com/machinehead