Album review: Ace Frehley "Spaceman"

Following his successful Japan tour last month, Ace Frehley is back with a new studio album full of good stuff.
Spaceman is back and he told you so. I am not sure if it is the just announced final KISS world tour that has got him to up his game or what (he has said he'd like to take part in that tour). But the fact of the matter is that 2018 is the year of original KISS guitarist Ace Frehley. His recent Japan shows were awesome (certainly a contender for live shows of the year in Tokyo). During the Japan tour in September, he didn't play any songs from the new album. Hopefully, he will come back for that because with this new album he has some great new music to add to his back catalogue of classic rock.
The whole new album has that great laidback Ace Frehley touch. Many of the songs remind me of songs Ace did with KISS in the 70s and on his self-titled solo album from 1978. "Spaceman" is a terrific Ace Frehley album which opens with the splendid "Without You I'm Nothing", a very typical Frehley song combining fab guitar work with his characteristic laidback approach to singing. "Rockin' with the Boys" is kind of an Ace Frehley answer to the KISS classic "Beth" (although it is not a ballad). "Off My Back" is an obvious favourite of mine. "I Wanna Go Back" is another. "Bronx Boy" is an answer to "New York Groove". While this is an album of all new material, dedicated KISS and Frehley fans will find plenty of nods to his musical heritage. "Mission to Mars" is a smoking rocker of a track while the exquisite "Pursuit of Rock and Roll" is a new "Rock Soldiers". The nine-track album closes with the jam-tastic instrumental piece "Quantum Flux".
It's so great to hear Ace back at the top of his game. He's still a guitar wizard and he has some fab new songs for his fans. Ace is indeed back and he did tell you so!
Ace Frehley's new album "Spaceman" is out on 19th October via eONE.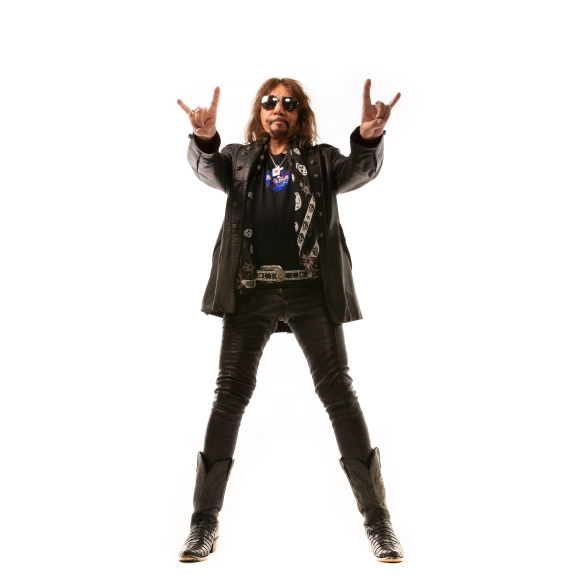 www.facebook.com/officialacefrehley