Gig review: Riot celebrates 30 years of "Thundersteel" at Club Citta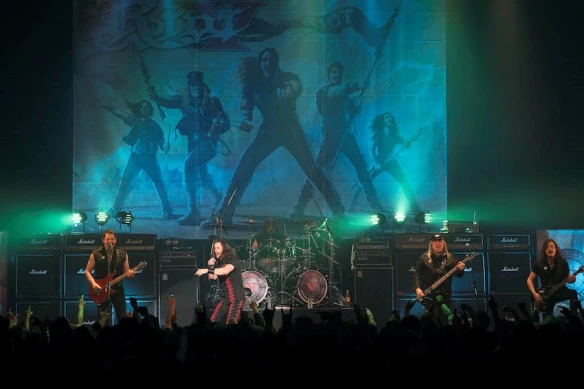 American hard rock veterans Riot celebrate the band's past, present and future with a special weekend of performances at Club Citta.
Riot at Club Citta, Kawasaki, 10th March 2018
In March 1988, American hard rock band Riot released the album "Thundersteel". 30 years later they mark the anniversary with two very special evenings in Japan.
Riot, or Riot V as this latest line-up of the classic hard rock band is officially known as, has no original members left in the band which was founded in New York in 1975. But that doesn't seem to bother any of the Japanese fans. The key thing here is that Riot has had a loyal following of Japanese fans for decades and the current line-up delivers. They are worthy of the name. Today's Riot is built around long-term members Don Van Stavern (bass) and Mike Flyntz (guitar), who both first joined Riot in the 1980s. They are joined by more recent additions Nick Lee (guitar), Frank Gilchriest (drums) and vocalist Todd Michael Hall. Hall as a vocalist is such a great fit for this band. The man has pipes that equal those of Iron Maiden's Bruce Dickinson. He can sing Riot's back catalogue as well as the fab new material. He is without a doubt one of the best vocalists in metal today.
This evening, the first of two nights of performances in Kawasaki, the band performs two sets: first a one-hour "normal" set of classics and newer material which is then followed by a second set consisting of the 1988 album "Thundersteel". We get the album in its entirety, nine songs. Then the band tops it all when they close the evening with classics "Road Racin'", "Swords and Tequila" and "Warrior".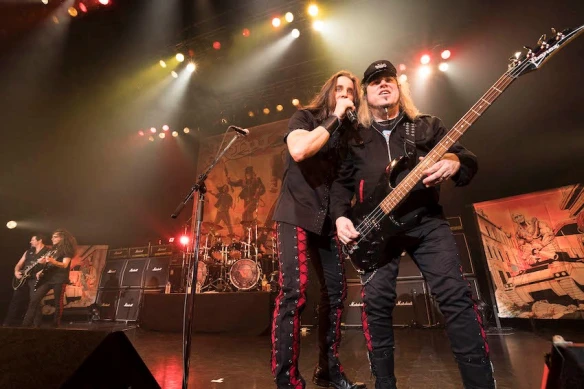 The 23-song gig gives us so much good stuff and it clearly showcases the strengths of the current Riot: it still does justice to the classic material while at the same time producing new material which is among its best work. Everyone loves to hear the classics, but the newer material really is top notch. New members, new material, but it still has that same old Riot feeling and quality. One of the highlights of the evening for me is a great version of "Black Leather and Glittering Steel" from 1990's "The Privilege of Power". What a terrific metal song! "Fall from the Sky", a more recent favourite, gives us a fantastic and relentless twin guitar attack. We also get a special treat in the form of "Land of the Rising Sun", a song inspired by Japan which the band so far has never performed in any other country than Japan.
Riot will release its new studio album on 25th April via Ward Records in Japan and on 27th April internationally via Nuclear Blast. We do get to hear two great tracks from it in the set, the title track as well as "Messiah".
Riot is a great hard rock band with a proud history, great present and bright future. This evening in Kawasaki we got to experience all three. Cheers!