Review: Graham Bonnet Band "My Kingdom Come" EP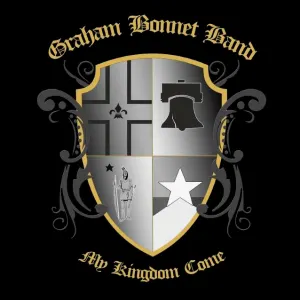 Graham Bonnet has been the lead vocalist in major bands such as Rainbow, Alcatrazz and Michael Schenker Group. He has also done some great music in his own name. He had his first hit single with The Marbles in 1968. 47 years later, in 2015, he is better than ever.
Bonnet's latest band is called Graham Bonnet Band and it has just released a digital EP with two new songs and they sound great. Actually, they sound better than pretty much anything he has ever done. Bonnet's fabulous voice is still intact after all these years. On these studio tracks, just like I experienced on the band's recent Japan tour, you can really hear that he is enjoying himself.
I suspect that a major part of why this is so good is down to bassist Beth-Ami Heavenstone and guitarist Conrado Pesinato, who also produced the tracks. Heavenstone and Pesinato are the backbone of Graham Bonnet Band. In this duo (who played together in Hardly Dangerous), Bonnet has found talented musicians who he enjoys playing with. This is no mere backing band to a famous singer. With hard-hitting drummer Chase Manhattan (Behold! The Monolith) having recently arrived in the band, the Graham Bonnet Band is now a proper band. Manhattan joined the band after these recordings and thus the drumming here is handled by Mark Zonder (Warlord, ex-Fates Warning, Joacim Cans). Other guests on these tracks are the two keyboardists Derek Sherinian (ex-Dream Theater, Alice Cooper) on "My Kingdom Come" and Eric Ragno (Paul Stanley, Alice Cooper, Eric Martin, The Babys) on "The Mirror Lies".
"My Kingdom Come" starts off slowly only to turn into a blistering rock song with a great Pesinato guitar solo. Then it slows down again only to get rocking again and then slow down again. A great Rainbow-ish rollercoaster of a song. It is a song written by Russ Ballard, who famously wrote the Rainbow song "Since You've Been Gone" which featured Bonnet on vocals. The second track is "The Mirror Lies", which the band played during the recent Japan tour. This is a song the band members have composed which shows that there is no need for this band to just rely on Bonnet's back catalogue.
These are two classy, emotional rock tunes with pop hooks and great melodies. There are of course echoes of Bonnet's old bands in the mix. The two tracks sound very much like the classic Graham Bonnet we know and love. At the same time, it is modern, full of energy and really great stuff. This is the way we want all of our old favourite artists from the 60s, 70s and 80s to sound in 2015. But most of them don't.
"My Kingdom Come" is a terrific little EP from a band that we all should keep an eye on. More great things will undoubtedly come from this gem of a band.
www.grahambonnetband.com / www.facebook.com/grahambonnetmusic