EP review: Pequod "False Divinity" – German death-meets-thrash metal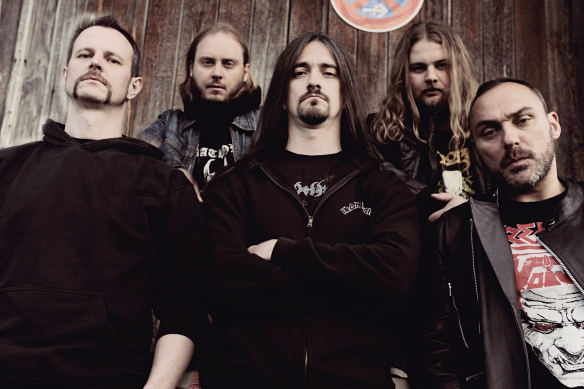 German death-meets-thrash metal band Pequod is back with a new aggressive and crushing EP.
This is angry, furious, fierce and bloody great music from the gutter. It is gloriously brutal but still has some great melodies. This is not music that prioritises brutality and speed over melody. With Pequod we get both brutality and speed but with great melodies. The combination of howls from the coffin with some fine guitar licks, melodic riffs and furious shreds is very good.
A talented German quintet formed in Munich in 1998, Pequod plays death metal with quite a big dose of thrash metal and some speed metal thrown into the mix. They cram many different parts and styles into each song and they pull it off. The band describes its music as "Vortic-Death-Thrash Metal" and "Bay Area thrash meets Swedish death metal". The band released its debut album "Forgotten" in 2011.
The new EP has been mixed by Fredrik Folkare (Unleashed, Necrophobic, Firespawn) at Chrome Studios in Sweden and mastered by supremo Peter In de Betou (Opeth, Dismember, Entombed, Arch Enemy, Grave, Morgana LeFay, Nifelheim, Watain, Bathory, Meshuggah, Amon Amarth, Borknagar, Candlemass, Dark Funeral, Dimmu Borgir) at Tailor Maid Music Production in Sweden. The presence of Folkare and In de Betou shine through as the production is top notch and crystal clear which is seldom the case on independent releases.
Good stuff. You want to hear this.
Pequod's "False Divinity" EP is out today.
"False Divinity" – track list
False Divinity
Flaying Demon
Malicious Joy
Pride of Creation
Pequod – band members
Roland Wagner – vocals
Daniel Kirstein – guitar
Jens Burbass – guitar
Florian Schwarzfischer – bass
Maurizio Guolo – drums