Interview: Epica's Simone Simons talks about combining metal with anime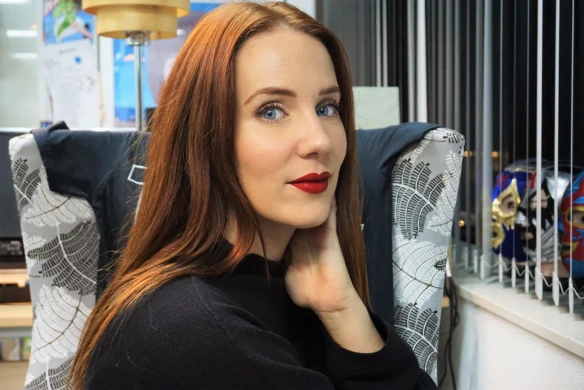 Dutch symphonic metal band Epica is a bunch of hardworking musicians. 2017 saw them release two EPs and tour the world in support of their "The Holographic Principle" album. "In 2017 we toured a lot. We toured our asses off!" says vocalist Simone Simons when she meets Roppongi Rocks in Tokyo.
Following on from last year's first and very successful Epica tour in Japan, the band recently made a very shrewd move for the Japanese market: combining metal with Japanese anime. The "Epica vs Attack on Titan songs" EP, released in Japan on 20th December via Ward Records, features covers of the soundtrack to Hajime Isayama's popular Japanese anime series "Attack on Titan". The band recently followed that with a return to Japan for a one-off show in Tokyo where they, in addition to a best-of set, performed three of the four songs from the new EP.
Epica consists of guitarists Mark Jansen and Isaac Delahaye, bassist Rob van der Loo, keyboardist Coen Janssen and drummer Ariën van Weesenbeek in addition to vocalist Simone Simons. Simone is in a good mood when we meet her and she is clearly very happy to be in Japan again. "Thank you very much. Arigato. I am very happy to be back here," says the singer who is actually celebrating her 33rd birthday when she meets us.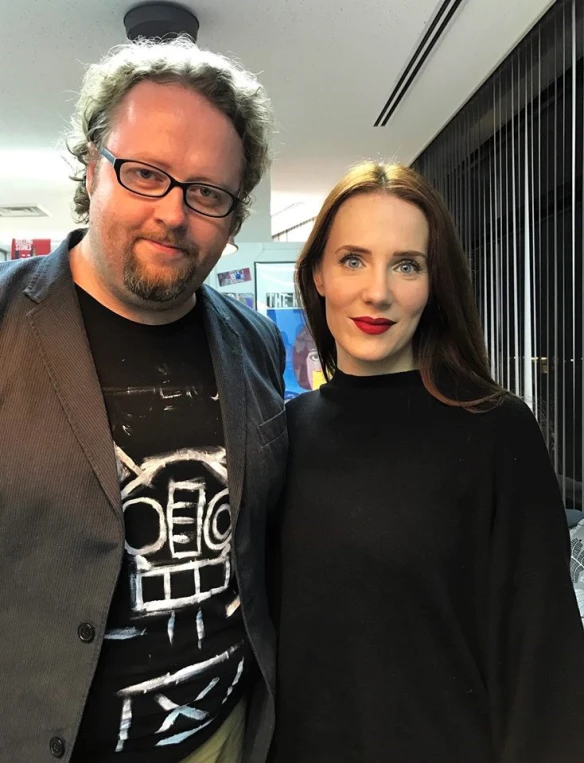 It took Epica some 15 years before their first Japan tour, but the Japanese fans did not have to wait long for the follow-up visit. The first Japan tour in 2017 made its mark on Simone. "We did three shows: Osaka, Nagoya and Tokyo. I fell in love with Osaka. That's where we had the most time to do sightseeing. The sunset was making the city look yellow and golden. It was amazing! I really liked the culture, the people, the food. We struggled to get to Japan. We had some offers from promoters and then we had to wait if it would all happen. We were always pulling the short straw, so to speak. Now we made it and shortly after we got the opportunity to cover the 'Attack on Titan' songs. So, I guess it was worth the waiting. It was 15 years. Because now we got back here in nine months and we got this amazing opportunity."
Is this perhaps a start of frequent visits and an intense love relationship between Epica and the Japanese fans? "Hahaha! That would be nice, yeah. That would be appreciated. I can't say how excited I am for tomorrow to actually play those songs live. It's different from what we normally do with Epica. So it's going to be something new. And I'm ready for it!"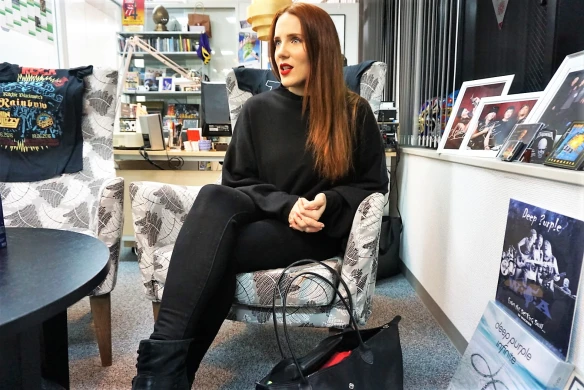 Epica's new EP combines two lucrative cultures with strong and loyal fans: metal music and Japanese animation. The EP features four cover songs where Epica has recorded Epica-style versions of songs from the "Attack on Titan" soundtrack. "Our Japanese fans love it! The 'Attack on Titan' fans love it we've been told earlier, so we're very relieved. It's not an easy task to cover cult tracks like those. It's so huge in Japan and a little bit scary! Dangerous territory. I guess that's the greatest honour for us, that they are happy with how it sounds and that the fans of 'Attack on Titan' love it too. And people all over Europe have been asking us: 'When is this EP being released in Europe?' because Japan gets the first release. Some of our fans have the CD already because they have some friends in Japan that are willing to ship the CD to them."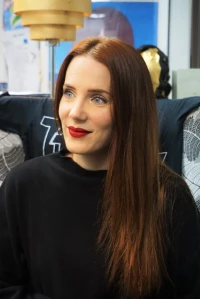 While Epica's sound somewhat keeps evolving, they have established a signature Epica sound which combines symphonic and melodic metal with occasional growls and plenty of heavy guitar-based riffing. In addition, they have a world-class singer. Simone Simons is leagues above most competitors and that sets Epica apart from many other bands in the same genre. "Well, thank you for the compliment, first of all. I think the 'Attack on Titan' songs really do have the Epica… They are wearing the Epica dress, so to speak. But it was really new for us. We've never had any super-fast songs as these 'Attack on Titan' songs. We had to slow them down a little bit in order for us to play it and not have them computer programmed. It's not a style we've worked with before, so that was the great thing about it. It was a challenge, like how can we fit all the pieces of the puzzle together? How does the original composer think about it? We've been given, really, a lot of freedom to make it our own. We recorded demos and we sent them to Japan. We had the lyrics in Japanese translated to English. It was quite one on one, so it didn't work with the vocals anymore. So then Mark, Coen and I divided up the four songs and rewrote the lyrics. Everything went really smooth. I am myself a huge soundtrack fan, so this was a great opportunity to do something on my wish list. Still, I would like to work more in this field because I enjoyed it immensely."
For the new EP, Epica once again recorded with producer Joost van den Broek, someone they seem to have developed a very close working relationship with. "Yeah, he's now a little bit the seventh band member. He guides us through the whole process, from the beginning to the end. He is very organised, which is a great thing, because not all musicians are like that. He really makes sure that everything is really streamlined and that we don't cross any deadlines, that we are all well prepared. We recorded professional demos – that almost sounded like they only had to be mixed and mastered and they could also be on the EP – for us to get the material in our bones, in our systems, so that when we recorded for real it would be really natural. We approached the whole writing and recording session exactly the same as we would do with normal Epica material."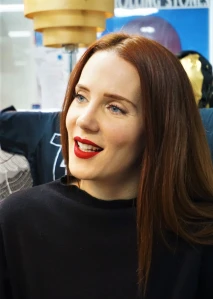 Epica seems to be a bit heavier live than on record. I love that extra heaviness we get from Epica on stage. "That's the energy that gets out when we're all together, I guess. When you're in the studio, everybody is just on their own. Drums, bass, guitar, the choir and then the vocals come in the end, the arrangements. Then when you're on stage there's a different energy. I've been told that before that Epica sounds great on record but live it's just a different experience. That's why I always tell people to come and see our shows and not watch it on Youtube with crappy audio."
Having released two EPs during 2017, when can we expect the next full-length album? "I cannot put a date on it because we are still touring until the end of the summer, August. Then, after, we are going to take our time, enjoy time at home and let creativity flow, whenever it hits us. And get together a couple of months after that and see how many songs we have, how are we going to plan the year. In 2017 we toured a lot. We toured our asses off. It's a great thing for a musician, but it's the only big thing or downside of being a musician is being away from your family. Some of us are parents, we all have partners, wives… I have a husband, I don't have a wife! It's hard to be away."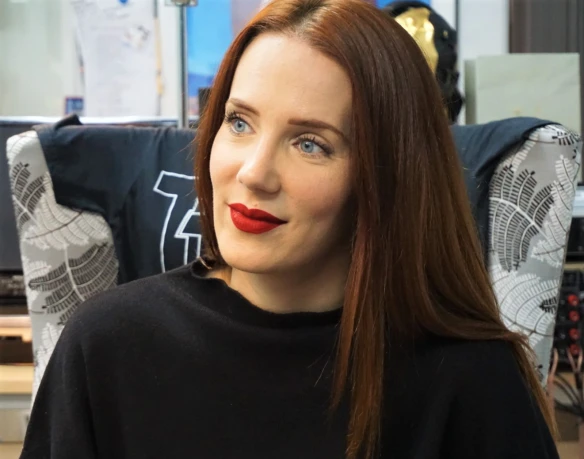 Simone's husband is German musician Oliver Palotai. He's a member of Kamelot and have also played with Doro, Uli Jon Roth, Circle II Circle, Blaze Bayley and others. The couple has a young son together. "Luckily he doesn't tour like crazy. He's going to tour now, in this year. But we make sure that our schedules are not blocking each other, so one of us is at home. There sometimes is an overlap of a couple of days, but we have great family that helps us with that. 2017 was a little bit too much for all of us. Not to sound ungrateful, but it got out of balance. We were all missing our families a little too much. We want to still appreciate what we do. We know it is very special and we want to live it as long as we can. That's why we are going to take it a little bit easier, writing and recording a new album. Not putting a deadline on it, because we don't want to become a music-writing machine. We want it to come organically. And spend some more time with family and friends as well."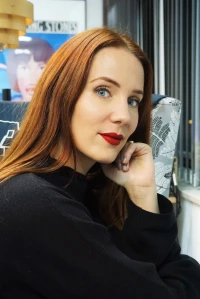 In addition to her main job fronting Epica, Simone has made many guest appearances with other artists, most recently with Exit Eden, Arjen Lucassen's Ayreon project and Tarja. How does she manage to fit all this into a very busy schedule? "I don't know! I must have more hours a day, I think sometimes. Exit Eden I recorded with Joost as well. We did that in one day. And Ayreon I recorded in Arjen's studio in one day. So, that's only two days basically. And for Tarja I recorded it at my husband's studio in five minutes."
Her past guest work has also included work for her husband's Kamelot. He has also been a live member on an Epica tour. "I've sung on three Kamelot albums, I think five or six songs in total. I've sung with Leaves' Eyes as well. I've sung on MaYaN also!" says an excited Simone about all the interesting studio work she's done. But all these projects are basically studio-based. She doesn't go on tour with any other artists. "That would be an exception if I were to do that because we're touring so much with Epica. I have a second company that is my blog and photography website. Sometimes I go to events, but that is also hard to plan because Epica is often away. So I try to not be more away apart from touring with Epica and the occasional event I have to go to. So I get to spend some time with family."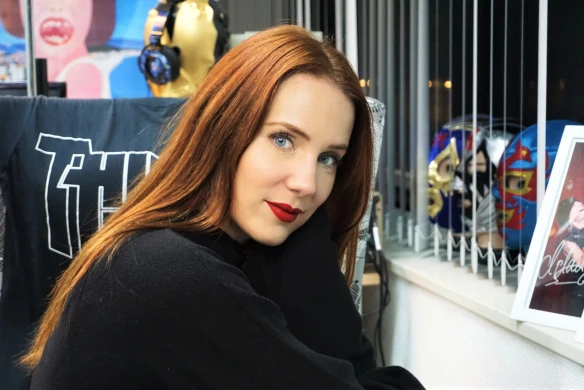 www.facebook.com/epica / www.epica.nl/