Album review: Crisix "Full HD"
Terrific sweaty and uncompromising thrash metal from Spain.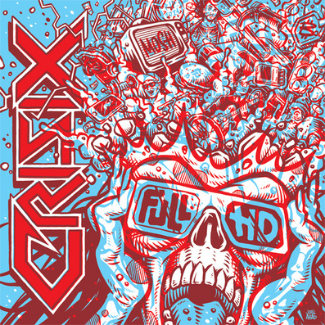 Crisix was formed in 2008. Initially called Crysys, they changed their name to Crisix in 2011 and released their debut album "Rise…Then Rest" in 2013. "Full HD" is the band's fifth full-length studio album. And what a great album it is! Some of the songs, such as "Macarena Mosh", are tongue-in-cheek songs. They're laidback (but fast!) and fun. While humorous, they are still great thrash metal songs. Other tracks are not trying to be funny. They are straight-up shout-along thrash metal with fierce guitars. In both cases the result is the same: Crisix is a band that can and does play excellent thrash metal. They don't take themselves too seriously and yet they are great musicians that know they have fans with high expectations. Many of the songs on "Full HD" have great shout-along choruses which remind me of thrash/hardcore crossover bands such as Suicidal Tendencies. Love it! All songs have heaps of energy and are performed very fast. It's a sweaty album! Splendid tracks such as "Extreme Fire Hazard", "Speak Your Truth", "Shonen Fist" and "Boc de Biterna" stand out and are among the album's highlights. It's a solid thrash metal album with no fillers. The music is built on old-school thrash but with bucket loads of Spanish character and humour added into the mix to create a sound that is easily recognisable as Crisix. As expected, the Japanese version of the album comes with a bonus track in the form of "World Needs Mosh – Pizza Version". The band consists of Julian Baz on vocals, Albert Requena and Marc Busque on guitars, Pla Vinseiro on bass and Javi Carrion on drums.
Crisix's new album "Full HD" will be released in Japan via Spiritual Beast on 13th April and internationally via Listenable Records on 15th April.
www.facebook.com/crisixofficial